Why telecentres?
"Godamn it, Rich, it's got to the point where you can't do nothin' without spreadsheets and print-outs!"  Alexander's large fist came down with a thump on the plywood panel made into a table by four hardware-store iron legs.  At 6'4″, dressed in rubber overalls and green-wader boots, his presence filled the room.
It was 1987, the cod fish had all but disappeared. Alexander had been convinced by the government to give up the wild fishery and try his chances at mariculture. The mussels he was cultivating involved many new skills and lots more permits and interaction with different levels of government1.  He also needed much more information on how to pursue a new livelihood for his family and community.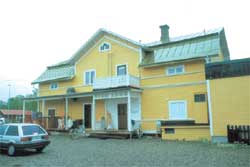 People like Alexander also began to use email and early online tools to connect to people and places in different parts of the world.   Twenty years later, the communities where these centres were located were markedly changed and the lives of the 30+ people that built this new service, many years before the Internet became publicly available, were all dramatically transformed.
Alexander was not alone!  Across rural parts of North America and Europe it was becoming increasingly apparent that an information economy was brewing.   There were clearly going to be winners and losers.  Although it would be another decade before Al Gore would use the metaphor "digital divide" for the first time rural people now had a strange alliance with the urban poor.  The both needed to do something about what was happening in the digital world.
A great transformation was unravelling in how income, livelihoods, jobs and profitability was generated. The IBM desktop had been in the office for only four years.  Bill Gates and Microsoft were busy building their fortunes from DOS. The fax machine was still "cool". The first great wave of ICT adoption in the Western World was cascading into the dotcom boom, as it came to be called.  Computers, software, and the gadgets and people that made them work came to be in great demand.  Calling someone a 'nerd' became a compliment!
Rural communities needed "smart people and good networks" to survive. Telecentres were the solution. In 1985, in Velmdalen, Sweden, Henning Albrechtson, a linguist, started the first telecottage.  Plying his trade and using an early-version wordprocessor to translate books on their way to publication, Albrechtson thought the rural farmers in his midst should benefit from the technology too.  He helped them move their financial information from the backs of envelopes onto a spreadsheet.3  Soon the farmers were able to know much more quickly whether or not they were making money.
During the same era, in 1984, in East Harlem, New York City, the first Community Technology Centre was started.  It's mission was to help people in this challenged urban ghetto find tools to transform their lives and livelihoods by mastering the skills of the information economy.   This early, first type of urban telecentre would grow into a national and subsequently international network which remains active almost a quarter century later.
After more than 2 decades in every corner of the world, telecentres, or whatever they are called in the local parlance, accelerate, protect, and build the skills of people and communities to participate in the Information Economy.  The first dotcom boom deflated and the markets it initially served are now "mature" and almost saturated.  How many more flat-screen TVs does the 1st world household really need?
While there remain underserved communities, regions and people in the mature economies, the real action has switched to the "emergent" world.  Asia, Africa and the Americas represent a new opportunity and challenge.  Many of the lessons from the first wave of the Telecentre movement still pertain.  But there are important new directions that also need to be understood.
Telecentres-The Breakfast of Champions
It's pretty clear that telecentres succeed when they are associated with a local champion.  A government program, without someone highly motivated beyond their day job, has little chance of success.  Telecentre start-ups will only succeed when those leading their establishment don't understand the word "failure", people who wake up at 2 AM with an idea that helps them solve a problem they had the day before.  This was as true in the first 20 years of telecentres as it will be for the next two decades.
Their motivations aren't pecuniary, although they need to make a living.  They are motivated by the social mission of what they are trying to accomplish. A short list of just of few of these people would include Onno Purbo with RebelNet in Indonesia, Fr. Godfrey Nzamujo with Cyber Songhai in West Africa, Sulah Ndaula of Ugabytes in Uganda,  Professor Ashok Jhunjhunwala of the Indian Institute of Information Technology, Sheila Downer of SmartLabrador, Karin Delgadillo of SomosTelecentros.  They are all Telecentre social entrepreneurs on a mission.   Thankfully they are joined by many others.
But the social entrepreneurs can't succeed by themselves.  They need to create passion and shared vision with partners they recruit to work with them. While the social entrepreneur creates the start-up, without a plan for succession of leadership and capable managers that they help to mentor, the telecentres will not succeed in the long run.
So the most important moral of the story of the first 20 years of telecentres is simple.  Find the social entrepreneurs, give them support and room to flourish.  And make sure they build capacity in the teams they recruit so their zeal and vision can have afterlife.
Pre-Market-Social investments
With but few exceptions, telecentres represent pre-market social investments.  They help to build the market and create awareness within a variety of sectors in communities.  They also build the skill base of people to understand how ICT tools are important and why they might eventually pay for ICT goods and services. They equally provide local entrepreneurs with ideas about how they might develop ICT enterprises.
Of course, how far in front of an eventual market a Telecentre is has an awful lot to do the dimensions of social investment and patient capital that might be expected.  When the Internet was first established and the proposal for ARPANET was submitted in 1967 no one asked "where's your business plan"?  Good thing too, otherwise, this incredible dynamo of change might never have left the idea-stage.
In North America it took a quarter century before the Internet became "commercialized". So if we look at a rural community in Africa or Asia, with little or no connectivity and unreliable power supply, how can we reasonably expect a telecentre there to succeed without some social investment? Fortunately, the perseverance5 of the local champions and social entrepreneurs is the elixir that shortens the time frame needed for the patient capital.
Increasingly, even in rural and remote places, the cost of technology and connectivity has dropped and the skills and strategies of local champions have increased, to make the time frame before market sustainability shorter.  Telecentre activists now need to argue less about "if" they should be included in development.  Increasingly, the question has moved to "how" telecentres should be included in the business of social and economic development.
But is it sustainable?
The question of sustainability, and what that constituted, was a major polemic in the first 20 years of telecentres and it is likely to remain such into the future.  The mental models people carry with them for how this type of intervention works within the development process are highly varied.  Is the Telecentre meant to promote digital development and carry out a partly social mission?  Is it supposed to function like a cyber-caf
Follow and connect with us on Facebook, Twitter, LinkedIn, Elets video