"We work with a large network of partners and knew that a single web-based system that allows our stakeholders to download spatial information directly from our database would greatly help reconstruction efforts. Therefore, we focused on designing and establishing a long-term solution" says Pak Mulyanto Darmawan, Head of the Geospatial Task Force at Rehabilitation and Reconstruction Board (BRR- Badan Rehabilitasi dan Rekonstruksi), Aceh and North Sumatra, Indonesia
What is the vision and mission of Rehabilitation and Reconstruction Board (BRR)?
Following the Asian earthquake and Tsunami on December 26, 2004, the Indonesian government created the Rehabilitation and Reconstruction Board (BRR) to manage all state and international aid for rebuilding the Aceh and North Sumatra (Nias) regions. As the executing agency, the vision of BRR is to build a reliable, dignified, prosperous and democratic Aceh and Nias. In the Indonesian government's Master Plan for the rehabilitation and reconstruction of Aceh and Nias, we further have the mission to provide housing for displaced Tsunami victims, and to rebuild destroyed infrastructure systems, including transportation, water and waste management, as well as communication systems.
How is geospatial technology beneficial for providing easy accessibility of information between departments?
We work with a large network of partners and knew that a single web-based system that allows our stakeholders to download spatial information directly from our database would greatly help reconstruction efforts. Therefore, we focused on designing and establishing a long-term solution that would enable us to share information efficiently and ensure that everyone involved always has the most current geospatial information and data.

The resulting Autodesk web GIS (geographical information system) solution has helped our unit effectively manage, acccess, and distribute up-to-date spatial data across all relevant parties. We can now effectively provide our geospatial data to the various gov­ernment agencies, international donors, and more than 150 non-government organisations involved in the reconstruction project. We are also proud to say that we have successfully improved our efficiency, response time, and customer satisfaction since using and deploying the web GIS solution.
How advantageous is Autodesk geospatial technology in compiling geographical data?
Autodesk geospatial solutions offer innovative model-based design and 2D and 3D mapping and management tools. Autodesk MapGuide Enterprise was the easiest and most impressive software we evaluated, and the web-mapping software allows us to instantly distribute and share geospatial data, high-defini­tion maps and images directly from our centralised database. This has saved us at least four hours a day.

Autodesk geospatial solutions enable users to work within their existing systems and comply with industry standards by facilitating access to essential geospatial information across the organisation, regardless of the format or location in which it is stored. By centralising information, we have improved and standardised the quality of data and reduced the cost of disseminating spatial information within and outside our organisation. Project backlogs have also been greatly reduced as staff can now distribute spatial information to an expanded audience.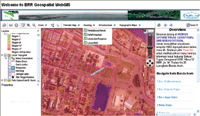 We also use AutoCAD Map 3D for basic mapping tasks so our staff can apply their basic AutoCAD skills and training to take advantage of traditional GIS tools and functions. This means that the learning curve is short and our staff can focus on other tasks rather than shuffling hardcopy maps. One of the biggest advantages of Autodesk geospatial technology is that it is easy to use. After working with GIS software from other ven­dors, such as Economic and Social Research Institute (ESRI), we decided to design our interactive web GIS system on Autodesk geospatial software. In addition, our staff used AutoCAD or AutoCAD Map 3D to create much of our data, but many of our the­matic maps were produced in ESRI ArcGIS. With Autodesk Feature Data Object (FDO) data access technology in MapGuide Enterprise, an open source software tool that provides seam­less data integration for multiple proprietary GIS formats, we can easily integrate these disparate files for a complete view of our data. As the Autodesk web GIS system is very user-friendly, staff throughout the BRR and our partners can quickly understand what they are seeing and operate the application without the hassle of data translation
or conversion.
What are the cost effective features of using Autodesk Geospatial technology?
When evaluating technology options for sharing of geospatial data using the web GIS system, we examined a similar system built on .Net software, but it was far too costly to build and launch. When testing Autodesk MapGuide Enterprise, we saw the rich tools included with the software, and thought that we could implement it right away. With Autodesk, we not only saved 95% on development and implementation costs, but also had much more functionality.
In what aspects is this technology beneficial in improving interface between government and citizens?
One of the key benefits of the web GIS is that it enables our partners and stakeholders to instantly view and print-out the selected thematic data. Furthermore, users can request or download spatial data and high-defini­tion maps directly from BRR's centralised database through a FTP (File Transfer Protocoal) server. This ensures that the users always have the latest information on the status of the reconstruction project, and has helped to significantly improve and standardise the quality of data available.

Moving forward, we expect the Autodesk web GIS to continue to play an integral role in helping us meet the current and future housing needs of the local communities. We also expect the web GIS, which is currently available through an inter-agency intranet, to be fully operational online by the end of 2007. By the end of 2009, the BRR will transfer all operations and systems to the Aceh and Nias governments so that these regions will be able to use the systems to continue our reconstruction efforts.