"Our worldwide goal is to be a 'technology partner' to the governments and be signifi cant    partners in building whatever applications are to be built within the areas of e-Governance or defence. Most of the important applications that are relevant to these governments are built on the Microsoft platform," says Rohit Kumar, Country Head, Public sector, Microsoft India, in an interview with egov magazine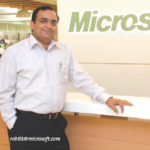 What are the goals and objectives of Microsoft's e-Governance initiative in India and how is it aligned with the National e-Governance Plan (NeGP)?
The National e-Governance Plan's stated mission is to make all government services accessible  to the common man in his locality, through common service delivery outlets and  ensure effi ciency, transparency and reliability of such services at affordable costs to realise  the basic needs of the common man. This directly correlates to the Microsoft global mission of  reaping the benefi ts of IT to the fi ve billion people currently underserved by technology and  help them achieve their potential. The NeGP seeks to lay the foundation and provide the impetus for long-term  growth of e-Governance within the country and Microsoft India is committed to support the government to achieve this goal. Our aim is to be a technology partner to governments and help in building applications in the areas of e-Governance and  defence. We are the only company that provides end-to-end solutions required for running a  whole host of e-Governance applications. Our solutions include Windows server, the database,  the security infrastructure and the web based front.
If you look at land records, for instance, 11 states in the country today are running land  records using Microsoft SQL server, Microsoft Windows server and looking at the next generation of land records. Historically too, a number of applications – like online treasuries –  have been running on Microsoft. The Police and National Crime Records Bureau also runs  on Microsoft. Online services over the past 5-6 years have been increasing in every state like-  AP online in Andhra Pradesh, Bihar online is coming up in Bihar, 'Nayee Disha' in Haryana,  'Lok Vani' in Uttar Pradesh are all running on Microsoft technology. A number of school  applications in the country, too, are running on Microsoft technology. The State Wide Area  Network (SWAN) in the states of Himachal Pradesh and Haryana have selected Microsoft as the messaging platform as well as for security.
Please tell us about Microsoft's initiative in the Common Service Centres (CSCs), one of the important pillars of the NeGP ?
The simplest explanation of Microsoft's role is to say that every PC is going to use some  Microsoft software. While that is true, it is not the most important part of our association. The  important question here is, how we can help the kiosk owners. We have built an entire
ecosystem around these partnerships to provide them the applications and we plan to build  some pilot applications,along with a few partners, that they can use to provide services.
A study that we undertook showed that a typical kiosk is used for education, entertainment,    e-Mails and chat etc, for which they just use a browser. So it is in providing the applications where we can play a role. At this point of time, we are essentially providing the technology that can be used to build the applications they want to use in their kiosks.

What are some of the Microsoft security solutions?
Our Windows server R2 was released in November 2005. It was meant to essentially upgrade  the security of our platform, of Windows server, as well as to provide integration to the new  server products that have been launched in the last year. So we have Forefront security as our security product.
Another successful product is the IPSA. This is essentially used in schools to restrict the sites  that children can visit. Using this product, you can actually confi gure the server, so that, for  instance, pornographic sites, can not be accessed. This product becomes very important for  schools and education – and we have seen successful implementations of it in several states.  This can be used for the state data centres as well.
Anti-virus is an important element for everyone, and we have our own antivirus solution  now, which is very price competitive. If you think about security leaks, they primarily  happen through e-Mail. That is one aspect. What happens if somebody sends you an e-Mail  with an attachment that contains a virus? The entire network suddenly stops as everyone's  e-Mails get corrupted. To tackle a problem like this, we actually have an anti-virus blocker in  our exchange server now, so every e-Mail that comes in, gets scanned and only then sent on.  In case of an infected message, you just receive a message that says that this e-Mail had a  virus attached to it and it has been blocked. That is our focus on anti-virus and very few  companies provide this today. Besides this, we are making sure that the e-Mails are phishing- proof, spy-ware proof. As for the PC user, we provide security on the desk top itself. Windows  Vista in itself is a big security upgrade.

What are the global trends in e-Governance. What are the opportunities and challenges of e-Governance in India?
The way I look at it, e-Governance can be of two types: It can be about making the  government more effi cient in its operations for internal effi ciency, which people outside may  see as the process moving faster. The second is about government reaching the people, and the  people being able to reach the government through electronic channels.
Compared to most developing countries, I think we are far ahead of the rest. Our National  e-Governance Plan, is much more visionary and broader than any other country. The  Ministry of IT is doing a commendable job in implementing the plan – it has been very  successful wherever implemented. If we look at the challenges, they would depend on the  culture, the people, the structure and the process. In India, I think the opportunities for moving forward are in the world of making the government more effi cient in their internal  processes. That is the single biggest opportunity at the highest level. The mission mode  projects under NeGP are focused on this very aspect.
The e-Biz project, CSCs and other e-Governance services aim to achieve the same objective. So  I would think it is a huge opportunity for the country and will also drive the country's  spending on infrastructure and IT solutions. So overall, I think there is a very bullish scenario from the government.

Please tell us about the public sector initiatives of Microsoft.
One of our key public sector initiatives is Project Shiksha, in which we have entered into a  partnership with state governments and set up eleven academies so far to offer a spectrum of education resources, including tools, programmes, and practices across ten states, with an  aim to promote the use of IT in education.
Also as a part of the project Shiksha, we recognise teachers who have done an outstanding job  of using computers for teaching. We have a programme called, 'Innovative Teachers  Leadership Awards' and we give out these awards in January/ February every year. What we  found last year was that more winners came from government schools compared to private schools. That gives us a sense of how teachers are using computers to teach  mathematics, geography, biology, which is very encouraging to see. So that is project Shiksha.
We have another project called Bhasha, which is our local language programme, under which  our products have been made available in 14 different languages now. Windows Vistas  comes with a number of these languages out of the box at no additional cost. We also have Offi  ce, that works in all these regional languages like Marathi, Gujarati, Hindi, Tamil, Telegu etc.  Our products work with all these different languages. I think the efforts now are on  getting different state governments to use the computers in local languages itself so that more  people start using it and that is starting to happen now. The third area where we are  relatively new is the area of health. So besides e-Governance, we have Shiksha, Bhasha and then health. We also do a lot of work in defence.
What is the current share of Microsoft, in terms of the overall e-Governance market in India?
This depends upon how you qualify the market. If you look at the number of applications  running on Microsoft, we probably have 50% to 55% applications running in India. I am  talking about small as well as big ones in the public sector. The revenue share is only 20% to  25%, because the other applications from all our competitors are far more expensive and then  there are a number of open source applications which do not show up in the revenue metric.
How important is it for systems, platforms and software to be interoperable.
Interoperability is a very important aspect and we have invested a lot of research and  development into making our systems interoperable. So we have products wherein you can  actually have one application running on Microsoft, another running on LINUX and BB2 or  LINUX and My SQL or LINUX and GES, information can be exchanged across all. This is  something for which we have invested in.

What are the change management issues in implementing e-Government projects?   How can they be overcome?
The challenge in India is that people have to fi rst become familiar with technology. There is  still fear in people that technology will take their job away. Or people say things like, "I do not  want to use this system, I will just use my fi le" or Government saying, "I will only recognise  offi cial letters, not e-Mail", which is still the case. Where we have seen things changing is like  in the Ministry of Company Affairs, where they have said that there is no other way a return  can be fi led unless it is online. Or look at the attempts to make offi ces paperless. A lot of  government offi ces have a fi le tracking mechanism in place online where the documents are  online and there is no paper fi le, making it easier to track the progress of a fi le.
But I do not think, things will metamorphose overnight – it will take time – simply because  people have been used to a certain system. A paperless offi ce, for instance, is a radical concept where everybody has been used to comments written on the fi le. The mindset change on the  process will take time. This is true, even for the private sector, however, as you see the offi  cers getting younger and younger, you will also see this process getting adopted faster. The  demographic change will also help bring the change faster. If you look at it, a lot of the change  is made by the younger offi cers, supported by senior offi cers who have the vision and who encourage the younger offi cers but the real speed up will happen in another 10 years,  when the next generation comes in.

How is the Right to Information (RTI) Act complimenting e-Governance initiatives in India?
RTI is having an indirect affect in terms of information that needs to be tracked.But since the  majority of this information is lying on the fi les, it is not making a direct impact, it could, but  it is not. It is having a profound affect on the way the government works. I believe, people are fi ling applications under RTI and getting responses fairly quickly, and that is making a  tremendous impact on the transparency within the government. Coupled with e-Governance,  I think it can have a phenomenal impact on the country. Three years from  now, we will be discussing how it has really made a difference, because we would have made much more examples to share.
What role can the public-private partnerships play in e-Governance project implementation in India?
The public-private partnerships (PPPs) are best done by organisations such as TCS and such  companies who have an ability to actually provide this service end to end.
We are a technology partner to those PPPs, like to those providers who provide those services,  just as we would with the Government directly. They become the customers for us and we have to help them meet their needs. An interesting analysis for us was analysing PPPs,  considering that they have to spend their own money and recover money on a transaction  basis, what technology they are using. And we found that they are using Microsoft too. This is  an interesting aspect. As we look at MP online, AP online, Bihar online, all these applications  are running on Microsoft.
If open source was indeed so low cost, then PPPs would use an open source. For me, it is a part of  the proof of why people use certain technologies. It is because it meets their needs and it also  balances out their requirements for the cost.

Any suggestions for the government regarding PPP implementation?
I think that the PPP model is successful. On the whole, I think that the Government should  ensure that people are not undercutting one another to win the contract and therefore  impacting the quality of service. I think the priority needs to be on quality and long term cost  rather than just the up-front