Smart card technology has come of age. It provides real opportunities for improving the delivery of services and reducing the cost of administration. Smart cards are becoming an affordable solution to the requirements for a transportable, secure, reliable communication. Smart card applications are rapidly expanding beyond the areas that have historically made the most use of them – banking and mobile phones. The banking sector introduced smart cards to reduce losses from card fraud and to improve card security. In many countries smart cards are increasingly being used as portable personal files for health records to store and update details of eligibility for benefits.

A smart card, a type of chip card is a plastic card embedded with a computer chip that stores and transacts data between users. This data is associated with either value or information or both and is stored and processed within the card's chip, either a memory or microprocessor. The card data is transacted via a reader that is part of a computing system. Smart card enhanced systems are in use today throughout several key applications including healthcare, banking, entertainment and transportation.
Although the cost of smart cards is higher than magnetic stripe cards, it is falling rapidly and they are becoming affordable. At the same time the processing capability of smart cards is increasing. The building blocks for a smart card infrastructure are already available. Cards that are in use now can allow a number of applications on the card and have built in security features. Organisations that are already using smart cards have reported significant savings in administration through simplified procedures, in addition to the benefits of increased security and reduced transaction costs. Anything that involves exchange of information or value can be done cost-effectively.
Smart Card Technology
A smart card is a standardsised plastic card with an embedded integrated circuit chip which has memory and/or microprocessor functionality and complying with ISO 7816 standards. Smart cards support multiple applications such as vending, fare collection, parking on a single cards and provide high level of security. These cards have enough memory capacity to store data and biometric templates and information can be written to them in real time.
There are several types of cards known as magnetic stripe cards, optical cards, memory cards and microprocessor cards.  A magnetic stripe card has a strip of magnetic tape material attached to its surface. This is the standard technology used for bank credit/debit cards and can only store data which cannot be updated.  Optical cards use some form of laser to read and write to the card.  Memory cards can store a variety of data, including financial, personal, and specialised information, but cannot process information. Smart cards with microprocessors look like standard plastic cards, but are equipped with an embedded Integrated Circuit (IC) chip. They can store information, carry out local processing on the data stored, and perform complex calculations. Although they can be classified on the basis of various parameters, however smart cards are broadly classified   on the basis of basis of card components, card interface, and card OS.
Type of Smart Cards
Smart cards are mainly classified on the basis of the method of their communication and data transfer with the reader device. Based on this criterion, the smart cards are classified as contact cards, contactless cards, and hybrid/combi cards. Contact cards must be inserted into the reader, while contactless cards are powered by a radio-frequency. Smart cards are also classified on the basis of the method of their communication and data transfer with the reader device. Based on this criterion, the smart cards are classified as contact cards, contactless cards, and hybrid/combi cards. Contact cards must be inserted into the reader, while contactless cards are powered by a radio-frequency.
Applications of Smart Cards
Smart card-enhanced systems are in use today throughout several key applications, including physical security, network and information security, e-Commerce, communication, healthcare, banking, entertainment and transportation. To various degrees, all applications can benefit from the added features and security that smart cards provide. In the U.S., consumers have been using chip cards for everything from visiting libraries to buying groceries to attending movies, firmly integrating them into our everyday lives.  Government of India and several states have smart card programmes in progress for government applications ranging from the Department of Motor Vehicles to Electronic Benefit Transfer (EBT). Many industries have implemented the power of smart cards into their products such as the new GSM digital cellular phones to TV satellite decoders.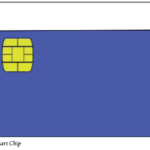 Information and Network Security and Physical Access: Smart cards achieve greater physical security of services and equipment, because the card restricts access to all but the authorised user(s) only. e-Mail and PCs are being locked-down with smart cards. Information and entertainment is being delivered via smart card to the home. Home delivery of service is encrypted and decrypted per subscriber access. Digital video broadcasts accept smart cards as electronic keys for protection. Smart cards can also act as keys to machine settings for sensitive laboratory equipment and dispensers for drugs, tools, library cards, health club equipment. Business to business Intranets and Virtual Private Networks (VPN) are enhanced by the use of smart cards. Users can be authenticated and authorised to have access to specific information based on preset privileges. Additional applications range from secure e-Mail to electronic commerce.
Government, businesses and universities of all types need simple identity cards for all employees and students. Most of these people are also granted access to certain data, equipment and departments according to their status. Multifunction, microprocessor-based smart cards incorporate identity with access privileges and also store value for use in various locations, such as cafeterias and stores. Employee access cards with secured ID and the potential to employ biometrics to protect physical access to facilities.
Communications Applications: The secure initiation of calls and identification of caller (for billing purposes) on any Global System for Mobile Communications (GSM) phone and subscriber activation of programming on Pay-TV are some examples of communication applications.
e-Commerce: Smart cards make it easy for consumers to securely store information and cash for purchasing. The card can carry personal account, credit and buying preference information that can be accessed with a click  of the mouse, instead of filling out forms and cards can manage and control expenditures with automatic limits and reporting.
Personal Finance: As banks enter in competition in newly opened markets such as investment brokerages, they are securing transactions via smart cards at an increased rate. Smart cards increase trust through improved security. Two factor authentications insure protection of data and value across the Internet. Threats such as the "Man in the Middle" and "Trojan Horses" that replay a user name and password are eliminated. Customers can use secure smart cards on 24×7 basis for fast electronic funds transfers over the Internet. The transactions that normally would require a bank employee's time and paperwork can be managed electronically by the customer with a smart card. This will reduce cost and improve customer service. Health Care: The explosion of health care data brings up new challenges to the efficiency of patient care and privacy safeguards. Smart cards solve both challenges with secure storage and distribution of everything from emergency data to benefits status. Rapid identification of patients, patient's medical history, improved treatment, reduction of records maintenance costs, insurance eligibility are few of the examples.
Projects in India:
According to Smart Card Forum of India (SCAFI), the Indian chip card market, comprising GSM, payphone, driving licenses, National Identity Cards, vehicle registration, banking and e-Purse applications is likely to grow from the current 15 million smart cards to 400 million in the next few years. The Indian smart card market growth rate is at around 25-35 percent. These growth rates are based on the assumption that the GSM-SIM cards subscriber base itself is likely to grow at a CAGR (Compound Annual Growth Rate) of about 60-80 percent, as stated by the Cellular Operators Association of India. What will boost the market further is a slew of e-Governance projects on smart cards, especially in the areas of transport applications and National ID card projects.
Realising the potential benefits of smart card technology, the Government of India and many state governments have launched several projects involving smart cards. Recently microprocessor based cards for multi-purpose national identity cards (MNIC) have been distributed to the residents of Delhi. Nearly 0.3 million people of 11 states and two union territories will get the smart cards, which contain as many as 16 personal details of an individual along with a unique national identity number, within a month. The entire population of the country will be covered by 2012. These identity cards  are based on a sophisticated application called SCOSTA (Smart Card Operating System for Transport Application), the Smart Card Operating Systems Standards. SCOSTA are basically secured electronic devices that are used for keeping data and other information in such a way that only authorised users are permitted to see or write the data. In future same cards can be used for as voter identity cards, driving licenses, ration cards. Besides being used as a credible individual identification system, the smart cards will also act as a major deterrent for future illegal immigrants.  Delhi Metro plans to issue multi-purpose smart cards that a commuter can use to avail of its various facilities. The smart cards will enable passengers parking, eating and commuting facility without any hassles.
Looking at the benefits attached to smart cards based transactions; Mumbai bus transport system, BEST, has launched smart card services for its commuters. These cards come as the counterpart of railway passes offered by the suburban railways.
The card contains the details such as the route permitted and validity of the card. These smart cards are checked with the help of a handheld device by the conductor. If the card is valid, the conductor gets a green signal and card is authenticated. To help the commuters in the best possible way, BEST and the Indian Railways are joining hands. A collaborative project is underway to offer a common smart card for both bus and train journeys for commuters in Mumbai. This RFID enabled smart card will work as a prepaid card which will allow citizens to travel in any mode without worrying about cash in their pockets.
State Governments of Gujarat, Maharashtra, Delhi, Uttar Pradesh, Madhya Pradesh, Punjab, Haryana, Jharkhand, Nagaland and Rajasthan have come out with tenders for SCOSTA compliant smart cards with 4Kb storage space for driving licenses and vehicle registration documents. While some other states have gone in for smart cards with optical strips. The optical strip provides additional information storage capacity of up to 4 MB, which could be used to store information about vehicle insurance, pollution control, biometrics, ownership records, and the signature and chassis number image, which is not erasable. For tamper-proof security, the optical strip on the smart card could also have a laser encoded vehicle number, readable with the naked eye. These additional features should be welcomed as they supplement the information on the microprocessor chip of the smart card, providing added security, both to the Government and the vehicle owner.
The Indira Gandhi National Open University (IGNOU) will soon launch a smart card system, first of its kind in the country, for about 13 lakhs students pursuing higher studies in the varsity. The smart card will carry information on the student's admission, projects, assignments, attendance, practical's and semester results. The smart card will help to keep an authentic record of the academic activity of a student in the varsity and also help in the monitoring of students on an individual basis.
Canteen Stores Department (CSD), Ministry of Defence has introduced the Smart Card based canteen service to authorised users. Under this scheme the user having smart cards only will be able to buy the items worth entitled amount from CSD.
Defence establishments have introduced the smart cards which are very secure and are impossible to breakthrough. The cards are used for multiple applications like time attendance, access control, canteen, employee benefits etc.  One can define any number of time zones and access zones for each employee. For example for an employee "x" we can define time during which, he is allowed entry or exit and also define his access zones within the premises say if he is allowed entry into zone "x" of R&D centre then he can be denied entry to other zones of the centre. The system can be can be integrated with fire alarm systems etc. so that in case of fire all the doors will open automatically or in case of theft doors can be closed with a single command from the host software to all the readers. Detailed reports with time stamp for each entry and exit can be generated giving details such as Date, Employee Number, Name of the employee, Time of Entry, Time of Exit and No of hours spent in the zone. The readers need not be connected to the PC all the time as they are capable of to work in off-line mode. The need for the computer arises only when the data needs to be downloaded or the readers need to be updated.
State Bank of India, Andhra Bank and Jammu & Kashmir Bank are among the institutions that are working with the Institute for Development and Research in Banking Technology (IDRBT) and IIT Mumbai in a pilot project for biometric smart cards, aimed at rural inclusion into the banking system.
The roll-out will take place in the next few weeks and will initially be confined to the North-east region. With these smart cards, all kinds of government payments like pension, utility payments such as healthcare, crop insurance, life insurance etc. would be channelised. This common infrastructure is expected to cut down the cost of delivery of these services. ICICI and a few other banks have issued about 200,000 cards, with plans for rolling out 4 millions in next few months.  Among the real benefits of the cards is to make the service electronic, compared with other micro-finance scheme which is paper-based. It also offers a second factor of authentication, fingerprints, avoiding the need for distributing PIN codes or requiring signatures from consumers, many of whom are illiterate.
Some of the smart card projects in the toll collection area are by Maharashtra State Road Development Corporation, Hubli-Dharwar bypass, Vadodara-Halol bypass and Narmada toll bridge.
Government of India is planning to introduce e-Passports, also known as bio-metric passports. The e-Passport will be introduced initially for diplomats and officials as a pilot project later in the year 2007. By the end of 2008, e-Passports in the ordinary category may be issued, based on the experience gained from this pilot project To this effect, a Technical Committee has been constituted to finalise the technical specifications of the e-passports. The cost of converting ordinary into bio-metric passports will be worked out on the basis of the technical specifications that will be finalised.
The recent standardisation of the operating system (OS) for transport applications, called the Smart Card Operating System for Transport Applications (SCOSTA) will also propel uniform growth in this market. The other major application area, which will provide thrust to smart card market growth, is the financial and banking sector. The Smart Rupee System (SMARS) pilot project sponsored by Reserve Bank of India (RBI) has set the foundation for usage of smart card-based financial applications. As of today, while IDBI bank has introduced its smart card called MoneySmart, Corporation Bank has issued CorpSmart, and Bank of India has issued its E-purse cards. SBI, ABN Amro and Bank of Baroda have also launched smart card-based banking solutions.
Loyalty and health-care applications are also being seen as upcoming application areas in smart cards. e-Governance will be one of the major catalysts for smart cards adoption in the country with transport, financial, telecom, ID and loyalty programmes being the major application areas.

Smart Card Security
Smart cards greatly improve the convenience and security of any transaction. They provide tamper proof storage of user and account identity. Smart cards also provide vital components of system security for the exchange of data throughout virtually any type of network. They protect against a full range of security threats, from careless storage of user passwords to sophisticated system hacks.
The contactless cards include a secure micro-controller, or an equivalent intelligence and internal memory and have the unique ability to securely manage, store and provide access to data on the card, perform complex functions and interact intelligently with a contactless card. Applications using contactless smart cards support many security features that ensure the integrity, confidentiality and privacy of information stored on the card.
Mutual authentication is a common practice in key-based encrypted communications. The card and the reader each need to make sure that the other has matching keys, so that the reader can verify that the cardholder is legitimate, and similarly the card can verify that the reader is authorised to read its information. If the card and the reader simply transmitted the keys to each other for comparison, anyone with technical skills and a receiver tuned to the reader's frequency could capture the information, and make his own smart card to obtain access.
The contactless smart card technology is extremely difficult to duplicate or forge and has built-in temper resistance. Smart card chip include a variety of hardware and software capabilities that detect and react to tempering attempts and help counter possible attacks.
Conclusion
Smart cards clearly will bring convenience to consumers, much as credit and debit cards have done, and in many cases may reduce the need for paper money and small change. Contactless smart card technology is an excellent privacy enabling solution for the applications that need to protect personal information and ensure that communication with contact less device is secure.
Now the technology offers hosting many applications from various industries on a single card which was bottleneck earlier. Open card standard created by Sun Microsystems provides for interoperable smart card hardware and software products. The real success of smart cards in India is the need to have a single smart card capable of multiple applications. Carrying multiple cards is very cumbersome and cannot solve the purpose of smart cards. Hence, it is very important that a single card should be able to handle multiple tasks like ID card, driving license, vehicle registration, and credit and debit cards.
In the future, smart cards could  handle multiple tasks for their owners, from providing access to company networks, enabling electronic commerce, storing health care information, passports, providing ticketless airline travel and car rentals, and offering electronic identification for accessing government services such as benefit payments and drivers licenses. Smart cards of the future may even stop resembling "cards" as smart card technology is embedded into rings, watches, badges, and other forms  factors that will make them remarkably convenient to use.
Follow and connect with us on Facebook, Twitter, LinkedIn, Elets video