Introduction
Finger-prints, the oldest biometric sign of identity, have been used for about 100 years. Scientific studies on finger-prints were initiated in the late sixteenth century, but the foundation of modern finger-print identification was established by the studies of Sir F. Galton and E. Henry at the end of nineteenth century.
Henry's study examined the global structure of finger-prints and established the famous  'Henry System'  of finger-print classification, which is an effective method of indexing finger-prints and is still in use in most identification systems. In the early twentieth century, finger-prints were formally accepted as valid signs of identity by law-enforcement agencies.
Indian Law on Finger-prints
Identification of Prisoners Act, 1920 empowers the law-enforcement authorities to secure finger-prints of convicted and non-convicted arrestees in specific cases. Section 3 of the Act provides that 'Every person who has been convicted of any offence punishable with rigorous imprisonment for a term of one year or upward or of any offence which would render him liable for enhanced punishment on a subsequent conviction shall, if so required, allow his measurements to be taken by a police officer in the prescribed manner.'
Section 4 empowers police officers to take finger-prints of non-convicted arrestees in connection with an offence punishable with rigourous punishment (RI) for one year or more.
Similarly section 5 empowers a magistrate to order a person to be finger-printed for the purpose of any investigation or proceedings. The Act also empowers the use of necessary means to secure finger-prints, the refusal of which is an offence under the Indian Penal Code.
40- Digit (Semi-Automatic) Code System
In India, computerisation of finger-prints was taken up during the mid 70's. A 40-digit code-based semi-automatic system was adopted for the conversion of finger-print records to prepare the database. The system is based on a simple procedure wherein; all the known and accepted finger-print patterns have been divided into ten types, and allotted a 2-digit numerical code from 01 to 22 (Code No. 14-15 merged with 13). Similarly, the ridge counts of the patterns from appropriate delta to its core is taken and expressed in terms of two digit code, from 00 to 30. Thus, for each finger, the finger-print pattern and its ridge count could be expressed in a 4-digit numerical code. However, the limitations of the 40-Digit Code System are that, it requires results, which are dependent upon the subjective expertise of individuals classifying and codifying the finger-print slips. This system may be all right for small database, but it is slow, involving huge manpower and man-hours with uncertain accuracy.
Need for Automation
The manual and  semi-automatic system of finger-print (FP) identification has not been able to keep pace with the rate of increase of the FP records and the increasing number of queries that are to be answered every day. Long search time and low positive identification rates, that is, poor tracing of criminals, are the major problems in the manual system. The need for a computer based Automated finger-print Identification System (AFIS) was, therefore, felt by the police department and FP experts in India. A few systems, which were available abroad, were assessed and it was found that the cost of importing  such a  specialised system was very high. Moreover, no technology transfer could take place. Thus, the indigenous development of AFIS was thought of and as a result, in January 1985, CMC's research and development center started preliminary work for the development of AFIS.
Finger-print Analysis and Criminal Tracing System (FACTS) and CMC, a Government of India enterprise, was entrusted with the task of developing an indigenous AFIS system. After developing a prototype and holding deliberations with senior police officers in 1985, a team of experts visited CIMSA-France (now SAGEM-MORPHO) and LOGICA-UK to study the available systems and adopt an approach to meet the requirements of the Indian Police. It was observed that all four known suppliers of the AFIS in the world namely, Printrak, USA,  NEC, Japan,  CIMSA, France and  Logica, UK had certain commonalities in terms of organisation of finger-prints, their use and legal implications associated with them. Yet, each country had a certain amount of uniqueness in its operations. AFIS had been developed in close association with their respective police departments. As these countries had shown no interest in transferring technology to India, it was felt necessary to launch a national indigenous effort to meet the requirements of Indian Police.
The project envisaged technology development, systems integration, testing and documentation. The technologies developed were algorithms for feature extraction and matching of finger-prints. After testing the sample database, the project was completed in June 1989. Thus, CMC Ltd. (India) was successful in developing FACTS, which was capable of performing automatically, digitisation, feature extraction and comparison of finger-prints among its other assigned tasks. As of today, more than a dozen Indian states have FACTS installed and working in their Finger-print Bureau (FPB).
Central Finger-print Bureau and Computerisation
Computerisation of finger-print record has been vigorously pursued in Central FPB since 1992. Starting with FACTS 1.0, it has successively been upgraded to FACTS 4.0 which is a fully automated version of the system and much more efficient compared to the earlier ones. As on 31st December, 2004 as many as 7,32,281 finger-print slips had been updated into the FACTS database. The storage capacity of FACTS 4.0 is to be upgraded to hold and process 10,00,000 finger-print slips and the average daily output is expected to be around 1250 slips per day.
Chhattisgarh and AFIS
Finger-print Bureau of Chhattisgarh Police took a big stride in computerisation when, the then Chief Minister of Chhattisgarh, Dr. Raman Singh, commissioned a computerised AFIS on 16th August, 2005 at the police headquarters of Chhattisgarh, Raipur.
The police did away with its long time companion, the Henry's classification system of finger-print identification, at least partially. AFIS has now made it possible for the cops to get the demographic details of a criminal in a few minutes if the finger-print record already exists in the database. This will not only help the police to trace the habitual criminal faster but will also facilitate to administer enhanced punishment for a repeated offence without searching for the paper records. Dr. Raman Singh, while appreciating CID's efforts, reinforced that it was high time for the police to modernise itself, if it wished to keep pace with the latest technology.
Chhattisgarh is a novel state that emerged as a separate entity on Indian map on 1st November 2000 when the erstwhile Madhya Pradesh was bifurcated into two states, in accordance with The Reorganisation Act, 2000. About 16,000 convicts' finger-prints were transferred to Chhattisgarh. The State Police soon decided to install an automated finger-print identification system.  The Government of India allocated INR 0.3 million for the project under the Police Modernisation Scheme.In the meantime, the CMC Ltd. (India) lost its privileged position of being a government agency. Four more companies namely SAGEM SA (France), SecureMantra Technologies Pvt. Ltd (Lucknow, India), Telepost India Pvt. Ltd. (New Delhi, India) and Zygox Software Pvt. Ltd. (Bangalore, India) also  became eligible to participate in the tender to compete with CMC Ltd. and were benchmarked by the National Crime Record Bureau (NCRB). Three of these five companies participated in the tender and SecureMantra emerged as the successful vendor.
Vision of the Project
Maintenance of law and order is the main responsibility of the police. With the passage of time, public expectations with regard to efficiency have increased manifolds. The police cannot afford to compromise on efficiency now. Therefore, AFIS was introduced to facilitate efficient policing by:
Using latest standard technology tools,

Using transparency,

Minimising manual errors and subjectivity and

Reducing inordinate delay in procedures
How AFIS functions?
AFIS is  essentially based on the pattern reorganisation theory. It involves:
Selection of characteristic features to be identified from the ridge patterns.

Extraction of these features from a set of reference patterns and storing them on a computer to form the database of known patterns.

Extraction of similar features to be identified from a given pattern and comparison of these features against those of known patterns in database, to decide if a match exists among the latter.
The following diagram shows how AFIS works: –
Each finger-print is made up of unique ridges and furrows and it is this feature, which makes it possible to differentiate various finger-prints. The police, generally, use finger-print Taking Kit to record (rolled) ten digit finger-prints of an arrested person or a convict. The finger-prints found on the scene of crime are first developed using various powders and then lifted with the help of finger-print Lifting Kit and a Camera. This single finger-print is classified in accordance with Herry Battley's System.  Whether it is a ten digit or single digit finger-print, the scanner captures specific features of the Finger-prints called minutiae. These points are places where ridge lines end, bifurcate or rejoins after lake formation. The manual system requires comparison of at least eight such points along with their relative position. However, more the number of such points of comparison better the results.
The flat-bed scanner, used to scan documents, works on the principle of optical scanning and has a Charge Coupled Device (CCD) sensor. The CCD array, a collection of tiny light sensitive diodes called photosites, captures image of the finger-print document with the help of a series of mirrors, filters and lenses while a Xenon lamp illuminates the document.  The 300×300 dots per inch (dpi) resolution (500X500 biometrics) of the scanner, is capable of scanning a letter-sized document. It supports 24-bit colour depth and is sufficient to reproduce the  true colour of the document. The scanned image is then transferred to the computer through USB.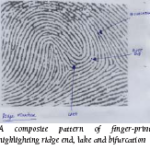 The algorithm used in the AFIS also needs eight numbers of minutiae to be matched for the print to be accepted.  Matching is a fairly complex process. The algorithm calculates and stores total curvature of ridge patterns. It is this value, in addition to minutiae position and orientation, that ultimately gets matched with the suspect's finger-print ridge curvature value and minutiae parameters.
Challenges Faced
It was not an easy task to transform this project into a reality. Initial bottlenecks like financial constraints, a well-equipped building for housing the system, and a staff with negligible computer know-how, were overcome with a constant and consistent efforts made by the management. A major hurdle was the reluctance on the part of the staff to change from the conventional manual system to a computerised AFIS. The first step in overcoming these hurdles was to break the walls of convention by imparting basic training on computers to the existing meagre staff.
Persistent encouragement from the top brass worked wonders and charged in them – the spirit of technological transformation. Though training in AFIS was a herculean task, it was also successfully accomplished on account of Bureau experts' enthusiasm and extended interest of  the vendor.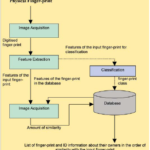 Benefits of the System
AFIS has endowed many benefits to the experts in rendering opinions on matching of finger-prints. Some of the major achievements are:
1) User-friendly Interface on Account of :
Ease of operation and shorter learning curve due to the labeled buttons in the graphical user interface.

Easier and faster editing of chance prints due to additional feature of eraser-style skeleton deletion with multiple eraser thickness.

Common interface for chance prints and rolled prints reducing learning time.

Integrated Henry Code Check available as an option enabling easy detection of errors in marking pattern classes during rolled print slip input.

Temporary storage of chance print during input thus, allowing work to be temporarily suspended if necessary.

Flexibility in image magnification during quality control and editing, thus improving system usability.

Improved accuracy in placement of finger-print box resulting in better resolution and larger on-screen displays.
2) Local Finger-print Encoding:
Encoding of finger-prints is carried out locally. As a result, the processing power of the server is no longer a limitation on the number of remote query terminals that can be connected.
3) Ease of Scalability:
In light of the local encoding of finger-print, the AFIS can easily be scaled from a small system to larger configurations without the need to reconfigure the entire system.
4) Operating System:
AFIS RQTs are built on Windows platform. This enables easier RQT management, wider option with printers including colour printers.
5) Fast and Accurate Matching:
Now, experts no longer have to examine innumerous records. They only have to scan the finger-print in question and send it to the matcher server for comparison. If the finger-print already exists in the database, the result can be obtained only in few minutes.
6) No Wear and Tear:
As digital record is not a victim of usual wear and tear, literally there is no maintenance cost involved in the system. However, proper back ups are necessary to avoid any disastrous loss of database.
Current Status
Since installation of AFIS, Chhattisgarh Police has achieved following milestones:
Approximately 18,000 convicts' finger-prints digitised.

Pilot RQT at capital Raipur commissioned.

FPB experts' initial training successfully completed.

FPB experts' confidence increased. They are computer savvy now.

Matching of finger-prints is in progress.

Installation of RQT at more locations to be done shortly.
Limitations of AFIS
It does not specify any reference print to be an exact one-to-one match against the query print. It gives a short list of probable matches and requires an expert's aid to verify the listed individual prints visually,

Chance prints with eight or more minutiae can only be submitted for matching.

Palm prints and sole prints are not stored in the system.
Conclusion
SecureMantra Technologies Pvt. Ltd., claims its indigenously developed algorithm to be one of the best as compared to other such software currently in use in other FPBs to search for a chance print. But it has yet to make a dent on our experts' mindset by successfully proving its point with time. Undoubtedly, a new era of computerisation has already begun in Chhattisgarh. It might have made a little headway in the police department, but this initiative will go a long way in metamorphosing the policemen. 
Follow and connect with us on Facebook, Twitter, LinkedIn, Elets video