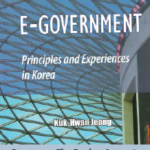 Korea, as is widely known, is strong in IT infrastructure but is it also strong in e-Government? This is the central question which the author, Dr Kuk-Hwan Jeong, who was directly involved in e-Government development in Korea in its crucial phase of years 2000-2005 has raised. Dr Jeong, currently Senior Research fellow at the Korea Information Society Development Institute (KISDI), a government-funded IT think tank set up in 1985, was responsible for vision, strategy, direction, and oversight for e-Government as Director General of Ministry of Government Administration and Home Affairs (MOGHA) and later Assistant Minister in charge of
e-Government issues (2000-2005).

The experience of Korea is, according to the author, of interest in case studies of implementing e-Government not only because it is among the group successfully diffusing Internet infrastructure preparing the base for e-Government, but because the challenges it faces could be of relevance to other newly informatising countries (p-15) (emphasis original). Korea's remarkable success in Broadband Internet adoption, which is among top ten in 2007 at
27.4%, has drawn worldwide attention.
The book consists of seven chapters, a write-up on Korean Government in brief describing its structure, an introduction, an appendix and references.
In Chapter 1, 'Information Revolution and e-Government', the author deals with topics like IT revolution and the evolution of information society, deployment of IT revolution, speed of IT revolution and e-Government, and IT efforts towards e-Government in Korea.
In Chapter 2, 'Backgrounds of Advanced IT Infrastructure', the author describes motivations of IT efforts, notes Internet growth, and describes citizen expectations. The objective of the national computerisation project of the late 1980s was, says the author, to take advantage of IT to improve competitiveness in the world market.
In Chapter 3, 'Principles of e-Government', the theoretical part, the author describes challenges facing government in the Internet era, e-Government as a new concept of public administration, government and technology, vision for e-Government, emerging stages of e-Government, infor-mation sharing and government portal.
In Chapter 4, 'Experience of e-Govern-ment Initiatives', the author describes the experience of e-Government projects like National Basic Infrastructure System (NBIS) started in 1987 and Korea Information Infrastructure (KII), which laid the national optical fibre backbone network.
In Chapter 5, 'Case Studies', Dr. Jeong describes a number of instructive cases. In the 'Portal System for Citizen Participation,' he candidly notes that "Almost all government agencies have ambitiously opened websites as a channel for citizen participation in policy debates and online polls. But neither the take-up rate nor satisfaction of people is high at the moment." (p-87).
In Chapter 6, 'the author highlights a number of policy issues like co-ordination and political leadership', funding mechanisms, IT investment and payoffs, and monitoring and evaluation, information resource management and enterprise architecture (EA) and security and protection of private information.
In the last Chapter 7, 'Future Directions of e-Government', 'the author discusses a number of important issues like promotion of government innovation, encouragement of citizen's engagement and participation, innovation of information resource management, protection of privacy and system safety, and acceptance of e-Government service.
In conclusion, the answer to the central question posed in this book "Is Korea strong in e-Government," shows, despite substantial investment in e-Government infrastructure, a number of shortcomings in e-Government in Korea like acceptance of the e-Government service by the public has been much lower than it should be (p-157). The central lesson which emerges from this valuable work is that investment in information infrastructure is a necessary but not a sufficient condition for the success of e-Government. A move from techno-centric to citizen-centric e-Government will surely help.
Follow and connect with us on Facebook, Twitter, LinkedIn, Elets video