As governments move forward in their adoption of Information Technology (IT) for delivery of better governance, governments would need advanced systems, software, storage, and services that are designed to give transparent, cost effective, efficient and secure citizen centric solutions.
These solutions range from entry level to enterprise class solutions, including the following:
Government administration including web hosting, portal and mail messaging

Secure work flow management

Defence and Intelligence

Criminal justice /public safety

Health, human and social services

Administrative computing (ERP, databases)

Virtualisation, consolidation solutions

Energy and space efficient data center solutions
The IT infrastructure of governments need to be extremely reliable, highly available, serviceable and robust.
Service Oriented Architecture (SOA) is all about software systems which require interoperability and flexibility. It provides common interface to applications, enabling flexible and efficient integration and reusability of already available functionalities of applications running on different platforms across different organisations or different departments. SOA is the next generation computing infrastructure for enterprise integration, including government organisations.
The Service Oriented Architecture can guarantee flexibility in a co-operative way. It forms the basis of  Governments' vision of IT enabled citizen services geared towards ease of use, ease of administration, management, profitability, transparency and easy reachability.
The SOA includes a service provider (who publishes the services along with service description), service consumer (who uses the service), and service registry (location for publishing and locating services). Various government centric web services can be implemented as SOA to achieve flexible and interoperable dynamic, modular infrastructure.
Web services designed as a part of SOA, need to be  interoperable, flexible and should support platform neutral communications. They should be implemented based on standards to provide flexible integration. The following standards and technologies are used to achieve standards based architectures,  involving multiple parties, which may include multiple government departments on different platforms.
The open standards Java Business Integration (JBI) / Open Service Oriented Architecture (OSOA) / Organisation for the Advancement of Structured Information Standard (OASIS) SOA

Support for e-Business Extensible Markup Language (ebXML) messaging.

Support for standards based business process management using BPMN (Business Process Modelling Notation) and BPEL (Business Process Execution Language) or BPEL4WS (BPEL for Web Services).

Support for WS-I protocols.

Support  for WSS (WS Security) as per IT ACT 2000
Support for Universal Description, Discourse and Integration (UDDI), Web Service Definition Language  (WSDL), Simple Object Access Protocol (SOAP), PKIX standards
Hence to manage such complex SOA requirements, governments need to adopt a completely integrated software suite to build a service-oriented architecture and composite applications for increasing information visibility, improving business agility, and making smarter Government-to-Citizen (G2C) and Citizen-to-Government (C2G) decisions.  Such an approach to integration of government services helps in evolving to an integrated and flexible SOA which can be useful in:
Gaining Complete Visibility of Information across the Government Enterprise: This allows for integration of systems and aggregation of data for a consistent,

accurate view of citizen services. It also helps in providing latest, accurate information for increased customer satisfaction leading to cross departmental integration and information for one to one activities across various departments. This also leads to faster and effective decisions.
Optimising G2C and C2G services and processes across the Government organisations.

Involvement of multiple departments requiring high degree of interoperation.

Creating an Integrated, Agile Technical Infrastructure: This leads to rapid delivery of new web services, reduced impact of business, political and technology changes and protects investments while creating new services as on need basis.

Streamline, Automate and Enable Better Reporting, Tracking and Visibility of Workflow Processes: This leads to seamless, secure sharing of processes within and outside the government enterprise, integrating silos of data at the same time ensuring data integrity.
Impact of SOA on a Traditional Government Enterprise

In traditional IT architectures, business process activities, applications, and data are locked in independent, often-incompatible 'silos.' Users have to navigate separate networks, applications, and databases to conduct the chain of activities that complete a business process. Independent silos absorb an inordinate amount of IT budget and staff time to maintain.
A Services-Oriented Architecture delivers the data needed for business process activities as an integrated service. Users no longer have to log into multiple systems, search for relevant data, and integrate the results manually. The information appears as a single application, delivered on a single screen, all with a single login.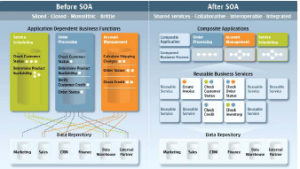 The figure below shows an example of using a SOA for e-Purchase system. Implementing SOA for e-Purchase can lead to shared collaborative services, which are integrated and interoperable.
SOA implementations globally have also been focusing on energy efficiency. As technology gets more complex, power consumption of IT infrastructure becomes a significant part of the total cost of ownership. In such circumstances, it is critical to focus on energy efficiency to reduce the total cost of ownership of IT. The second focus area is also reduction in the  real estate footprint of the infrastructure, given the fact that real estate is a very important cost consideration.
One of the best examples of SOA implementation is the province of British Columbia, who have built and are implementing provisional electronic health and record system using energy efficient systems. This solution will transform the way laboratory results and other essential patient information is securely shared amongst health care practitioners across the province. The systems will provide faster access to patient information, reducing wait times for procedures and saving health care costs by reducing the occurrence of re-tests.
One of the best SOA platforms is the Java Composite Application Platform Suite (Java CAPS). Java CAPS   includes the runtimes and tools an organisation needs to build and deploy enterprise SOA applications. Java CAPS delivers true SOA infrastructure with strong foundation of an application server, identity support and a portal interface providing flexible integration and interoperation across various organizations or departments.
The Java CAPS includes the following:
Application-to-application integration

B2B (translated to G2C, C2G) integration

Business process management

Workflow

Composite application creation capabilities

Single customer view (Single Citizen Portal)

Enterprise connectors

Portal server

Application server

Extract/transform and load (ETL)

Directory server

Access management.
Java CAPS is a comprehensive platform based on open standards and can help government enterprises to develop and deploy SOA with flexibility and re-useabiliy of existing applications, new web services, integrating new and existing applications.
It is also critical to have proper expertise to guide the SOA adoption process for governments.  The skills required include assessing the  environment for adopting an SOA, creating a detailed plan that meets the  business and technical requirements, and help one achieve implementation success.
A judicious choice of correct technology platform, appropriate SOA skills and proper government policies will ensure that governments are able to build SOA solutions that will ensure a better value of services delivered to the citizens and IT assets that have a longer productive life. 
Follow and connect with us on Facebook, Twitter, LinkedIn, Elets video