'The Department of Telecommunications (DoT) will issue fresh guidelines for giving telecom licences to new applicants and additional spectrum to the existing telecom operators before 15th October 2007', said Minister for Communcations and Information Technology, A Raja, while inaugurating the India Telecommunication Sumeet.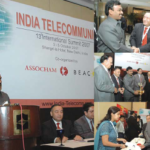 Fueled by the demand to meet the growing needs of the Indian telecoms industry, Beacon Events in Collaboration with Assocham (The Associated Chambers of Commerce and Industry of India), organised the 13th International Telecommunications Summit between 4-5th October 2007, Shangri-La Hotel, New Delhi, India. egov magazine was the media partner for the summit.
The 2 day Summit was designed to address the requirements of telecom operators in India both local and international:
Competitively growing and expanding their networks in terms of coverage and capacity expansion

Increasing subscribers whilst ensuring profitable voice and data for the mass market in India

How much spectrum is really available and how it will be allocated

What are the new policies and regulations from the top that affect the Indian operators in terms of rural penetration, 3G and beyond, increase in FDI amongst other issues

What other revenue streams can operators look at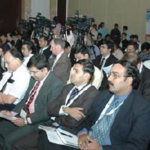 The summit was inaugurated by both the Minister of Communications and IT, Shri A Raja and the Secretary, Department of Telecoms, Mr D S Mathur.  During his presentation, the Minister emphasised that his ministry was committed to creating infrastructure for mobile services in rural and remote areas through public-private partnership and announced that the government had targeted to reduce the urban-rural digital divide from current 25:1 to 5:1 by 2010.
The Minister also said the government would provide connectivity to more than 14,000 villages in the remote areas through satellite phone terminals in which USO fund would be used for meeting operational expenditure on this initiative.
The Minister added that the share of private sector in the telecom industry had increased from 57% in March 2006 to 65% in December 2006 – this jump shows the significant role of the private sector bringing about substantial dynamism and entrepreneurial spirit in the growth of the telecom sector.
The summit attracted over 200 participants from local operators including Bharti Airtel, Bharat Sanchar Nigam, BT Global Services, Cable and Wireless, IDEA Cellular, Mahanagar Telephone Nigam, TATA Teleservices, VSNL, as well as senior executives from leading international companies like Alcatel-Lucent, Ericsson, IBM, Nokia Siemens Networks, Intel, Motorola etc. For event details and full participant list, please visit www.India-Telecoms.com.