Gifu Prefecture, located in the centre of Japan, emerge as Japan information technology hub with it is Softopia Japan ICT incubator and Technology park — a place of excellence in providing start-up business support, ICT human resources development, development of regional  information society and supporting ICT research and development projects.
Local governments in Japan are all about providing better quality of life to their citizens. Bigger community means a bigger source of income and opportunities to access different funds on national level, so local governments are trying to attract businesses and people to reside in their region. Wherever you go in Japan, you will see a local government devising new ways of revitalising their region, many of them by undertaking a number of unique information technology projects. Gifu Prefecture, conveniently located between Japan's capital, Tokyo, and Osaka, Japan's second biggest city, is leading a process of fostering the information technology industry as well as development of information society. With Softopia Japan, Techno Plaza, and the International Academy of Media Arts and Sciences, Gifu Prefecture aim to become world-class level base for ICT investments in Japan. I had a privilege to spend some time in Gifu Prefecture and those facilities; to witness how ideas, leadership and commitment of public administration top management are main ingredients of success in development of information society.
Sweet Valley Concept

It all started with the "JoJo"…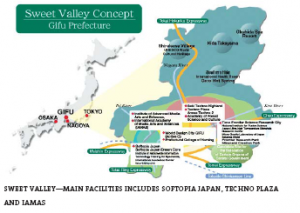 Former Gifu Prefecture's Governor Taku Kajiwara's dream was to turn Gifu region into a "JoJo" (comprising two Japanese characters to mean information industry), that is, a highly networked information society, where information produces added value and sophisticated services to help realise a good life. "The information hub" is the "point of production" of this information value and it is equivalent to farms (NoJo) in agricultural society or factories (KoJo) in an industrial society.
Sweet Valley is actually a territory situated in southern Gifu Prefecture and represents a Japanese version of Silicon Valley or Malaysian Multimedia Super Corridor. It is a location of a growing concentration of IT companies, research and development institutions specialising in communications and multimedia (such as Softopia Japan and Techno Plaza) as well as a diverse range of high-tech educational and commercial complexes. Gifu Prefecture government is committed to helping people, industry and businesses in this area, especially those who have the potential to excel at the global level, through providing personal development opportunities, business incentives and commercial promotion. Kajiwara's dream of Gifu in 21st century was built around bridging information gaps, overcoming the digital divide, computerising local government, improving the life of citizens, and computerising medicine, welfare, and education services. Softopia Japan is at the core of this dream come true.
Softopia Japan

The idea is quite simple: to attract IT companies from throughout Japan and from overseas to transform Gifu into a major IT centre in Japan. The advancements in information technology and presence of knowledge-based companies are also expected to enhance the lifestyle of Gifu residents, by providing high-quality jobs, better welfare, as well as better e-Government services. As it is a case of other incubation and technology parks, government is providing significant business incentives for those who start their business operations in Softopia Japan area.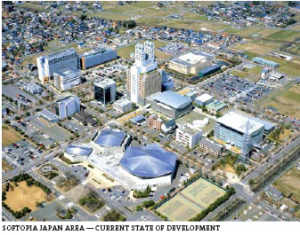 Gifu Prefecture Softopia Japan concept was drafted in 1987 and the main building were open in 1996, hosting some 59 companies with 375 employees. Ten years after, there are some 170 resident companies with more then 2,100 knowledge workers doing business in the area of Softopia Japan. Great results have been achieved by prefecture government considering that population of Gifu prefecture is 2.1 million, relatively small compared to over 126 million in the whole of Japan.
Softopia Japan is placed in Ogaki City, small and quiet town in western Sweet Valley. Main mandates of Softopia include business support, research and development, promotion of IT in the region and development of human resources.
Business incentives for start-up businesses

Softopia provides attractive business incentives and affordable office space for start-up ICT businesses in the four main complex buildings – Central Building, Annex, DreamCore and Workshop24.
For a price of 218 US$ per month, you can rent a 22 square meter room with all the necessary furniture, connected to a fiber optic network and Internet line. You can use 3 meeting rooms (business discussion, presentations, conferences), lounges for breaks, shower facilities, support rooms (relaxation, nap, store rooms) free of charge. Each room has 4 electrical outlets, air conditioning and 100Mbps broadband internet access and mail accounts that are also included in the price. Absolute privacy is provided and you will have 24hr access to your room secured by card key security system. If you're on the eve of major discovery or just a workaholic you can spend nights in your incubation room.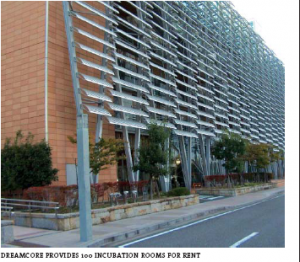 Beside affordable office space and common utilities, incubating businesses will be supported by many other means. Softopia offers specialist advisors which are responding to the needs of the incubating company when it comes to business plans and incorporation instructions, financial affairs, management and legal consultations, procurement of funds, humer resources and labour, and patent and intellectual property rights consultations. Softopia provides up to 3 consultants free of charge.
To assist in the growth of newly established companies, Softopia organise seminars related to technology, management, legalities, tax system, marketing etc. The aim is to develop tenant's managerial, presentation and other skills. Examples of themes are how to do presentations, anecdotal accounts from venture company managers etc. Trainings are also offered free of charge.
Softopia provides marketing support also. The issue of a guidebook and establishment of a website that entails company descriptions, field of expertise and main products, allows incubating businesses to conduct powerful public relation In order to cultivate customers, Softopia arrange joint booths at IT company exhibitions in major cities such as Tokyo and Osaka.
In the Central Building there are several systems available for creating visual contents and computer graphics (audio and visual recording studio, editing of recorded data in video editing rooms, all sorts of various media transformations, systems that were used by professionals and all types of necessary systems for creating computer graphics. Incubation room residents can get it for 50 percent of normal price.
To become a tenant, you need to apply with your cursicution vitae and business plan. Applications are accepted around a year, but examinations are held once every two months.
Business incentives for well established companies

After incubation period of maximum of three years, companies can rent office space with same facilities like incubation rooms but for more commercial price. Workshop 24 is such a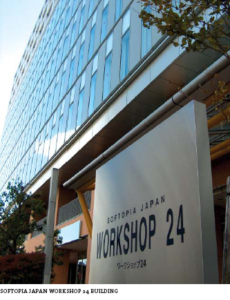 building which contains reasonably priced, versatile development rooms for large companies, which, as we said, can also be used as the next step up for a venture company. It also houses venture support offices that perform consulting services, overnight stay facilities, and rental housing.
For companies interested in large-scale/long-term business development, it is possible to construct a building of their own design, which best suits their business activities, on one of the designated lots in Softopia Japan area.
Investors can count on a three year tax exemption for municipal property tax, Prefecture enterprise tax and real-estate acquisition tax, as well as exclusion from special landholding taxes. Different scenarios of national tax exemptions also exist.
IT trainings in Softopia Japan

In an effort to promote development of ICT industry and ICT utilisation in Gifu Prefecture, the government has taken steps to educate and train highly skilled IT technicians. It is not enough just to foster job opportunities for the young people; you need to provide training that will bridge the gap of job related requirements between young people and companies starting their business in Softopia Japan and Gifu region. Government has started ambitious programme called "IT training for Local Employment" under which the courses that leads to Microsoft, Cisco, Oracle and other vendors certification are offered free of charge. Eligible applicants for training have to be over 18 years old and fit one or more of the following conditions: persons without a stable job, new graduates with no employment plans and/or persons seeking to change career. Most of the trainees manage to secure a job in one of Softopia companies.
Government of Gifu Prefecture is actively combating "digital divide" phenomena by providing free access to computer rooms, located in DreamCore building, to elderly and people with disabilities. Citizens can spend their time freely, learning how to utilise computers and e-Government services provided by Gifu Prefecture.
Research and development

As much as it is important to support development of ICT industry, equally it is important to promote utilisation of ICT technology in non-ICT industries. In the Gifu Prefecture, government is financing work of scientists' teams to conduct research and development with the goal of creating technologies which support the digitalisation of the industry. Any company from the region can address Softopia regarding any of their IT needs, and Softopia will provide technology consultation and introduce them to partners capable of solving their technology problems.
Companies can also freely enquire about existing base of R&D projects that are available for technology transfer.  If you are running a business in that area, Softopia can show you live demonstrations of their technology in action. Main area of interest is knowledge-based image recognition technologies.
Final words

A person who works in ICT field has very specific needs. It is not like working in the factory; you have to think, and generate ideas. It is only possible in healthy and calm natural environment, and Softopia provides it. There's a lot of greenery with numerous restaurants and convenient stores spread across the area. When you combine it with personal development opportunities, well-thought business incentives and support, and commercial promotion that Softopia provides, one thought comes to my mind. It is probably the best place to start ICT business in Japan.  
  Recommended links:

Softopia Japan – http://www.softopia.or.jp/en/
Softopia Japan Business Matching Site – http://www2.softopia.or.jp/bms/english/index.html
Gifu Prefecture IT Business Investment Promotion Site – http://www.itbusiness-gifu.jp/e/
Follow and connect with us on Facebook, Twitter, LinkedIn, Elets video