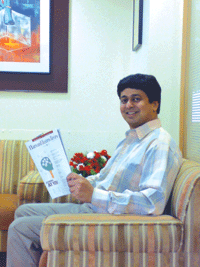 Vikas Joshi believes that any e-Learning solution should have tools, which facilitate creation of highly interactive and effective online training rapidly. In 2007, Raptivity, the industry-leading product of his company won the e-Learning Guild Platinum Award in Simulations Tool category and Gold Award in Games Tool category for Highest User Satisfaction. An IIT(B)ian and a MS from Syracuse University, the man has been recognised as a Thought Leader by the global Who's Who of TraningIndustry.com, a leading US-based organisation. Vikas Joshi, the Founder, Chairman, and Managing Director, Harbinger Group and the Thought Leader speaks more about how his leadership at Harbinger has resulted in groundbreaking product innovations in the e-Learning industry.
You have authored a book on e-Learning mantras. So what are the strategic mantras for e-Learning in your view?

When I wrote this book four years back, I focused on the pitfalls e-Learning must avoid. Thankfully, the e-Learning industry has changed and will continue to change rapidly.
Now it is an imperative that e-Learning has to be exciting, interactive, visually appealing and should hold the learner's attention throughout. To achieve this, e-Learning courses should consist of interactive elements such as games, simulations, active videos, puzzles, quizzes and more.
While keeping this in mind, one has to also ensure that the training delivers true learning outcome to help the learner be more effective and perform better. Which means, simply jazzing up e-Learning is not enough. A strong foundation of instructional design is essential to interactivity
At the same time creation of such training should not be time consuming and expensive. Therefore, one important strategic mantra for effective e-Learning is to adopt technology and methods that can help create interactive e-Learning rapidly.
Can you throw some light on some of your authoring and collaboration tools?

Harbinger has a whole suite of e-Learning products, with a user base in over 30 countries, and growing rapidly. Harbinger's industry-leading product Raptivity is the world's first rapid interactivity builder. Raptivity facilitates the creation of learning interactions rapidly without programming. Raptivity consists of a library of pre-built interactions based on the best practices in instructional design.
In 2007, Raptivity won the e-Learning Guild Platinum Award in Simulations Tool category and Gold Award in Games Tool category for Highest User Satisfaction.

Elicitus, Harbinger's award-winning authoring tool helps users create visually appealing e-Learning courses easily. The Elicitus SlideConverter converts Microsoft PowerPoint files to e-Learning courses.
These products are compliant with the international e-Learning standards such as AICC/SCORM.
On the server side, Harbinger offers the Elicitus ProgressTracker, which is a tracking system, as well as Offline Content Player for offline learning.
Do you think e-Learning can deliver productivity improvements? People really think that the need should be about performance improvement and say that e-Learning improves employee performance.

Absolutely! Good interactive e-Learning built on sound instructional design that makes optimum use of available media, has plenty of scope in what it can accomplish. Interactive learning speeds up the learning process and has a lasting effect on learners.
You also have some offline products for the e-Learners having no bandwidth for courses. How effective are they in comparison to the online products? What about their compliance to industry standards?

Yes, Harbinger has developed Offline Content Player. It supports full integration with online learning and has download and synchronisation capabilities. The player provides the critical tracking functionality, something that is indispensable for those delivering e-Learning in a distributed mode through CD-ROMs.

We are proud that we are currently writing standards for offline courses along with the Aviation Industry CBT Committee (AICC). The AICC, an international association of technology-based training professionals, develops internationally accepted interoperability guidelines.
What are the parameters you judge and cover about the enterprise world or your customers while delivering the e-Learning solutions ?

We believe that any e-Learning solution should have tools, which facilitate creation of highly interactive and effective online training rapidly. We also believe the tools should be easy to use and users need not have specialised programming skills to use these tools. Use of such tools then should reduce the overall content development time and cost.
What do you think as the big issue in the field of enterprise e-Learning? How do you think the success of e-Learning should be measured?

The biggest challenge in e-Learning today is to keep learner interested and enthusiastic through the entire duration of the course. This can be achieved through high cognitive level interactions, use of games, active videos / audios, puzzles, simulation and so on. However, sometimes this is compromised due to time and cost constraints during course creation.
The success of e-Learning should be measured by whether there has been a meaningful learning outcome at the end of the learning experience. An unmistakable indicator that training has been useful is when learner performance improves, either back at the job or back in the classroom.
How is the market for your innovative e-Learning products abroad in comparison to India? How do you plan to tap the Indian market?

Our e-Learning products are well appreciated across the globe. We have customers in over 30 countries worldwide, belonging to a variety of verticals including Education, Pharmaceuticals, Healthcare, BFSI, Manufacturing, Automobile, Government and NGOs, IT enabled services to name a few. e-Learning Guild Platinum Award and Gold Award for Highest User Satisfaction are testament to the global appeal of our products.
We also have done well in the Indian market. Top IT, BPO, and Insurance companies like Infosys, Wipro, Bajaj Allianz, Reserve Bank of India etc have been making robust use of our e-Learning products.
As our products already provide support to Indian languages such as Hindi, Tamil, Marathi and more, we see India as a huge opportunity. We have plans to penetrate this market further with our increased sales team and also looking at signing up resellers.

What in your opinion would be the critical concern for e-Learning in future? Where do you see e-Learning moving in another five years?
As we speak, e-Learning is going through a paradigm shift. Learning is never going to be the same again. As bandwidth capabilities improve, games, simulations and videos will take the helm in e-Learning interactive content. This is where we come in, by making the future of e-Learning realisable in a rapid e-Learning environment as well.
Harbinger Systems enjoys the status of a 'Thought Leader' in e-Learning. Your comments on this!

We enjoy challenging ourselves all the time. Our vision is to be the global leader in learning technology innovation. When TrainingOutSourcing.com, a global community of training professionals, recognised Harbinger among the Global Top 20 Specialised Learning Process Providers of 2006, we felt that enjoying the position of a "Thought Leader" brings in huge expectations and responsibilities. Being a Thought Leader, we first understand the big picture. Then we apply deep technology skills and design innovative solutions for the market. We will continue to come up with new and innovative products for this industry.
Follow and connect with us on Facebook, Twitter, LinkedIn, Elets video