A learning education company, Educomp Solutions has grown over the years a pure education company today, pioneering in digital content, online tutoring, ICT in Education, and many more, through management of learning, content creation and delivery of learning all around the globe. And the man reckoned as the global learning enabler, Shantanu Prakash, the Managing Director of Educomp Solutions, makes education the vision and mission of his life.
For Shantanu Prakash, education in India is a INR 10,000 Cr business to tap!
"In a country currently 1,50,000 schools short, you need to encourage more private capital to come into the sector, so that more infrastructure can be developed. Yet for historical reasons education has always been considered a non profit. We as a for-profit company, certainly look at education as a business, and bring in all the efficiency of the best practices and processes to education industry, starting from the content creation, till delivery. Being for profit enables us to sharply focus on results and the educational ROI to students, Shantanu says.
True! Then why only INR 10,000 Cr? What about nurturing this business further?
India spends about 5% of its GDP in education and this is a number that is still lower if compared to other countries, where as countries like Thailand or Indonesia have 6-8% of their GDP spending in education. If India reaches to that level, then not INR10,000 Cr, but 100,000 Cr business opportunities will be created for India, envisions Shantanu.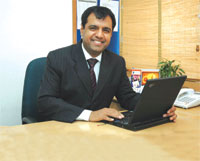 Shantanu Prakash, the Managing Director of Educomp Solutions Limited founded the company in 1994. He is well known as a thought leader in the education technology space. He founded Deumatics Corporation USA in 2001, and Lakshya Digital Pvt. Ltd. a game development company in 2004. He is also the managing trustee of Learning Leadership Foundation a non-profit working in the areas of bringing best practices in education to schools in India
Today Educomp Solutions, which is growing at over 100% annually over the past 3 years, with ten offices in India, a fully owned subsidiary in the US and more than 1000 employees, presence in over 2,000 schools in more than 30 cities across India has scaled up to creation, management and delivery of content for the school education system in a big way. Though the visionary man is not thinking of diversifying beyond schools, today Educomp