The detected slowdown in U.S. Internet adoption may soon become a global slowdown. In "The Face of the Web" annual study from Ipsos Insight, conservative growth was seen in a few key countries.
The most significant stagnation in the uptake of active Internet users was in North America. Regular Internet usage sits at 71 percent in the U.S. and 72 percent in Canada. The percentage of Internet users in North America increased only slightly over the 2005 rate after a growth spurt in 2004. Though the rate of new Internet users is expected to remain stagnant, North America is viewed as an important Internet economy. Adoption of technologies such as Wi-Fi connectivity, RSS feeds, blog authoring and podcasts drive Internet usage and set the pace globally.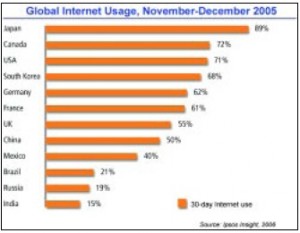 "Generally speaking, the world is growing in the amount of time they spend online and what they do online," said Ipsos Insight Senior Research Manager Adam Wright. "If there was a common denominator, we saw a big spike in the digital music lifestyle across all markets. The story really is that digital music is driving and growing the digital lifestyle across all markets." The highest percentage of Internet users within a population is in Japan where nine out of 10 people (89 percent of the population, or 75 million users) used the Web within 30 days of the survey. Users in Japan average 14 hours online per week.
France experienced the highest rate of increase in Internet users in 2005, with Germany and Russia following close behind.
"In Europe they show a lot more signs of growth, and we think growth will be strong in that region," said Wright, who says in parts of Europe there are incentives through service bundles. "I think the whole triple-play promotional perspective is one of the aspects driving growth in Western Europe."
Data are based on interviews conducted in 12 key global markets with over 6,500 adults, including 3,462 active Internet users.
Global Weekly Internet Usage Time,
November-December 2005
Country              Mean Number of Hours Online per Week
China                                        17.9
Japan                                        13.9
South Korea                             12.7
Canada                                     12.3
U.S.                                          11.4
Mexico                                      9.2
France                                       9.1
Germany                                    8.9
Brazil                                         8.8
U.K.                                          8.6
Russia                                        5.7
India                                          4.4
Follow and connect with us on Facebook, Twitter, LinkedIn, Elets video