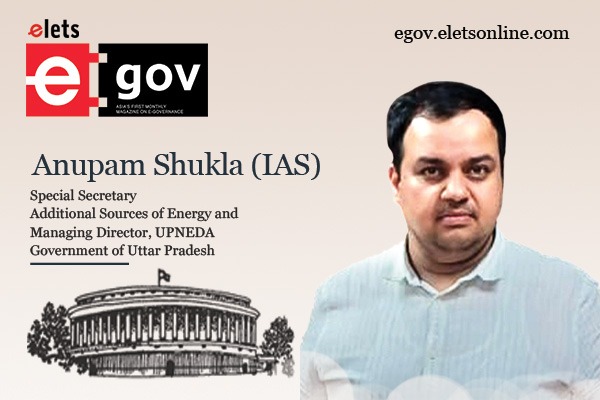 With growing concern of climate change, India is on an upward trajectory to ensure the adoption of other eco-friendly alternatives for energy. In light of which, various plans and incentive schemes have been floated by the Government of India to find a way out. Anupam Shukla (IAS), Special Secretary, Additional Sources of Energy and Managing Director, UPNEDA, Government of Uttar Pradesh in conversation with Ritika Srivastava of Elets News Network (ENN). Edited excerpts.
In what ways does the concept of "smart grids" intersect with urban planning principles for the establishment of energy-efficient cities?
The concept of "smart grids" aligns closely with urban planning principles aimed at establishing energy-efficient cities. Smart grids refer to modernized electrical grids that incorporate advanced technologies to enhance the efficiency, reliability, and sustainability of energy distribution. When integrated with urban planning, smart grids contribute to the creation of energy- efficient cities in several ways:
Demand Management: Smart grids enable real-time monitoring of energy consumption patterns. This data helps urban planners optimize energy demand by identifying peak usage times and devising strategies to manage demand through load balancing and demand response programs.
Renewable Energy Integration: Urban planning often includes the incorporation of renewable energy sources such as solar panels, wind turbines, and microgrids. Smart grids facilitate the seamless integration of these decentralised energy sources into the urban energy network, improving the overall resilience and sustainability of the city's energy supply.
Distributed Energy Resources (DERs): Smart grids support the integration of DERs, including rooftop solar panels, energy storage systems, and electric vehicle charging stations. These resources enhance the city's energy independence, reduce transmission losses, and support the transition towards a more decentralised energy infrastructure.
Real-time Monitoring and Control: Smart grids enable real-time monitoring of energy flows and grid performance. This information empowers urban planners to make informed decisions about energy distribution, identify inefficiencies, and respond promptly to disruptions.
Energy Efficiency and Conservation: Urban planning principles emphasize energy-efficient building designs and infrastructure. Smart grids enable energy-efficient practices by providing data on energy consumption and facilitating remote control of energy-consuming devices, leading to reduced waste and optimized energy use.
Grid Resilience: A resilient energy infrastructure is vital for cities' sustainability. Smart grids enhance the resilience of urban energy systems by enabling self-healing capabilities, quick fault detection, and rerouting of energy flows in case of outages or disturbances.
Electrification of Transportation: Urban planning often includes initiatives to promote electric vehicles (EVs). Smart grids play a critical role in supporting the widespread adoption of EVs by managing their charging demands, ensuring efficient utilisation of charging infrastructure, and preventing grid overloads.
Data-Driven Decision Making: Smart grids generate vast amounts of data related to energy consumption, grid performance, and user behaviour. Urban planners can leverage this data to make informed decisions, optimise energy distribution, and design future infrastructure projects.
Energy Pricing and Incentives: Smart grids enable dynamic pricing mechanisms that reflect real-time energy demand and supply conditions. Urban planners can work in tandem with energy providers to implement pricing structures that encourage energy conservation during peak hours and promote sustainable energy use.
Community Engagement: Integrating smart grids with urban planning allows for greater community engagement in energy management. Residents can actively participate in demand response programs, monitor their energy usage, and make informed choices to reduce their carbon footprint.
In conclusion, the convergence of smart grids and urban planning principles leads to the creation of energy-efficient cities that are sustainable, resilient, and responsive to the evolving energy landscape. By incorporating advanced technologies and data-driven strategies, cities can optimise energy consumption, reduce greenhouse gas emissions, and enhance the quality of life for their residents.
Uttar Pradesh New and Renewable Energy Development Agency (UPNEDA) has been designated as the nodal agency for implementation of Uttar Pradesh Solar Energy Policy-2022. What are the various initiatives being planned to ensure a successful implementation of the policy?
The Policy targets implementation of 22000 Megawatt till 2026-2027 of which 6000 megawatt is proposed to be achieved through deployment of Solar Rooftop systems in residential sector and on government offices, buildings, Organizations and Industries buildings. Major initiative will be implementation of robust IEC strategy for creation of demand for installation of Solar Rooftop PV Power Plants in residential and non-residential sectors of the State.
As an initiative to ensure successful implementation of Solar Rooftops, 16 Nagar Nigam and Noida city will be developed as Solar cities. In these Solar cities, approximately 1350000 houses will be covered with Solar Rooftop systems during the Policy period.
In implementation of Utility Scale Solar Power Projects, a major challenge is acquiring huge contiguous parcels of Land required for setting up of Solar Power Parks. As Uttar Pradesh is an agrarian State, barren wastelands are available in Bundelkhand region of the State, in fact that is the only region of State which receives sufficient solar insolation for generation of Solar Power. Also, the land holdings with marginal Farmers are very small.
Therefore to facilitate easy availability of contiguous Land Parcels, UPNEDA will prepare Land Banks of Government revenue land in Bundelkhand region. Government revenue land will be made available on lease for thirty years @Rs 1/- per acre per annum to Government PSU and Joint venture companies with Government PSU. Private developers will be made land available @ Rs 15000/ per acre per annum for thirty years on lease.
Also, declaration for change in land Use from agriculture to non agriculture and permission of purchasing land more than prescribed ceiling limit of 5.058 hectares on land purchased by Private Project developers for setting up Solar Power Projects will be deemed.
As majority of Solar Power projects, due to availability of barren and wastelands are expected to come up in Bundelkhand region of the State. Keeping this in view, the constraints of existence of the Transmission system for evacuation of Power, a Green energy Corridor capacity for evacuation of 4000 MW Power is approved for construction in Bundelkhand Region. First phase of the Green Energy Corridor of 1000 MW capacity is targeted to be completed by 27-28.
What are the innovations in the energy sector that are driving it towards a sustainable future?
Major innovations in the energy sector driving it toward a sustainable future are Energy savings on the demand side. In fact most of the innovations in the Energy sector taking place are mainly aimed at demand-side interventions to tackle the growing energy requirements. Efficiency improvements in the energy production and replacement of fossil fuels by various sources of renewable energy are the ways out.
There is a renewed global focus in driving mission sustainability, clean energy targets, and the shift towards the adoption of Electronic Vehicles and renewable energy. How do you see India's role and contribution towards this global focus?
In light of the growing concern of climate change, India is on an upward trajectory to ensure the adoption of other eco-friendly alternatives for energy. It is noteworthy that currently, the focus of the Government is primarily towards addressing the issue of dependence of India on non- renewable energy sources and fossil fuels. In light of which, various plans and incentive schemes have been floated by the Government of India to accelerate the market for EVs in India. The Government of India has taken several initiatives in order to promote the adoption of EVs as a viable alternative.
Also as a commitment in Cop26, India's non-fossil energy capacity is targeted to reach 500 GW by 2030. India will meet 50 per cent of its energy requirements with renewable energy by 2030. India will also reduce the carbon intensity of its economy to less than 45 per cent by 2030 and by 2070, India will achieve the target of net zero emissions. To achieve these goals, India will reduce its total projected carbon emissions by one billion tons from now to 2030.
What are the challenges in implementing and promoting usage of renewable energy? How does Uttar Pradesh look to address these challenges?
Renewable energy technology, though, is becoming better, cheaper, and easier to access every year. In my view, one of the biggest challenges faced by the renewable energy introduction to our daily use is economics and specifically the financial issues involved in bringing renewable technologies and renewable energy to the masses. Lack of storage of Renewable energy makes it unviable and unaffordable power. Non- availability of reliable large scale energy grids for transmitting the generated Renewable power is another stumbling block in the form of infrastructural challenge. One of the other challenges in implementation of Renewable energy Projects is balancing the demands for energy with other land-use requirements. In fact, in most of the projects, it is found that most valuable land is often optimal for energy generation requirements. Keeping in view the challenges in implementation and promoting the use of Renewable Energy in Uttar Pradesh through the policies declared like State Solar Energy Policy 2022 and Bio Energy Policy 2022, various subsidies and fiscal incentives have been provided to make the renewable energy systems more affordable by the masses and also commercially and economically viable to Project developers like State's subsidy of Rs 30000/- per consumer apart from Central subsidy is available on installation of Solar Rooftop systems. Subsidies and incentives on setting up of different types of Bio energy plants based on agriculture waste like bio CNG Plants, Bio pellets and briquettes etc. are being made available. To meet the challenge of variable Renewable Power especially solar power and to encourage private investment in the State, State subsidy to the extent of Rs 2.5 Crore per Megawatt for setting up Projects with four hours storage systems energised with solar energy have been provided in the State Solar Energy Policy 2022 .
Your thoughts on how sustainability can be embedded in the energy segment and what are the reforms at the central and state level needed to take this mission forward?
Sustainability can be embedded in the energy segment by diversifying energy resources and energy generation sources, by ensuring energy affordability, increasing green energy production and also by ensuring energy efficiency. In the National Electricity Plan [NEP] framed by the Ministry of Power (MoP), a10-year detailed action plan has been developed with the objective to provide electricity across the country, and a further plan has also been prepared to ensure that power is supplied to the citizens efficiently and at a reasonable cost. Therefore a mixture of push policies and pull mechanisms, accompanied by particular strategies will lead to promotion of the development of renewable energy technologies thereby leading to sustainability in the energy sector. Advancement in technology, proper regulatory policies and attempts in efficiency enhancement due to research and development (R&D) are the pathways that will lead to conservation of energy and environment which will further guarantee utilisation of renewable resource bases in a cost effective and quick manner.
In fact some of the reforms which have been taken up at the central level by the Ministry of Power and Ministry of New and Renewable Energy for easing and increasing the production of Renewable Energy like specifying Renewable Purchase obligation trajectory for Discoms with separate specification of Hydropower purchase trajectory. Waiver of ISTS Transmission Charges and Losses for Solar & Wind Power including Hydro pumped storage Plants (PSP) and Battery Energy Storage Systems will provide long-term visibility and certainty in renewable power generation and also lead to encourage the capacity addition in solar, wind, battery storage and pumped storage projects. Similarly, notification of Electricity (Promotion of generation of Electricity from Must-Run Power Plant) Rules by MOP will ensure availability of green and clean power to consumers, thereby securing a healthy environment.
Also, as Energy Efficiency is a key element that can contribute towards reducing the energy requirements and the associated environmental implications, several reforms/initiatives through implementation of programmes/schemes related to enhancement in Energy efficiency and conservation of Energy are being driven at the central and State level in the area of Industries, appliances, buildings, transport, agriculture and demand side management, etc. like Standards & Labelling scheme which entails laying down minimum energy performance norms for appliances / equipment and rating the energy performance on a scale of 1 to 5, notification of The Energy Conservation Building Code (ECBC) which sets the minimum energy performance standards for commercial buildings.
One of the major interventions to achieve reduction in energy demands while ensuring continuous development and for promotion of energy efficiency are DSM (Demand Side Management) interventions in agriculture and municipal sectors. These are paving the way for promotion of sustainable energy. DSM interventions are helping utilities not only to reduce the peak electricity demands but also defer high investments in generation, transmission and distribution networks. Campaigns like "Go Electric" to spread awareness on the benefits of e-mobility and EV Charging Infrastructure as well as electric cooking in India have been launched by the Bureau of Energy Efficiency.
"Exciting news! Elets eGov is now on WhatsApp Channels 🚀 Subscribe today by clicking the link and stay updated with the latest insights!"
Click here!