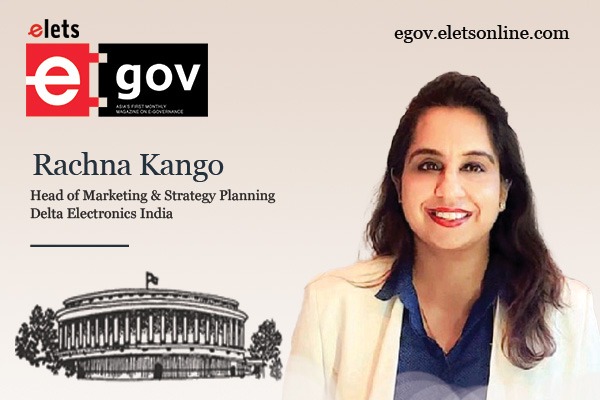 ESG and sustainability are inherent core values of Delta Electronics, Shares Rachna Kango, Head of Marketing & Strategy Planning, Delta Electronics India in an exclusive interaction with Garima Pant of Elets News Network (ENN). Edited excerpts:
Could you share with us how you integrate sustainability goals and ESG considerations into the overall business strategy of Delta Electronics India, and how does it contribute to long-term success?
Delta is an organisation where ESG and sustainability are inherent core values. Our mission is "smarter, greener together." Everything we do is related to sustainability and ESG. Our products and solutions are energy-efficient, helping consumers save energy. This commitment is ingrained in our culture.
For instance, we have 32 green buildings globally and two green data centres. We are a member of RE 100, aiming to be renewable-dependent by 2030. Further, we've achieved 56.6% of the target already, demonstrating our commitment to sustainability. Our focus extends to our customers too. For example, our power quality products stabilise harmonics, reducing energy losses in distribution systems, and supporting sustainability. Overall, our approach benefits both our organisation and the environment.
As a woman leader in ESG and strategic marketing, how has your experience influenced the integration of sustainability into Delta Electronics India's business strategy?
It's an interesting question. The idea of a "woman leader" might be debatable, but what women bring is a holistic perspective. Women are known for their 360-degree thinking, considering everything from start to end, much like how they manage their homes. This mindset plays a role in sustainability. As the head of sustainability, I view the organisation as my home, ensuring efficiency and waste reduction. This perspective guides us. Women tend to think logically and comprehensively, which helps convey proposals effectively to management for sustainability projects. It's not to say men lack this perspective, but women have inherited a focus on efficiency, which aids in driving sustainability initiatives.
What are some of the challenges you have faced as a woman leader in driving sustainability initiatives within the corporate world, and how have you overcome them?
Certainly! Challenges abound in the sustainability field. One significant challenge is the lack of instant ROI. Sustainability investments may not yield immediate returns, creating financial burdens. However, long-term benefits are substantial. Over time, the impact becomes evident, contributing to both financial growth and emotional satisfaction for employees. Another challenge is obtaining accurate data. Establishing credible baseline numbers is essential, but data credibility remains a concern. Automation is needed to ensure reliable data. Every organisation entering the ESG space needs time to establish credible baseline figures before focusing on improvement.
How do you communicate these initiatives and engage stakeholders externally beyond your organisation?
External communication is vital for organisations. External stakeholders— customers, vendors—need confidence in our sustainability efforts. We share quantifiable results through various channels—digital media, print, newsletters, and presentations. Transparency and numbers matter. We show how our products save energy, reduce carbon footprint, and contribute to sustainability. Our customers now demand these insights, flipping the dynamic. We must proactively communicate our sustainability practices to instil confidence and demonstrate our commitment.
Where do you envision the future of sustainability and ESG initiatives heading?
Sustainability faces a talent crunch ahead due to its novelty. Organisations will need skilled personnel to manage sustainability efforts. Over the next 5 to 10 years, the fruition of ongoing initiatives will become evident, potentially leading to a reversal of environmental challenges. As renewable energy adoption grows, technologies like green hydrogen could lead to emissions reduction. The trend of external stakeholders seeking sustainability documentation will likely continue, urging organisations to be forthcoming with their initiatives. A greener and more sustainable future seems plausible.
"Exciting news! Elets eGov is now on WhatsApp Channels 🚀 Subscribe today by clicking the link and stay updated with the latest insights!"
Click here!