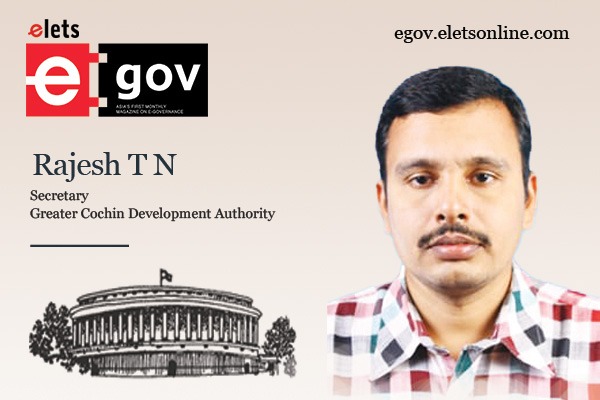 From fostering affordable housing to promoting eco-friendly transportation, and from establishing sustainable townships to harnessing cutting-edge technologies, the Greater Cochin Development Authority (GCDA) has embarked on a remarkable journey to reshape urban planning within the city. Rajesh T N, Secretary, Greater Cochin Development Authority, shares insights into this transformative journey in an exclusive interview with Nisha Samant of Elets News Network (ENN). Edited Excerpts:
Urban planning plays a vital role in shaping a city's growth and liveability.What Are some of the key urban planning principles that guide the development projects carried out by the Greater Cochin Development Authority?
The Greater Cochin Development Authority (GCDA) has played a pivotal role in the transformation of Kochi, also known as "the Queen of the Arabian Sea," from an ancient port town into a thriving metropolitan city. Established in 1976, GCDA has been instrumental in fostering planned urban development, sustainable growth, and public engagement. Through its initiatives, Kochi has evolved into a global tourist destination and the economic hub of Kerala.
GCDA's contributions are visible in iconic landmarks like Kochi's Marine Drive, Jawaharlal Nehru International Stadium, and parks such as Changampuzha Park. Its commitment to planned, inclusive growth is evident in 23 Detailed Town Planning schemes and a Master Plan that remains relevant even today. In housing, GCDA introduced pioneering projects like Panampilly Nagar, Gandhi Nagar, and Periyar Housing, catering to diverse socioeconomic groups.
The authority's impact extends to transportation, having developed significant roads like Kaloor- Kadavanthra Road. Noteworthy projects like Marine Drive Shopping Complex, Thoppumpady Bridge, and Marine Drive walkway demonstrate its multifaceted approach, encompassing economic, commercial, and physical infrastructure development.
While changes in legislation reduced its developmental powers, GCDA continued to contribute to Kochi's progress under Chairman Sri K. Chandran Pillai. The authority's recent focus centres on addressing climate change and creating a cleaner city. Projects outlined for the 2023-24 fiscal year include an advanced filmmaking centre, inclusive satellite cities, sewage treatment plants, sports city initiatives, women's accommodation at She Hostel, affordable housing at Kayal Samara Samellana Smarakam, and the Rainbow Home for transgender community members. GCDA's legacy remains ingrained in Kochi's modern identity as a vibrant and sustainable metropolis.
Affordable housing is a critical concern for many urban areas. Could you share some of the innovative approaches or initiatives that your organisation has undertaken to provide affordable housing options for the residents of Greater Cochin?
GCDA has been instrumental in shaping Kochi's housing sector, executing various schemes with a focus on inclusivity. Their efforts span across diverse social strata, addressing housing needs for the poor, middle, and affluent segments. Noteworthy projects include Panampilly Nagar Housing for the middle class and Gandhi Nagar Housing for economically weaker sections.
Presently, GCDA is close to completing the Life Mission project, aiding 88 families from the P&T colony to access better living conditions. Additionally, GCDA seeks to provide middle-income individuals affordable housing options via PPP and rental housing models. This exemplifies GCDA's commitment to creating a balanced and accessible urban housing landscape.
Can you elaborate on the strategies that the Greater CochinDevelopment Authority has implemented to promote sustainable townships within the region? How do you ensure a balance between urban development and environmental conservation?
Kochi is grappling with significant challenges due to rising sea levels and rapid urbanisation. The IPCC Report highlights the severe risk posed by increasing sea levels, while research from Jakarta suggests that skyscrapers could lead to land subsidence, compounding the city's vulnerabilities. By 2050, Kochi could face a 0.6-meter sea level rise and lose around 35 sq. km. of coastal land, alongside intensified floods and erratic weather patterns due to climate change.
Balancing urban development and environmental preservation is crucial for Kochi's long-term well-being. Escalating sea levels could trigger saltwater intrusion and tidal impacts, particularly in coastal zones, jeopardising living conditions. Urban growth is concentrated in the north and northeast, driven by commerce, industry, efficient transit networks, and the Periyar River.
While urbanised areas like Ernakulam district benefit from economic growth, they also face downsides like urban sprawl, especially near the Periyar River and commercial corridors. The Cochin Corporation is nearing capacity, prompting the need for compact urban growth and retrofitting. Urbanisation strain on infrastructure has led to inadequate amenities, transportation, and housing, alongside challenges with drinking water, waste disposal, and transportation.
To address these concerns, the Greater Cochin Development Authority (GCDA) is leading sustainable planned development in peripheral areas. This approach aims to establish new townships as counter magnets, boosting employment and life quality while mitigating urbanisation's drawbacks in the city centre.
To tackle climate threats, expanding into safer zones is advised. Relocating at-risk settlements and activities to resilient areas can mitigate the dangers of sea level rise, floods, and cyclones. This move can also ease congestion, pollution, and transportation issues, fostering job creation and overall growth.
Kochi's urbanisation, mainly towards the north, faces challenges due to industrial belts. Untapped potential lies in the underdeveloped east and south, offering prospects for tourism, commerce, and infrastructure projects. Promising areas like Keezhmad, Puthenkurishu, and Mulanthuruthy could play a vital role in holistic and sustainable growth, given their connectivity and development opportunities.
The proposal for an Angamaly-Kuthanur bypass by the NHAI opens doors for satellite townships. These self- sustaining, interconnected townships align with the city's expansion plans. An inception report detailing these strategies has been submitted, emphasising controlled expansion, resilient infrastructure, and urban decentralisation for Kochi's prosperous and sustainable future.
Clean transport is a cornerstone of reducing urban pollution and congestion. How does your authority collaborate with various stakeholders to encourage the adoption of clean transport solutions, such as public transit and electric vehicles, within the Greater Cochin area?
Kochi Metro Rail Limited (KMRL) is actively enhancing Kochi's transportation infrastructure. With projects like Kochi Metro Rail and Kochi Water Metro, they are now focusing on pedestrian and cyclist facilities.
By modernising walkways, footpaths, and cycle tracks along major roads, KMRL aims to create safe and convenient options. They've outlined an NMT master plan, identifying key corridors for non-motorized transport. This initiative serves as last-mile connectivity to metro stations citywide.
In partnership with the Greater Cochin Development Authority (GCDA), KMRL has begun implementing NMT corridors like the KK road. GCDA is also combating pollution by establishing electric charging stations and collaborating with various organisations, including Kochi Metro Rail Ltd, Kochi Corporation, and more, for comprehensive developmental projects.
With the rapid advancement of technology, how do you see the role of emerging technologies like smart infrastructure, data analytics, and IoT influencing urban development and management in Greater Cochin? Are there any specific projects that highlight this integration?
The rapid advancement of smart technologies like IoT, data analytics, and smart infrastructure is transforming urban development in Greater Cochin. As one of India's Smart Cities, Kochi is adopting the Smart Cities Mission (SCM) to enhance its urban ecosystem. The SCM aims to improve core infrastructure, citizens' quality of life, and sustainable practices. The Integrated Command and Control Centre (IC4) by Cochin Smart Mission Ltd. is a pivotal element, unifying state departments using technology. Emergency services, streetlights, and more are integrated, with future expansion planned.
GIS mapping is capturing the city's assets, enabling web maps for better public transport and addressing civic issues such as waterlogging and disaster management. A citizen portal and mobile app facilitate digital government services and grievance submission, enhancing transparency. IC4 played a crucial role during the Covid pandemic, functioning as a WAR ROOM to manage medical needs and control the outbreak.
The Greater Cochin Development Authority is shaping urban policies and infrastructure through seminars and workshops. The recent BODHI-2022 National Urban Conclave, organised with the Association of Municipalities and Development Authorities, showcased innovative urban planning practices. The upcoming Bodhi Urban Conclave will centre around water conservation. GCDA's projects include park renovations, Dutch Cemetery development, modern toilets, the Queen's Bay project, a naval history museum, and the Periyar river restoration.
In this era of rapid technological change, GCDA is adapting with vigour, ensuring Greater Cochin thrives amidst the evolving urban landscape.
"Exciting news! Elets eGov is now on WhatsApp Channels 🚀 Subscribe today by clicking the link and stay updated with the latest insights!"
Click here!