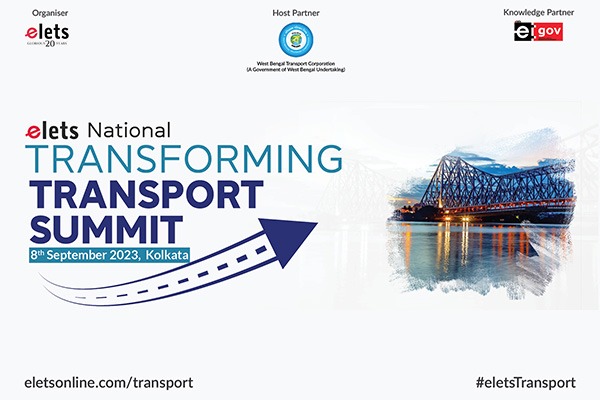 Advancements in technology and connectivity have radically changed the face of transportation in recent years. To address these developments and foster further innovation, West Bengal Transport Corporation (A Government of West Bengal Undertaking), 'Host Partner in collaboration with Elets Technomedia are delighted to organise the Elets National Transforming Transport Summit. The event will be held on 8th September 2023, at The Lalit Great Eastern, Kolkata, and will focus on the theme 'Advancing Technology and Connectivity in Transportation.'
Transportation is not merely a mode of transit but a catalyst for economic and social growth. With the rapid expansion of technology and connectivity, embracing and confronting the emergent trends and challenges in this field has never been more critical. The Elets National Transforming Transport Summit aims to bring together key stakeholders from the transport sector to discuss innovative solutions, policy frameworks, and best practices that will help shape a more efficient, sustainable, and safe future for transportation in India.
The Guest of Honour for the summit will be Shri Snehasis Chakroborty, Hon'ble Minister in Charge, Transport Department, Government of West Bengal. Other key speakers of the summit are: Dr. Saumitra Mohan, IAS, Secretary, Transport Department, Government of West Bengal; Rajanvir Singh Kapur, IAS, Managing Director, West Bengal Transport Corporation, Government of West Bengal; Dilraj Singh, IAS, Secretary, Department of Transport, Government of Punjab; VK Srivastava, Managing Director, Kolkata Metro Rail Corporation Limited; UJM Rao, Managing Director, Andhra Pradesh Rail Corporation; Jaishree Jindal, Transport Specialist, World Bank, Delhi, and many more.
The esteemed partners for this summit are: Delta Electronics; State Bank of India; Indian Oil; and CESC Limited.
The summit will commence with a welcoming address from Dr. Ravi Gupta, Founder & CEO of Elets Technomedia Pvt Ltd, followed by the grand launch of a special edition of the eGovernance Magazine by the key dignitaries.
The summit will later witness the insightful discussions and panel discussions around: Sustainable transportation solutions for India's evolving urban planning: Electric Mobility Adoption; Digital Transformation in Transport: Enhancing Efficiency and User Experience: Challenges and Future Trends in Digital Transportation; Celebrating 150 years of Calcutta Tramways and commemorating the role of CESC with accessible tourism and inclusive transport: Seamless Intermodal Transportation; Intelligent Transportation Systems and Emission Reduction: Exploring how pollution control boards are integrating technology to manage traffic flow, reduce congestion, and minimize emissions, and more.
This summit aims to galvanise collective efforts to revolutionise the Indian transport sector and guide it towards a more sustainable, efficient, and technologically advanced future.
"Exciting news! Elets eGov is now on WhatsApp Channels 🚀 Subscribe today by clicking the link and stay updated with the latest insights!"
Click here!