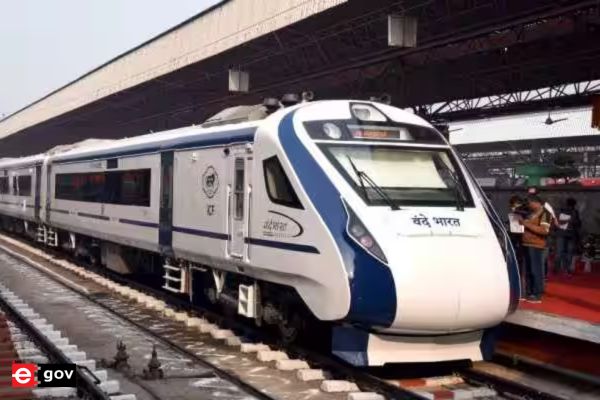 India's semi-high-speed train, the Vande Bharat Express, has achieved a significant milestone by extending its services to all rail-electrified states across the country. With a total of 46 operational services, the Vande Bharat Express has transformed the railway experience, offering cutting-edge amenities and reducing travel time for passengers. Launched on 15 February 2019 by Prime Minister Narendra Modi, the train initially operated between New Delhi and Varanasi, Uttar Pradesh.
Manufactured at the Integral Coach Factory (ICF) in Chennai, the Vande Bharat Express stands as a testament to India's engineering prowess and the "Make-In-India" initiative. The ambitious project to produce indigenous semi-high-speed train sets commenced in mid-2017, and within a remarkable 18 months, the ICF Chennai successfully completed Train-18, India's first semi-high-speed train.
To highlight its made-in-India status, the train was renamed Vande Bharat Express in January 2019. It achieved a remarkable top speed of 180 kmph on the Kota-Sawai Madhopur section. Known for its swift acceleration and maximum permissible speed of 160 kmph, the Vande Bharat Express fleet has now expanded its reach to all 24 states and Union Territories with electrified rail networks.
The train's widespread expansion owes much to its time-saving attribute, which has reduced travel time by an average of one hour compared to other trains. As a result, the Vande Bharat Express has become the fastest passenger train on its respective routes.
The popularity of the Vande Bharat Express is evident from its remarkable 100 percent occupancy rate between April 2022 and June 2023. During this period, the train completed 2,140 trips and transported a total of 2,520,370 passengers. With its redesigned berths providing enhanced comfort, the train catered to 2,523,538 passengers during the same period.
In comparison to road and air transportation, the Vande Bharat Express offers efficient connectivity and a more economical option, especially on routes without direct flights. It eliminates the additional time spent at airports and avoids road travel challenges such as traffic congestion and toll charges. Additionally, the train provides hot and delectable onboard meals, rotatable chairs, and a comfortable and less noisy travel experience.
Passengers aboard the Vande Bharat Express enjoy premium features such as energy efficiency, a reduced carbon footprint, ample legroom, scenic views, and infotainment systems. The coaches are equipped with mobile charging sockets, automatic plug doors, and direct and diffused lighting. Safety measures include the KAVACH System, while touch-free toilet systems ensure cleanliness and convenience. Moreover, the train caters to passengers with disabilities, featuring a Braille system for an inclusive experience.
The Vande Bharat Express has played a crucial role in promoting religious tourism to prominent destinations like Tirupati, Shirdi, and Ajmer. Both business travelers and devotees have appreciated the seamless connectivity it provides.
Also Read | Prime Minister Narendra Modi to Inaugurate Five New Vande Bharat Express Trains Tomorrow
Looking ahead, the government plans to develop the Vande Metro, a rapid and world-class shuttle experience for passengers. This ambitious project aims to establish extensive connectivity within a 50 km radius of major cities, following the successful model of the Vande Bharat Express.
Furthermore, a sleeper version of the Vande Bharat Express is currently under development to cater to long-distance travel. The design and production of the Vande Metro are expected to be completed in 2023-2024, with a subsequent increase in production during the financial year 2024-2025.
With its expanding reach and unwavering commitment to passenger comfort and convenience, the Vande Bharat Express continues
"Exciting news! Elets eGov is now on WhatsApp Channels 🚀 Subscribe today by clicking the link and stay updated with the latest insights!"
Click here!