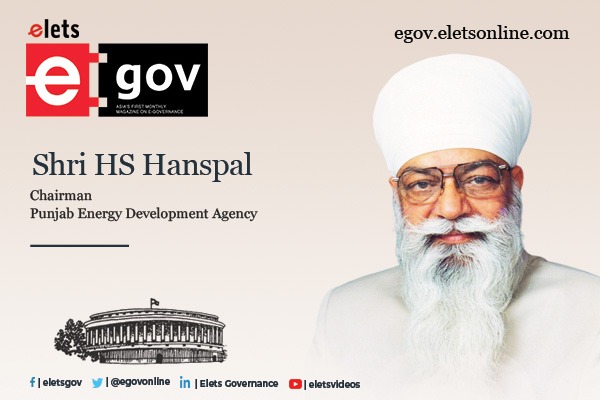 PEDA collaborates closely with various government agencies, private sector partners, and stakeholders to accomplish its objectives of creating a sustainable future in Punjab, shares Shri HS Hanspal, Chairman, Punjab Energy Development Agency in an exclusive interview with Priya Yadav of Elets News Network (ENN). Edited excerpts:
Can you describe a recent successful project that PEDA has undertaken? What were the key factors that contributed to its success?
To mitigate the problem of stubble burning in the state of Punjab, three projects with a total capacity of 65.23 tons per day of Compressed Biogas (CBG) have been commissioned.
Additionally, two more projects with a total capacity of 40 tons per day of CBG are nearing completion. The remaining 38 projects are at various stages of implementation.
Under Component B of the PM KUSUM Scheme by MNRE, GoI, PEDA has already installed 12,929 solar pumps in the state. Furthermore, 9,000 solar pumps are currently being installed. In addition to this, PEDA has submitted a project proposal to the Government of Punjab for the installation of 56,000 solar pumps within the next two years.
PEDA is currently setting up Grid Interactive Rooftop Solar Power Plants on the roofs of various government buildings and institutes under the CAPEX Mode. These rooftop solar power plants are being established for the captive use of solar power, with surplus power being exported to the Punjab State Power Corporation Limited (PSPCL) under the Net-Metering Policy. This scheme aims to reduce the financial burden of conventional electricity bills. To date, an aggregate capacity of 88.5 MW of Rooftop Solar Power Plants has been installed under this program. PEDA is also in the process of setting up solar power plants under the 100% Renewable Energy (RE) city project in Amritsar City, assisted by MNRE, GoI through GIZ. Sixteen government departments were shortlisted after a detailed survey in Amritsar city, and 78 buildings were selected for solarization under this project. The total capacity of solar power plants to be installed at these 78 buildings is estimated to be 2.33 MW. Additionally, four solar power projects with a capacity of 4 MW each are being established for the solarization of agricultural power at 66 KV substations by PEDA. These projects will help reduce the agriculture subsidy burden of the Punjab Government. Initially, work will begin on one 4 MW project.
Historically, Punjab has primarily met its power requirements through conventional large thermal and hydro power projects. However, mini/micro hydel power generation has emerged as an established and significant source of renewable energy. PEDA has taken the lead in the country by setting up eight technology demonstration mini/micro hydel power projects with a total capacity of 9.8 MW. These power projects have been operating satisfactorily since their commissioning. Following the successful demonstration of this technology, PEDA has attracted private sector participation in such projects. As of August 2021, a total of 56 mini hydel projects with a capacity of 172.10 MW have been commissioned in the state of Punjab.
PEDA has been working towards promoting renewable energy in Punjab for over two decades. In your opinion, what are the key challenges that the agency currently faces in achieving its goals?
PEDA (Punjab Energy Development Agency) has been dedicatedly working towards advancing renewable energy in Punjab for more than two decades.
However, several key challenges hinder the agency's progress in achieving its goals. Firstly, the lack of adequate financial resources poses a significant hurdle. Implementing renewable energy projects requires substantial investment, and securing funding from government sources or attracting private investment remains a challenge.
Secondly, the intermittent nature of renewable energy sources, such as solar and wind power, presents a challenge for grid integration and balancing supply and demand. The agency must focus on developing efficient energy storage systems to ensure uninterrupted power supply.
PEDA has been working actively in almost all the renewable energy sectors such as Solar, BioMass, Hydel, CBG etc. In Ground Mounted Solar Installation, the major problem faced is land availability as land prices are high in Punjab and in CBG, disposal of Fermented Organic Manure.
Overcoming these challenges will require collaborative efforts between PEDA, the government, private sector, and the community. By addressing these obstacles, PEDA can pave the way for a sustainable and clean energy future in Punjab.
How do you stay up to date with the latest developments and trends in the energy sector, and how do you ensure that PEDA is incorporating these into its work?
PEDA actively seeks partnerships and collaborations with industry stakeholders, research institutions, and government bodies to tap into their expertise and stay aligned with the evolving energy landscape.
Also Read | Biomass offers huge potential, can help meet growing energy demand: MP Singh, Director, PEDA
PEDA is striving hard towards creating a sustainable energy future in the state. It has close associations with organisations like IISC Bangalore, IIT Ropar and GIZ which are continuously working on emerging technologies in both Renewable and Energy Efficiency Sector in India and abroad.
By fostering a culture of innovation and remaining open to new ideas, PEDA effectively incorporates the latest developments and trends into its strategies and projects, ensuring relevance and effectiveness in the ever-changing energy sector.
How does PEDA work with other government agencies, private sector partners, and stakeholders to achieve its objectives?
PEDA collaborates closely with various government agencies, private sector partners, and stakeholders to accomplish its objectives. Through strategic partnerships and information sharing, PEDA ensures a coordinated and efficient approach. It actively engages with government agencies at different levels to align policies, streamline processes, and leverage resources. The agency also fosters strong relationships with private sector partners, including businesses and industry associations, to promote investment, innovation, and economic growth. Additionally, PEDA actively involves stakeholders, such as community organisations and citizens, through consultations and public engagements to ensure their needs and perspectives are considered in decision- making processes. This collaborative approach enhances the effectiveness and impact of PEDA's initiatives in achieving its objectives.
"Exciting news! Elets eGov is now on WhatsApp Channels 🚀 Subscribe today by clicking the link and stay updated with the latest insights!"
Click here!