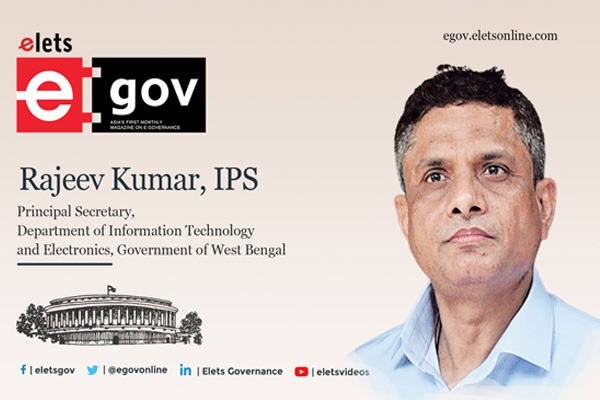 The policies and initiatives taken over the years have made the state one of the best tech driven economies in the country. Shri Rajeev Kumar, IPS, Principal Secretary, Department of Information Technology and Electronics, Government of West Bengal in conversation with Puja Banerjee of Elets News Network (ENN).
Tell us about the progress of the IT sector in West Bengal.
The journey of the IT sector in West Bengal has been truly phenomenal. The policies and initiatives taken over the years have made the state one of the best tech driven economies in the country.Almost all the leading IT Software companies such as Wipro, IBM, Ericsson, Cap Gemini, Tech Mahindra, Accenture, TCS, Cognizant, ITC Infotech, British Telecom etc. are operating and expanding their facilities in the State at the moment.
TCS new campus at New Town, Rajarhat -Geetanjali Park:
ITC Campus at New Town:
On-boarding of Infosys in Bengal:
Genpact in expansion mode:
Wipro
The state of West Bengal has huge market and growth potential. It is blessed with availability of skilled human resources for business as the state has 22 Universities, Management colleges, 124 polytechnic, 114 Industrial Training Institutes and Industrial Training Centre and 17 medical colleges. Apart from being the best in class working infrastructure, it has also low cost of operation for sustainable competitiveness and sustained profitability.
What are the key initiatives taken by the state government to strengthen e-governance and ensure inclusive development of the state leveraging technologies?
The West Bengal government has taken several key initiatives to strengthen e-governance and ensure inclusive development of the state leveraging technologies.
Establishing the West Bengal State Wide Area Network (WBSWAN) to connect all government offices across the state and facilitate the exchange of information and communication between them.
Till October 2022, WBSDC has already provided additional new virtual machines for new applications for various Departments/Directorate and other government bodies.
At present, Departments /Directorate and other government bodies have already hosted their Application and Database at WBSDC, Monibhandar.
In 2022 WBSDC has already provided additional IT infrastructure for new version of e-office Application.
Several mission critical new applications (e.g. Student Credit Card, LakshmirBhandar, Duare Sarkar, Online Ration card management, Samajik Suraksha Yojana, Single Window portal of UDMA) have been successfully hosted from WBSDC. With the State Government's "Cloud First" hosting approach, WBSDC 1s Currently processing large number of web hosting requests from various Departments and Directorates.
An Online Single Window Platform (wbsde.nltr.org) has been launched for allocation of WB- SDC resources including domain registration, VPN, Port Opening, Audit Tracker System for providing various services of WB-SDC to different Government Department/ Directorates/ Organisations.
For providing various service benefits of WB-SDC to MSMEs/ Start-ups at almost free of costa Online Single Window Portal (https://hosting.nltr.org/alogin.php) has been launched by IT&E Department.
The start-up ecosystem in West Bengal is witnessing phenomenal growth. How is it contributing to the development of the IT sector and innovations across sectors in the state?
West Bengal's start-up ecosystem is helping to drive the development of the IT sector and innovations across other sectors in the state. The ecosystem is providing an environment for budding entrepreneurs to develop their ideas and start their own businesses. This has resulted in increased investments in the IT sector, which has seen a surge in startups in recent years.
Webel in collaboration with DQ Entertainment (International) Limited had launched "Webel-DQE Animation Academy on 27th June 2018 in Salt Lake, Sector-V. This is a strategic initiative of theGovernment of West Bengal in capacity building in Animation skill -being a powerful craft of storytelling, with a view to capture the rising surge in animation, visual effects and gaming îndustries worldwide.
The Academy offers different courses on the basic principles of classical animation with all necessary components like 3-D animation, VEX, sketching, anatomy
study, acting etc., related to this form of creative art.
What are the major stumbling blocks in reaping the full potential of new-age technology in the government sector? As technologies are dynamic in nature, what is your strategy and approach to keep up with technological evolution?
An initiative of the Government of West Bengal, the Centre of Excellence (CoE) in Industry 4.0 has been developed by Webel, Fujisoft Inc, and Vara Technology located at Rajarhat, Kolkata, India. The CoE brings together graduate students, professionals, start-ups, corporates, technology providers and government to radically transform skill development as well foster innovation. Through CoEtraining are being provided to the potential youths and interested technology professionals on cutting edge technology like 3D printing, Data Science, embedded system, cyber security, machine learning etc.
West Bengal State Broadband Policy was notified on 28th December 2020.In addition, few guidelines were also notified alongside:
Telecom Single Window Clearance
Blockchain
Artificial Intelligence/ ML
Public Transactional Data Sharing
Public Data Center Promotion
Data Center Storage and Retention
Drone Manufacturing
Objective of the policy is enabling digital connectivity to bring universal access to high quality internet services across the state, leading to large scale development, employment generation, robust connectivity and effective public service delivery. The policy implementation has already been started and benefits are being realized in the following ways-
Telecom Single Window Clearance System (https://anumati.itewb.gou. in/)
Training & Sensitization Program for TSP/ ISPs
Online application submitted
Ease of Doing Business
Smart Governance & Increase Transparency
Digital Connectivity in Shadow Zone
Up to date Status Anumati Portal
A rapid shift towards digital modes of service delivery has highlighted the urgency to protect the privacy and security of citizens. What are your thoughts on the inclusive and actionable data protection law in India? The Cyber Security Centre of Excellence has been inaugurated on Nov 2017, and secured multiple National awards through its farreaching initiatives.
The focus areas of the CS-CoE can be noted as follows –
A. Awareness & Training
First Responder Training' (FRT) of Police Personnel for cyber-crime identification and response for West Bengal Police and Kolkata Police commenced in June 2019. Till now, many police officials have been trained.
On the Job Training (OJT) for Government Employees on cyberawareness and cyber-hygiene has been conducted in multiple phases and trained Government Employees from various departments
Cyber Security Orientation Training (CSoT) has been provided to direct recruit Police officers
Online Teachers & Governmental officials Training of West Bengal by Cyber Security Center of Excellence (CS-CoE) in association with ISEA, C-DAC for Teachers across West Bengal
Teachers are trained in Cyber Shikshak programme
Govt. officials are trained in Cyber Swadhinota Programme
Citizens have been reached out via Cyber Awareness Programme
Published executable and bilingual Advisories to generate awarenessamong citizens on how to be Cyber Safe during this pandemic situation
CSCoE trained Advocates on Recent trends on Cyber Crime & Cyber Law. CS-CoE launched Second version of Cyber Sammohan, a Comic Book on Cyber Crime awareness and Cyber Hygiene Handbook in Bengali, English and Hindi language.
CS-CoE launched Cyber Sammohan, a Comic Book on Cyber Crime awareness and Cyber Hygiene Handbook in Bengali, English and Hindi language. Also launched CYBER SECURITY – A knowledge for safer tomorrow, an English book on Cyber Security and book on advisories on cyber-security.
B. Cyber Assurance:
Security audit of Government ICT Infrastructure has commenced with WBHIDCO and till date many departments have been audited.
Regular review and application security audit of all Government web-portals is done under guidance of NCPC and CERT-n to identify and plug vulnerabilities. various web-applications of various departments have been audited till date.
C. Cyber Forensic
The CS-CoE collaborated with State Police Academy for conducting large scale training on Cyber Forensic investigation and conducted Cyber Forensic training for CID officials as well.
State Forensic Lab was established along with procurement of advanced Forensic Tools.
D. State CERT:
CS-CoE has succeeded in establishing and operationalizing State CERT
Cyber Crisis Management Plan (CCMP) has been formulated
Establishment of Security Operations Centre (SOC) is under process.
E. Research and Development:
Course curriculum for First Responder Training (FRT), Detailed Responder Training (DRT), Cyber Security Orientation Training (CSOT), On the Job Training (OJT)
Course curriculum for AICTE approved Three-Year Diploma Course on Cyber Security to be taught in State Polytechnic Institutes from 2021-22 academic year
Course curriculum for State Vocational Council approved Six-Week Skill Development Training to become Cyber Security Guard.