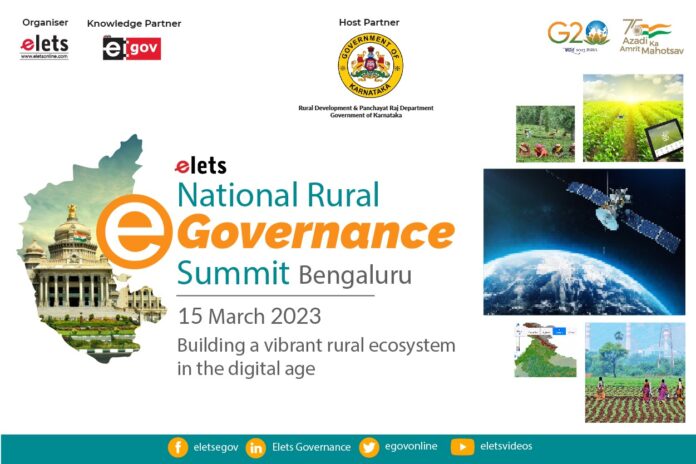 The Elets National Rural eGovernance Summit 2023, will take place tomorrow i.e on 15 March 2023 at The Lalit Ashok in Bengaluru, Karnataka bringing together leading experts and key stakeholders of the rural eGovernance sector.
To provide a discourse on building a resilient and vibrant rural ecosystem in today's digital age, Elets Technomedia in collaboration with Karnataka Rural Development and Panchayat Raj (RDPR) Department, is delighted to organise this summit. The event is aimed at exploring the possibilities of using technology to improve governance in rural areas.
"We are excited to host the Elets National National Rural eGovernance Summit and bring together some of the best minds in the government and technology industry," said Ravi Gupta, Founder & CEO of Elets Technomedia. "This event will provide a forum for government officials and industry leaders to share their insights and expertise, and explore new ideas and opportunities that will drive innovation and growth in the rural landscape in Karnataka and beyond."
The summit is expected to be attended by top government officials and industry leaders across the country. It will also feature the launch of Elets special eGov magazine themed around Karnataka's rural governance and its initiatives. This special edition on Karnataka carries enlightening stories, articles, interviews and viewpoints from key stakeholders on their quest to make the state a digitally empowered knowledge society.
The summit will be an opportunity for attendees to connect with peers in the industry, learn from experts, and share ideas about how technology can be leveraged to improve lives and transform rural eGovernance. The event will provide a platform for industry leaders, innovators, and entrepreneurs to collaborate and explore new possibilities.
The Elets National Rural eGovernance Summit 2023 will serve as a knowledge sharing platform for discussing these issues and exploring innovative solutions.