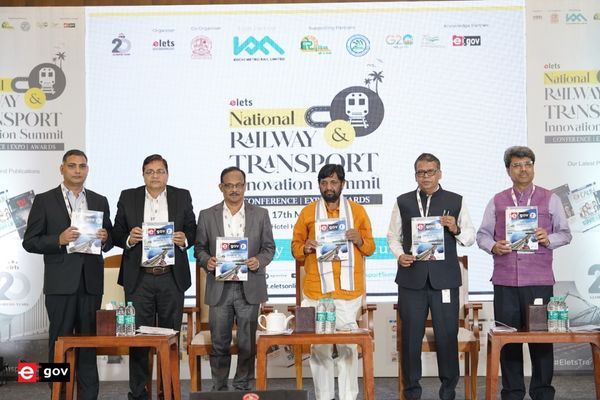 We are pleased to announce that the Elets National Railway & Transport Innovation Summit, organized by Elets Technomedia in association with Kochi Metro Rail Limited and Division of Civil Engineering, School of Engineering, Cochin University of Science and Technology (CUSAT), was a huge success!
The event took place on 17th March 2023 at Hotel Holiday Inn in Kochi, Kerala, and provided a unique platform for the exchange of ideas and collaboration in the railway and transport industry. The summit was attended by varied industry experts, policymakers, researchers, and stakeholders from across the country.
Discovering the theme of "Mobility of the Future", the event featured keynote speeches, panel discussions, and presentations by eminent speakers who shared their knowledge and experiences on various topics related to the industry.
Dr. Ravi Gupta, CEO & Founder, Elets Technomedia commenced the summit by delivering a welcome address, wherein he expressed his opinions on transforming India and digitizing the country to enhance the ease of living and doing business. He also highlighted the 20 years of work accomplished by Elets Technomedia to the attendees and made them aware of the organization's "glocal" approach. Elets Technomedia thinks global and acts local, and vice versa, said Dr Gupta.
Shri Kaushal Kishore, Hon'ble Minister of State for Housing & Urban Affairs, Government of India attended the event as Chief Guest. While addressing the gathering at the summit, he said, "I congratulate Kochi Metro Rail Ltd. for developing not only India's but also the world's first water metro in the country. It's a feat too complex to achieve for any country. Ever since Hon'ble PM Modi ji took over in 2014, a sea change transformation has happened in each and every sector of the country and it is making further strides exceedingly well."
"Our eMobility system is in line with the ambitious net zero emission target. India is also working significantly well in the direction of developing a world-class water transport system in the country", he added.
"Our Hon'ble PM wants to see India as a developed country by 2047 not only in terms of education, infrastructure or connectivity but also in terms of food, shelter and clothing. He basically wants the last man standing in the row to be empowered and lead a happy and prosperous life", he added further.
Shri Loknath Behera, Managing Director, Kochi Metro Rail Limited who was attending the event as Programme Chair addressed the gathering with his opening remaks and said, "Kochi is endowed with all the natural beauty any state should have. No other state or country is as beautiful as Kochi. Within its radius of 20 Kilometers, it has got sea, backwaters, rivers and hills. Twenty seven percent of its area is water. It has 47 canals. As a result, It has had a very vibrant water transport system historically. Nestled in God's own country – the state of Kerala, Kochi is rightly hailed as the "Queen of the Arabian Sea."
He further added, "The country aspires to become net zero emission by 2070 and develop 100 metro cities by 2047. It's a huge challenge thrown at us, but we are going at a great pace of transformation and we believe that we will be navigating all the challenges, achieve these ambitious feats within deadlines."
He also appreciated the organisers and said, " Summits and conferences like this will be fruitful and result-oriented only if we implement and put into effect the shared ideas, technological solutions and best practices. Elets eGov magazine has been catalysing change and innovations for the past twenty years and is quite popular among the policy makers, key stakeholders and industry experts in India as well as abroad."
Prof (Dr.) K. N. Madhusoodanan, Vice Chancellor, Cochin University of Science & Technology (CUSAT) delivered the Keynote Address and said, "The focus of technology should revolve around the people it serves, and we must strive to provide sustainable solutions that leverage technology. While we have electric and hydrogen systems, the challenge lies in ensuring efficiency in energy consumption, especially in electric systems. Energy efficiency is crucial when it comes to exploring new energy sources and adopting electric vehicles."
"Communication and computer science are also the crucial aspects that need to be integrated into a technology-based platform for transformation. By incorporating these elements, we can create an integrated system that transforms technology for the betterment of society", said Prof (Dr.) Madhusoodanan.
He further added, "In the context of discussing innovative technologies and systems for the transportation and mobility sector, I believe Kerala holds significant potential as an ideal location for implementation. This is evident from our successful introduction of the metro system in Kochi, and the state's geography, which is more like an orbit, further adds to its appeal."
The summit covered a wide range of topics, including Modernising Railway and Transport: Trends, Challenges & Opportunities,Railways & Transport Innovation: Conducive Frame work for Cyber security & Data Privacy, India towards Sustainable Transport & Green Mobility and Technology Shaping the Future of the Transport Sector and more.
The summit was successful in not only addressing the inevitable mobility challenges but also in pivoting on the futuristic approach of sustainable mode of transport.