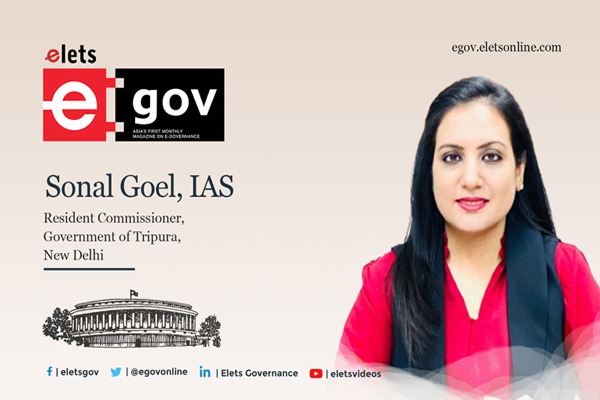 Having secured All India rank 13th in civil services examination in 2008, She has held various significant positions in the Government of Tripura as well in Government of Haryana. She has put in more than 13 years of dedicated services towards the nation. She has been featured in Niti Aayog's Top 25 women transforming India in 2016. She has also been felicitated for many of the exemplary initiatives and social works during her tenure. She is presently posted as Resident Commissioner, Government of Tripura, New Delhi. Sonal Goel (IAS), shares her administrative journey in an exclusive interview with Ritika Srivastava of Elets News Network (ENN).
Could you please share your journey in bureaucracy since 2008 and what have been the challenges and opportunities so far?

It has been very good. I could take many of the exemplary initiatives for women empowerment and girl child education.
I belong to the 2008 batch of IAS of Tripura Cadre. I joined the Tripura cadre in June 2009, worked there for more than seven years in various positions and then I came to Haryana on intercadre deputation. I worked with the Government of Haryana for four years and after that I joined back my cadre state and presently I am posted in Delhi as the resident commissioner.
Actually, even prior to 2008, I was a company secretary as I am LLB by my professional qualification. After graduating in 2003 from Sriram College of Commerce, I was having the plan to join the private sector and work as a corporate professional or maybe setting up my own corporate legal firm. Somehow, I read about civil services. I thought of writing the exam because I felt that it would give me an opportunity to serve the people and society, and to do something good for the nation.
I belong to Panipat district in Haryana which had been predominantly a male dominated society. I could somehow convince my parents about writing this exam. The challenging nature of this exam, its toughness, and the balance between my personal & personal life were some apprehensions of my family which is why they were resisting.
I was doing a part time job as a company secretary because I wanted to gain some experience as well as financial independence. There were a lot of challenges of time management and a lot of societal pressures as well. Navigating these, I gave my first attempt and could reach only the mains stage of the exam. I was dejected and disappointed. After a few days, recollecting my new strength and energy, I appeared for my second attempt in 2007 and with all my hard work, energy, enthusiasm and dedication, I qualified the exam with AIR 13.
From Company Secretary in the private sector to IAS in bureaucracy, and then working as an officer in two states which are culturally and socially different, my experience has been multifold and multi-dimensional. My experience says wherever you are, if you work with your own commitment, if you work with good intention, people will support you.
Challenges would always be there but you can circumvent those challenges by following two/three things. First, it is very important that you should have your team built. Feeling of esprit de corps and camaraderie can ensure that even when you are transferred out, the initiatives or the projects will remain sustainable. Second thing is that as an officer, you should be accessible to the public so that citizen-to-government and government-to-citizen connect find true meaning and expression. This connection is very important as far as good governance or effective public service delivery is concerned. So, these have been my learning in my last 14 years in bureaucracy.
As Resident Commissioner of Tripura, how are you trying to ensure the overall development of the state and what is the primary responsibility of a Resident Commissioner?
You see, the profile of being a Resident Commissioner is actually different from being in the field. It is more or less like an embassy office of the state located in Delhi.
My major works here are to visit various ministries of the Government of India, meet with the senior officers, attend meetings, and try to get the funds released for various schemes of the Government of India which are being implemented in Tripura. As a representative of the Tripura government in Delhi, I have to attend high profile meetings. My work also includes proper handling of VVIP movements like senior political dignitaries or senior officers from the government, facilitating and organising some fairs, events of Tripura state in Delhi NCR. I also look after general upkeep and maintenance of the Tripura Bhawan. So, all these things actually are now part of my responsibility as a resident commissioner and I try to do whatever best I can do for the government.
Kindly brief about your overall experience in your previous tenure in Tripura?
During my training, I joined Tripura cadre as an Assistant Collector West Tripura district in 2009. I got the opportunity to be trained under two DMs there. My first independent posting was SDM Ambassa in 2010. Between 2010 to 2016, I worked there in various capacities. I was ADM and Collector South District, CEO – Agartala Municipal Corporation, State Project Director – Sarv Siksha Abhiyan.
Wherever and whichever role I had been given, I tried to give my best. I gave special emphasis on the welfare of women and children. From making accessible healthcare facilities to the tribals living in the hinterland areas to trying to uplift the life of every citizen, I did my best to make a difference. Through my dedicated work, I had won their love and affection. People of Tripura used to call me "Amma De" which means Daughter of the soil.
During Covid 19, we all suffered a lot. What kind of challenges did you face in administration? 
During Covid pandemic, I was Posted in Gurugram, Haryana. Apart from being additional CEO GMDA (Gurugram Metropolitan Development Authority), I had additional responsibility as CEO of GMCBL("Gurugram Metropolitan City Bus Limited") service. During the first phase of covid, initially, there were no clear cut procedures to be followed. Gurugram being a big metropolitan, houses people from every strata of the society. You have migrant workers working from all across the country, labourers working on daily wages, NRI and corporate professionals working in the private sector, and the people living in the RWAs, so we had to address this kind of dynamic.
In Gurugram, apart from district administration, there are multiple organisations functioning here. We have police which is a commissionerate system, we have other organisations like HSVP and GMTA. So, all these organisations started working in tandem with each other to ensure effective coordination in the public service delivery and administration. The result was quite effective. Though we faced the lack of support staff, We had an e-Office at GMCBL which sort of made things easy.
I was given the responsibility of hospital management also to make sure there was a proper supply of beds, oxygen cylinders, injections, medicines and so on.
We actually tried to create a kind of a synergy in administration. We converted the buses of GMCBL into local groceries shops. We were supplying the daily essential items of fresh vegetables and fruits. Buses were also being used for the transportation of patients and for the test facility as well. We also had an integrated command and control centre through which we were getting live updates of all the information. Apart from these, many NGOs, social groups came forward and helped us in effective governance during Covid.
So, with strong public participation, we managed and handled the situation very well during Covid.
What plans do you have for the general welfare of society?
As human beings, we all should have compassion and understanding for one another. Being an Officer, I always try to make a difference for the welfare of kids, women, senior citizens, and elderly people, and also work to improve health, and education to support women's financial and economic empowerment.
It is crucial for everyone to contribute to society in a positive way. India has the advantage of being the youngest country in the world, which means we have a very strong demographic of talented and innovative people. I always exhort the younger generation to try and contribute to nation-building and not just work for profit but also for the social welfare of the people.
Of course, there are several government initiatives and flagship programmes that help put various plans and strategies into action but we also require active assistance of citizens. Initiatives like "Beti Bachao, Beti Padhao," "Jal Shakti Mission," and "Swachh Bharat Abhiyaan" are just a few examples of what people can do on their own.
As a society, it is our collective responsibility to ensure that we all work together so that our country prospers.
What was your overall experience while working with the Government of Haryana?
On the inter-cadre deputation, I served in Haryana for four years. I served as the CEO of the Smart City project while also working as a Municipal Corporation Commissioner in Faridabad. I also served as the Deputy Commissioner of Jhajjar district. Apart from these, I was the additional CEO of FMDA. After that, I joined Gurugram as an additional CEO GMDA with the additional responsibility of CEO- GMCBL service.
My experience was quite rich and fulfilling in Haryana. If I talk about Faridabad, I believe that the populace is incredibly aware and engaged. However, Swatch Abhiyaan was one of the peculiar resource issues that Faridabad was facing then. The city was trying to get selected in the 100 Smart Cities Mission. And for that, we made an effort to involve the RWA society organisations and launched a campaign for the Swachata Abhiyan named "Swachh Bharat Swachh Faridabad Abhiyan." We also launch other slogans, such as "Sabke Saath Shehar ka Vikas.
With all these efforts, I believe there was a significant increase in terms of sanitation and consequently the city was selected in the Smart Cities Mission of Government of India in 2017.
Thereafter, I went to Jhajjar district, a patriarchy dominated region. The people there were initially hesitant to accept a lady as their officer. But, once I started touring the district, meeting people, making connections, a turnaround did happen.
For the welfare of women and girls in particular, we ran numerous campaigns and created a campaign called "Mhari Lado", which served as an umbrella for coordination between many departments with the goal of improving the welfare of girl children. We also began an initiative called "Umang ek Pahal", which was a collaboration between Sarv Shiksha Abhiyan and the National Rural Livelihood Mission, in which sanitary napkins created by self-help organisations under the NRLM were distributed, and we could notice a decrease in the number of adolescent girls students dropping out within a short period.
Subsequently, in collaboration with UNICEF India, we also launched the "Jagriti Campaign", which aims to increase the safety of women in public spaces. We also started a campaign known as 'Saanjhi Madad' which was a collaborative campaign for helping the needy. During the Kerala flood in 2018, Saanjhi Madad's initiatives alone gave 1 crore Rs to the CM relief fund.
As an officer, I feel there are so many things you can do and genuinely want to do, but there are times when you don't have the time, money, or resources to do them. So, strong connection with the people to get their participation in governance is very crucial.
Since you have taken so many initiatives for women's empowerment and girl child education, is there any other incident or initiative that you would like to share about women's empowerment?
When I was the District magistrate & Collector, Gomati in Tripura, I undertook few significant initiatives. One of them was 'Nandini' which was, sort of, a convergence effort amongst all the departments, namely the Panchayat Department, the Education Department, and the Rural Livelihood Department. We were educating Asha employees and recognising female champions who would work in sports as well as in academics.
In addition to that, I started a campaign on social media and urged people to share stories of good deeds done by women and named them 'The Unheard Stories.'
We saw that there are many women in our community who are silently working without being acknowledged, commended, or honoured. Therefore, my objective was to publish those unheard stories on a variety of media platforms so that they feel encouraged.
There are so many young girls who want to accomplish a lot more in their lives but lack the knowledge or tools to do so. I believe there is still a lot that needs to be done for women.
Social Media is the need of the hour. So, leveraging them, how are you planning to contribute towards society's welfare and inspire the country's youth?
Through Social Media, my goal always remains to spread positivity in society. I often share inspiring stories on social media with the aim to uplift others. I strongly believe in the thought – "Among all the darkness around you, there is always a beam of light." Therefore, I encourage youth, especially women, to spread positivity and good deeds around. In regards to the UPSC candidates, I have been advising and coaching numerous UPSC aspirants through various talk shows at colleges, universities, schools. Today's youth are quite empowered and well-informed. They possess a wealth of knowledge that we did not have in our own time. So, it occasionally becomes difficult to share with them new information that they are unaware of.
Therefore, the best advice I can give to young people is to use social media responsibly. One should check the veracity of information before sharing and posting them online. I believe that Social media has really transformed the way governance was done earlier in the country.