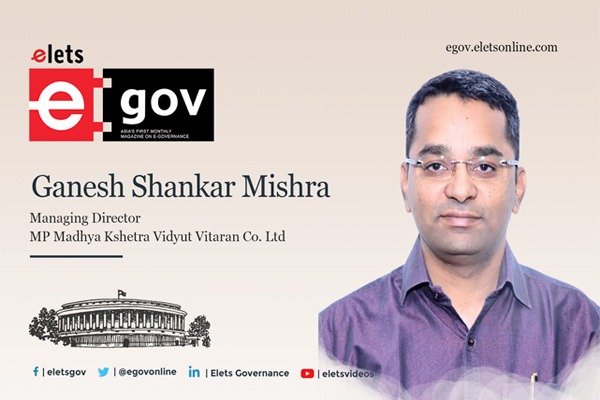 The distribution sector is faced with its own challenges, and now is the ideal time to consider how to develop assets that will satisfy the needs of future generations, stated Ganesh Shankar Mishra, Managing Director, MP Madhya Kshetra Vidyut Vitaran Co. Ltd at the 4th Elets National Energy Summit in Mumbai.
He shared that the government of India has been supporting them through various schemes and recently they came up with the RDSS scheme, which is providing a good opportunity to do something that can augment the system and can invest in the needed areas.

He said, "This time we did an entire transformation of how we were going to deal with the projects. Earlier we devised an end-to-end computerised mechanism and used it to float our tenders and vendors, which was very time-consuming. So, this time we came up with a GIS survey of every asset which is supposed to be constructed, so that every tower and pole that will be placed is already marked on our GIS survey. The estimates are prepared in such a manner that we know the expenditure."
The vendor management system has been made faceless. So, once the project starts, the whole measurement will be done electronically through apps and the quality check will be done through an integrated quality portal.
"We have our own in-house labs where the material will be sent seamlessly and ultimately the invoicing will be paperless. We have tried to come up with an ecosystem, where if we want to treat our vendors as partners, we can transform the kind of interaction we had with them. Therefore, we are increasing our capacity dramatically within a short period", he added.
Also Read | MSEDCL transforming Maharashtra's utility
"The distribution sector because of the large consumer base has presented us with a very good opportunity for data analytics, and technologies like Smart meters are going to generate a huge amount of data. If we don't augment our data element, there will be a sheer waste of resources. So, we have already started investing in the analytics part", he averred.
Concluding the session, he stated that in the coming time, they will also try to get rid of the label that says they are not commercially viable. So, if given the opportunity and time, they can also be a good commercial entity.
Views expressed by Ganesh Shankar Mishra, MD, MP Madhya Kshetra Vidyut Vitaran Co. Ltd.