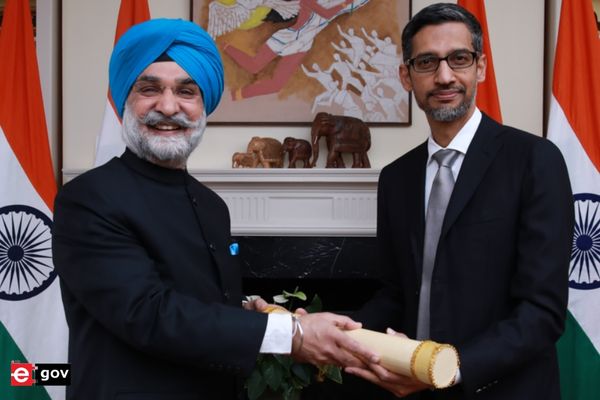 Google and Alphabet CEO Sundar Pichai received the prestigious Padma Bhushan award from the Indian envoy to the US in San Francisco on Friday. He was one of the 17 recipients who was awarded this coveted award earlier this year.
"India is a part of me and I carry it with me wherever I go" said Mr. Pichai, while receiving the Padma award – India's third-highest civilian honour, in the presence of his immediate family. Mr Pichai said he was deeply grateful to the Indian government and the people of India for that immense honour. It is incredibly meaningful to be honoured in this way by the country that shaped me, he added.

India's Ambassador to the US, Taranjit Singh Sandhu presented him the award. India's Consul General in San Francisco, T V Nagendra Prasad, was also present during the event.
According to Mr. Sandhu, Mr. Pichai stands for the transformational possibilities of technology.
He claimed that he had been working admirably to make digital tools and abilities available to a variety of social groups around the world.
Mr. Sandhu expressed his optimism that Google would fully capitalise on the digital revolution taking place in India by recalling Prime Minister Narendra Modi's vision of technology that combines the 3Ss—speed, simplicity, and service.
Mr. Pichai stated that returning to India numerous times over the years to observe the incredible rate of technological advancement has been fantastic.