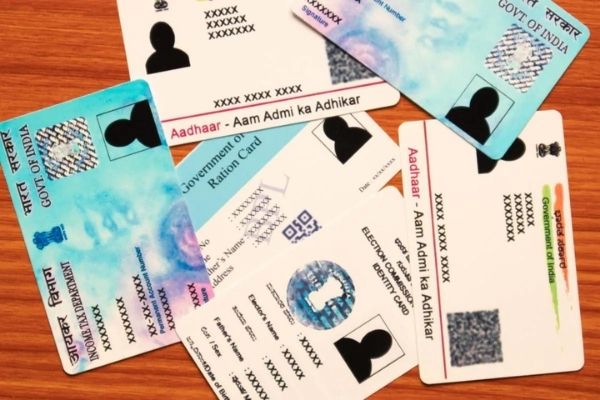 About six lakh duplicate Aadhaars have been canceled by the Unique Identification Authority of India (UIDAI), Minister of State (MoS) for Electronics and Information Technology (MeitY), Rajeev Chandrasekhar informed the Parliament on Wednesday, July 20.
Responding to a question about Aadhaar in the Lok Sabha in the ongoing monsoon session of the Parliament, Chandrasekhar outlined the measures taken by UIDAI to address the issue of duplicate Aadhaar generation and stated that the statutory authority has added "face" as an extra verification feature.
In his reply, the minister said, "The demographic matching mechanism has been further strengthened, biometric matching of all new enrollments is ensured and 'face' has been included as a new modality (in addition to fingerprint and iris) for deduplication."
In addition to deduplication, facial recognition is also being used in Aadhaar to authenticate pension verification information. As of now, this technology has been used to authenticate more than 100,000 pensioners. The improvements align with UIDAI ramping up its efforts to make Aadhaar more secure.
Earlier, while replying to a similar question in the Lok Sabha about illegal websites offering Aadhaar-related services, Chandrasekhar stated that UIDAI had issued notices to the concerned websites.
Chandrasekhar said, "UIDAI has served notices to the owners of the websites concerned to restrain themselves from providing such unauthorised services by any means, and also to hosting service providers to block defiant websites with immediate effect."
The Minister also said that up to 11 websites have been barred from offering these services since January 2022. He added, "These websites do not have rights to enroll a resident and modify biometric information or link the mobile number of the resident in existing Aadhaar."
Globally, Aadhaar is the largest digital identity program that hosts personal and biometric data related to over 1.32 Bn Indians. Under this, a 12-digit unique identity number is assigned to every citizen under which all data related to the person is stored. It represents the single largest personal information data repository in the world, and hence, securing the same is of utmost importance.
It has become one of the most significant documents with a variety of practical uses. Given that it comprises both the demographic and biometric information of an individual, Aadhaar is being widely used across India as an identification document.
Recently, the UIDAI launched the 'Bhuvan Aadhaar' portal, a new service for Aadhaar card users. UIDAI created this portal along with ISRO and MeitY. With the help of the portal, people can easily get information about the nearby Aadhaar center from the comfort of their home, without having to physically check for nearby Aadhaar centers.