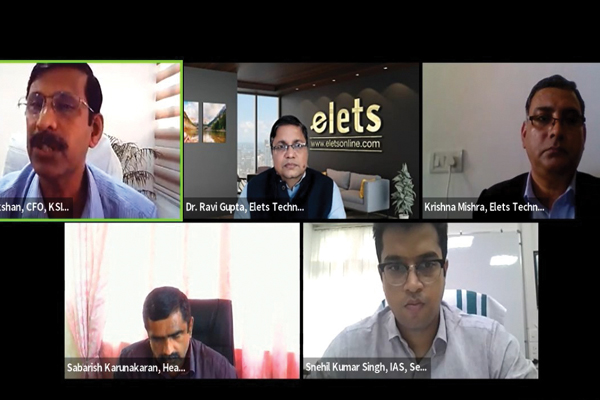 Since the onset of the COVID-19 pandemic, MSMEs hit a roadblock and were struggling to survive the impact of the nationwide lockdown. Realising the noteworthy contribution of MSMEs in the economic growth of the states and the nation, the Centre and state governments rolled out several policies and schemes for the betterment of the sector. Highlighting the significant role of MSMEs in accelerating the economic growth of Kerala, especially in the post-COVID economic recovery, Elets Technomedia and Meta organised MSME Growth Summit – Kerala Edition.
Dr Ravi Gupta, Founder & CEO, Elets Technomedia moderated the panel discussion while Krishna C Mishra, Head – Special Projects, Elets delivered the opening remarks and welcomed all the esteemed panellists from the Government of Kerala and industry for the session.
Kerala's Efforts in Boosting MSMEs Growth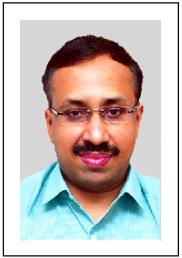 S Harikishore, Director, Industries & Commerce, Government of Kerala said that to boost the MSME sector, the government is taking a lot of initiatives. In Kerala, an MSME does not need a license to start as with the K-SWIFT system, the entrepreneurs can simply log in to the portal and print out an acknowledgement certificate and start the business. This process is valid for all the MSMEs not rated under the red category. This acknowledgement will be valid for three years post which the MSME will need to acquire a proper license.
Land is the second most important aspect to start an MSME. "We have about 150 estates in Kerala. So any person interested in starting an MSME can contact us for land in these estates," highlighted Harikshore. At times the land availability is limited, so there are plans to develop the Private Industrial Estate policy. Once this policy is rolled out then private players can also start industrial parks. This way MSMEs will get a boost.
Further, the state government is planning to start MSME clinics that will be a resort for MSMEs facing challenges. Consultants will be empanelled at these clinics to help the MSMEs for free of cost. There will also be an MSME Facilitation Council that will facilitate the payments for MSMEs in case of delays. So from grievance redressal to subsidies and grants all types of support that an MSME could possibly need, the Government of Kerala has schemes to provide it.
"Kerala was first to adopt IT interventions"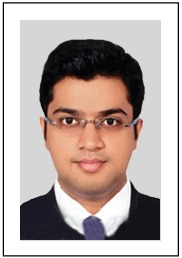 Snehil Singh, Director, Kerala State IT Mission, Government of Kerala said that IT has been a game-changer for businesses in terms of improving management, supply chains, logistics, data management, etc. Kerala is not an industry-based state and there are several political, cultural and geographical reasons it does not house large-scale industries. "However, there has been a hidden foundation of MSMEs in Kerala and the state authorities have been active in making the business ecosystem streamline for these enterprises," Singh added. Further, he highlighted how Kerala was one of the first states to adopt IT interventions.
The well established IT policies have played a crucial role in setting up essential and advanced infrastructure for IT-driven MSMEs. The COVID pandemic clearly showed that if the supply chain mechanism gets affected then it impacts industries irrespective of if they are IT-driven or not.
Addressing the journey of the IT industry in Kerala, Singh pointed out "Kerala was the first state to have an IT park. Also, we have an IT policy dedicated to that and we also have Kerala State IT Mission as well." MSMEs in the IT sector have a defined information exchange.
Adding on initiatives to aid MSMEs in the state, he said, "As we have a huge diaspora in the Middle East, we try to connect our start-ups and MSMEs with people with a high net worth in that region. This not only helps in gaining funding but also in expanding the market."
"Kerala has immense potential for MSMEs"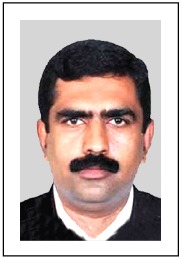 Sabarish Karunakaran, Head – Informations Systems Division, Kerala State Council for Science (KSCS), Technology and Environment commenced his address with a brief on KSCS. He mentioned that the USP of the council is that there are eight R&D centres that are spread across the state. These centres carry out extensive research in various domains. "Kerala is the first state in the country that has achieved the triad of 100 per cent literacy, 100 per cent mobile penetration and 100 per cent e-literacy long back in 2008. What other states are trying to achieve in the next five years, Kerala has already achieved. This is the scale of lead we have taken," he highlighted.
Kerala being a linear state, the urban and rural divide is very minimal. Therefore, whatever is available in the urban areas are also available in the rural areas as well. "We can boast that we have the highest number of science and technology- based research and academics in the country… I believe that Kerala has immense potential to contribute to the MSMEs," he added.
In addition, there is a Patent Facilitation Centre. Therefore, all the innovations that are being fostered in the state are researched and checked for novelty. Also, the innovators are provided with all the possible support to file patents. "We support the journey of startups and innovators from the beginning till they grow. We provide support from developing a prototype to the final product and then mass production," he added.
K-SWIFT: Enhancing Ease of Doing Business in Kerala
K Aravindakshan, Chief Financial Officer, Kerala State Industrial Development Corporation (KSIDC) said, "We are into providing loans and our focus is on the SME sector. Other than micro-enterprises, we are supporting all other enterprises financially." As there are only a few large scale industries in Kerala, the KSIDC focus on SMEs more. KSIDC is posing as a nodal agency for the state government and is spearheading the 'ease of doing business' in Kerala. "With the help of National Informatics Centre (NIC) we have developed the Kerala Single Window Interface for Fast and Transparent Clearances (K-SWIFT). The software has made fetching various clearances for setting up businesses convenient," Aravindakshan said.
K-SWIFT is a major initiative that the KSIDC has done in the past three years for MSME growth in Kerala. Besides, KSIDC is also an infrastructure company. He said, "We have industrial parks in Kannur, Calicut, Mallapuram and in Allepy. Also, we have smaller parks in Palakad and another one is coming up in Kuttiady."
On financial assistance for MSMEs he said, "We also have conventional loans, short term loans for the MSME sector, but for the last two years due to the COVID, we have come up with different schemes for MSMEs under the Chief Ministers' Special Assistance."
In Kerala, the focus is more on knowledge-based industry and Life Sciences. "We are also coming up with a Life Science park in Thiruvananthapuram. So we are looking at increasing numbers, employment opportunities and through this," he added.