E-commerce platforms have brought a revolution in branding, marketing and selling of products giving a makeover to the entire market ecosystem. Emphasising on the importance of e-commerce in uplifting the artisans, craftsmen and MSME workers in Uttar Pradesh under the One District One Product (ODOP) scheme, Hasan Yaqoob, Chairman e-commerce Council, CIIUP and Associate Director, Flipkart, addressed the Ubharte Sitaare of Uttar Pradesh Conference-cum-Expo.
E-commerce is playing a significant role in the upliftment of the ubharte MSMEs, entrepreneurs, startups, artisans, especially those from small towns and villages."
He said, "The title 'Ubharte Sitaare' is apt for the conference where we are talking about empowering businesses, especially exports in the state of Uttar Pradesh… The e-commerce sector is also an ubharta (emerging) sector. It is playing a significant role in the upliftment of the ubharte MSMEs, ubharte entrepreneurs, ubharte startups, ubharte artisans and especially those craftsmen in small towns and rural areas."
He acknowledged Gaurav Shrivastava's address wherein he detailed the Government of Uttar Pradesh's flagship scheme ODOP and said "ODOP is doing a wonderful job and we are working shoulder to shoulder with ODOP for making it a success."
Speaking on artisans and craftsmen in the countryside and remote areas, Yaqoob said, "There are many artisans and craftsmen in the countryside and remote areas of Uttar Pradesh who needs handholding for their upliftment which is the core role, initiative and objective of the ODOP programme. So, e-commerce is playing a role at the ground level to encourage people, to invite people to get the national reach for selling their product, for brand visibility and for revenue generation. These are the aspects that will help the artisans, craftsmen and MSME sellers to grow their businesses." E-commerce is also playing a major role in promoting sustainability as well. Most e-commerce companies have made it a mandate not to use plastic. These companies have adopted a sustainability model not only in terms of packaging but are also leveraging EVs for delivery purposes, he added.
To Watch Video Click 👇🏻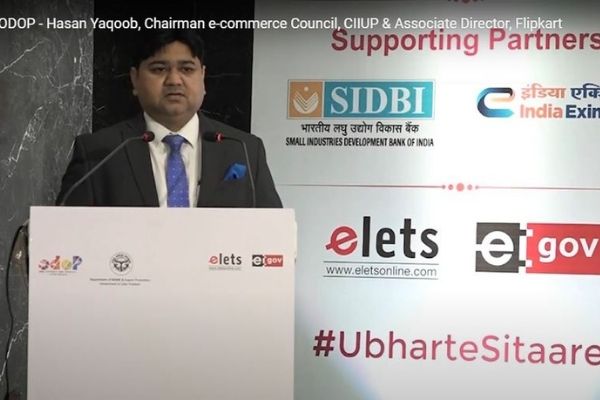 "When any artisan registers with us, firstly we inform them about the benefits of selling on e-commerce portal. Next, we inform the artist about cataloguing the product, how we can provide assistance in photography, how to list products, etc. Apart from this, we also provide warehousing support to the artisans," Yaqoob highlighted.
He further mentioned that with all the assistance, when an artisan hailing from a small town or a village gains eyeballs on his products and make good sales his business growth motivates other such artisans too. Most artisans from rural areas seek information and help from their children as the young generation is more aware and knows the power of the internet. These youth turn up as entrepreneurs who are not only involved in the manufacturing of the product like their parents but are also keen to develop the branding of their products. E-commerce platforms are coming up as an opportunity for these young entrepreneurs, he added.
Yaqoob referred to Gaurav Shrivastava's address wherein he mentioned kaala namak rice and said "I am delighted to inform you that Flipkart has onboarded the rice variety and it is seeing successful sales."
On a concluding note, he said, "We have different programmes for extending benefits to the artisans, craftsmen and MSME sellers. If a person is having 'Artisan Card' and 'GST number' we provide benefits including free cataloguing, free photography at their doorstep." It is to be noted that for selling on e-commerce websites/ portals GST number is a must. So, as a solution to this, Yaqoob pointed out that his team provide assistance to the artisans and MSME workers in procuring GST number. Continuing on the benefits, he said, "We also train the artisans on how to list their products and display them to generate more revenue." These are some of the moves we have taken to empower artisans, craftsmen and MSME workers of Uttar Pradesh.
"We also train the artisans on how to list their products and display them to generate more revenue."
"Its a privilege and honour that we are a part of the ODOP initiative." Recalling the record sales of Rs 1000 crore of ODOP products on Flipkart, Yaqoob said "Abhi toh aagaz hua hai, anjaam abhi door hai (its just the beginning, there's a long way to go)."
Follow and connect with us on Facebook, Twitter, LinkedIn, Elets video