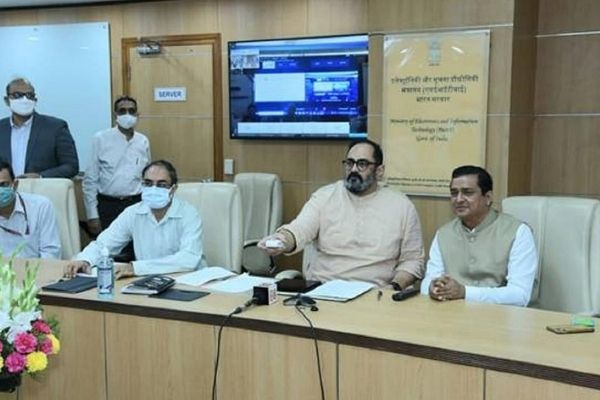 Minister of State for Electronics & Information Technology and Skill Development and Entrepreneurship Rajeev Chandrasekhar, inaugurated the first Internet Exchange in Dehradun, Uttarakhand, on November 1. The Minister virtually inaugurated the facility through a video conference from Delhi.
This is the 10th internet exchange of the National Internet Exchange of India (NIXI). The move will enhance and augment the quality of Internet and Broadband services in the hilly state.

Addressing the occasion, Rajeev Chandrasekhar, said that in 2015, Prime Minister Narendra Modi laid the foundations of 'Digital India' with the objective of bringing efficiency, ensuring corruption-free governance, promoting entrepreneurship, creating jobs and developing competencies in certain strategic areas of technology by increasing the size of the digital economy.
Post-COVID, the digital economy has seen a surge in growth rate with the addition of many new jobs and Unicorns in the technology sector. The sector is able to attract a huge volume of investments, the Minister added.
Sharing his take on the growing digital economy, he said that over the last 18 months, the world suffered through the worst pandemic of the century. It disrupted our daily activities and had a significant impact on our economy. The early investments that were made in the Digital Indian programme played a key role in faster economic recovery.
The Minister further committed that the Ministry of Electronics and Information Technology (MeitY) will support the efforts of bringing a digital revolution in Uttarakhand. The exchange will not only pose a boon for the netizens of Dehradun but will also promote the arrival of more Internet Service Providers and more Content Delivery Networks in the State's capital.
Chandrasekhar further announced that the next internet exchange in Uttarakhand will be set up in Nainital district.
Anil Baluni, Member of Parliament (Rajya Sabha) Government of India and Ajay Prakash Sawhney, Secretary, Ministry of Electronics and IT and Chairman NIXI, delivered the Keynote during the event.
Bansi Dhar Bhagat, Cabinet Minister, Government Of Uttarakhand, Ganesh Joshi, Cabinet Minister, Government Of Uttarakhand, Umesh Sharma Kau, Member of Legislative Assembly (MLA), Khajan Dass, MLA, Sunil Uniyal Gama, Mayor of Dehradun and Madan Kaushik, BJP State President, attended the event,
(With inputs from PIB)