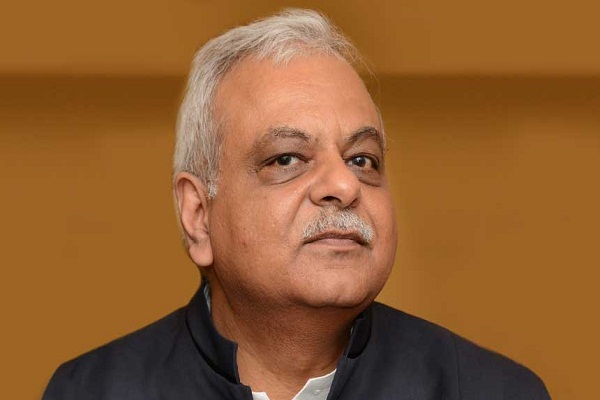 Education playing a key role in deciding future of students holds huge significance for any state. Taking the cognizance of it, the government of Chhattisgarh has come up with many initiatives in recent months when the sector was hit hard by COVID-19 pandemic. Padhai Tuhar Dwar (Education at Doorstep) is one of such initiatives which comprise all aspects, paving path for quality education to students of the state. The article highlights some of the key features of the initiative.
How an idea to bolster education system took off?
Chhattisgarh has always been at the forefront in the area of e-Governance. Education being the priority area of the new government, there has been a great demand in using technology for addressing pressing problems of School Education in the State. Dr Alok Shukla, Principal Secretary, Department of School Education with a great vision and clarity of thought, started consulting stakeholders to finalise how to go about it. It off course took some time to make his vision as shared vision of the department. There had been many ideas–technical and nontechnical to improve school education in the state. They were almost at final stage of implementation before covid-19 struck us and schools were closed for uncertain period of time.
'Education at Doorstep Initiative'
There was complete lockdown enforced in the state–offices were closed, everyone had to work from home. Dr Shukla took a meeting of a small group in his house, following all COVID-19 guidelines. He explained all his plan of action to take the challenge as an opportunity to build a robust 'Academic Cycle Management System' which will be leveraged during COVID-19 lockdown and even after that once schools open. The system was named as 'Padhai Tuhar Dwar' which means 'Education at your doorstep'.
Jitendra Shukla, DPI and MD, Samagra Shiksha readily jumped into action to provide necessary resources for converting the vision into action and took the responsibility of implementing the system with his active monitoring. Rahul Venkat, a young IAS officer who had taken charge as Director, SCERT was equally enthusiastic to implement and improve the system with his innovative ideas.
NIC, Chhattisgarh which had been technical partner of Department of School Education for many years was an obvious choice to be technical partner to build 'Education at your Doorstep'.
Two of the NIC developers had actually worked from the dining room of the Principal Secretary, coordinating with remaining developers who were working from home. The first version of the portal was built in just two weeks which was demonstrated to Hon'ble Minister for School Education and Hon'ble Chief Minister, to their pleasant surprise. Hon'ble Chief Minister had immediately agreed and inaugurated the initiative on 6th Apr 2020.
It was well received by teachers and students beyond our expectations. To our surprise, 20 lakh students and 1.62 lakh teachers of the state registered on the portal voluntarily within first two weeks of its launch. At least 2 lakh students logged in to the system daily, in addition to many page views without login.
There have been more than 27 crore page views in the system.
Comprehensive Academic Cycle Management System
The innovative initiative is comprehensive academic cycle management system, which includes online text book delivery, lecture videos for each chapter, other TLM and reference material (videos, images, audios, PDFs), Online Classes, Assignments for each chapter and Question bank, students home work management and doubt clearance.
Students can submit their home work by taking a picture of the note book which can be corrected by teacher electronically without taking a print out.
Teachers have liked the portal and voluntarily uploaded (as on 26th June 2020) 20, 790 videos—1,061 audios, 15,836 images and 2,899 course material.
A teacher can use this platform to make their created content available to students of whole state. There are many teachers who are very creative and can develop good educational content suitable to Chhattisgarh students. But, there was no such platform available earlier to reach all Chhattisgarh students with their content. 'Education at Doorstep' provides such a platform to upload their content which will be available to all students after a process of curation. It includes Teacher Training Management System also where a teacher becomes a student and can use all the features available to a student to learn online.
Gamification techniques have also been used to motivate students and teachers to use the portal. The data items relating to teachers and students' activity on the portal have been captured which can be used for data analytics to provide personalised adaptive learning to each student, at a later stage.
1. Crowd Sourced Content
It is a proven fact that audio visual content can create a learner friendly environment and can enhance student's learning experience and learning outcomes. It is also true that there is Giga Bytes of multimedia content available today on any topic that is searched for. But, the freely available content on YouTube or Google has the following disadvantages.
i. Lack of trust worthy factual accuracy.
ii. Most of the content is either in English or Hindi voice over which is different from Chhattisgarhi Hindi. It may be noted here Delhi and Mumbai Hindi are different from Chhattisgarhi Hindi. Students and teachers from Chhattisgarh shall relate more when the Hindi voice over is recorded by local people from Chhattisgarh.
iii. Much of the content available is not aligned with the Chhattisgarh State Curriculum
Thus, there is a need to develop multimedia content that is
 Aligned to the State Curriculum
In a language and accent followed in Chhattisgarh
Consonant to the difficulty levels of students of different calibre
From a trust worthy source
Accessible free of cost.
SCERT has been assigned with the responsibility of creating multimedia content. SCERT has so far created more than 5,000 videos of different classes and subjects. The content is definitely authentic having good quality.
Any teacher by selecting class, subject and chapter can upload the content. But, the uploaded content shall not be visible to the students unless one of the hundreds of nominated first level approvers approves the content. This is to avoid inadvertent or intentional uploads of wrong videos and their public display on the portal. We have created about a 1,000 first level approvers to ensure approving process shall not become bottleneck. While approving, the approver shall give a rating to the content based on its quality. When a student selects a subject and chapter, the content associated with the chapter shall be displayed in the order of their popularity based on the likes, views and rating.
Out of these, first level approved content, some of the popular content based on the likes from students shall go to the DIET approval. DIET shall review the content, may get some modifications done by the author and may give its approval. The content that has got DIET approval shall have a stamp of DIET approved content. Out of these DIET approved content, some of the popular content based on the likes and views from students shall go for SCERT approval. SCERT shall give its approval which makes the content as SCER approved content. SCERT may also decide some good quality content to re-create in high quality video studios (Earlier they were created using teacher's mobile) to improve audio and video quality. Still the content ownership and copyright shall be with original teacher only.
2. Assignments and Doubts
Lecturing or explaining a concept by a teacher is only part of the teacher's engagement in a class. Other than discussion and activities, giving challenging assignments to the students and clearing their doubts is also an important role of the teacher in a class. 'Education at Doorstep Initiative' allows the students to ask their doubts and teachers clear them.
Teachers or SCERT can attach chapter wise assignments which can be answered by students. Student answers the assignment on paper, take a photograph and uploads in the system.
3. Online Classes
The platform enables a teacher, who is permitted to take online classes, create an online class link for a given class, subject and chapter. Currently we are using free versions of commercially available video conferencing software products like Webex, GoogleMeet. Meanwhile NIC Head Quarters, as directed by MeitY, is developing an open source video conferencing solution which is expected to be ready in a few months. Department has decided to use the product when it is ready for conducting online classes as per its suitability. But, a class is not limited to teaching through video conferencing but a teacher can generate a small quiz of 5 to 10 questions to give to students while taking online class. The quiz can be created by a teacher either by taking questions from question bank created by SCERT or by creating her own questions.
Online classes can address the problem of not having subject teachers in many schools. In the schools in remote areas, we often find the shortage of good subject teachers for known reasons. A good teacher, while living in urban area, can teach students of rural areas through online classes. Similarly some teachers teach some topics in an extra-ordinary way and they are popular for that. Online classes help the best teacher's lectures available to other school students also. Thus, online classes in addition to normal classes proved to be very effective.
4. Virtual Schools
To maintain teacher student association 'Padhai Tuhar Dwar' (Education at your doorstep) allows to create virtual schools which are nothing but a team of teachers and a group of students (generally the same teachers and students of a physical school). The students are taught by the same teachers that means a teacher knows whom she is teaching, whom she is giving assignments and how they are performing. The teacher can assess the students, trace their progress and understand which pedagogy needs to be used to teach a group of students.
In a virtual school, teachers can recommend some videos for their class. When a student of a virtual school logs in and searches for the content, she will see the content recommended by her own teachers first. Similarly a teacher in a virtual school gives homework based on the interest and capability of a student. Virtual school provides an opportunity to create personalised learning environment for students.
Also Read: Chhattisgarh heading to become India's Economic Hotspot
Public Appreciation and Private Reprimand
In normal classes, a teacher occasionally gives appreciation to good performing student by making her stand and clap or by patting on her shoulder which the whole class witnesses. Getting appreciation in front of whole class is a great motivation to students. This is something we miss in online classes. To provide similar functionality the portal has provided a feature, when a teacher wants to appreciate a student, she has to click on 'kind of appreciation' she wants to give (like 'Claps') and on student's name. The system sends a signal to all participating students which forces to show on all the participant's screens, an animation with the student photo and Claps for 15 to 30 seconds. The appreciations currently available are 'Claps', 'Flower rain', 'Bouquet', 'Badges' and 'Points'.
For a naughty student, reprimand is also necessary. Similarly, a teacher can reprimand to a student but the reprimand shall be private and will be shown only to the student unlike appreciation which will be witnessed by all the students.
5. Subjective Assessment by Teachers
For policy framing and teacher's training planning, the student's competency against different learning outcomes need to be assessed. There cannot be a better source to find the student's competency than the class teacher herself. A teacher who spends more than 6 hours every day with the student can easily tell the student's competency. The platform tries to capture the subjective assessment of the teacher on their students in different competencies, periodically.
Attention Check Questions
Another challenge in online classes is a teacher do not really know whether a student is attentive in the class or not. A student can login to the online class and start working on other tasks. In a normal class, a teacher can see faces of all the students at one glance and find out easily if anyone is not attentive in the class. 'Padhai Tuhar Dwar' (Education at your doorstep) shall provide a feature to check a student attention.
6. Teacher Training Management System (TTMS)
Teachers training is essential part of any academic cycle management system. As far as teachers training is concerned, teacher becomes a student here and has all features available to a student in 'Padhai Tuhar Dwar' (Education at your doorstep). A teacher can access content by selecting a training module and session, can take quizzes, can join online classes, can submit assignments and can ask doubts.
7. Reaching the un-reached
'Padhai Tuhar Dwar' (Education at your doorstep) is a technology driven online platform which has definitely its own advantage. But at the same time, we cannot ignore the fact that there is a considerable percentage of students who are in remote areas where connectivity is not available or do not have smart phones but have feature phones. Even some may not have any kind of phones. To deal with such situations, 'Padhai Tuhar Dwar' (Education at your doorstep) has taken a couple of interventions.
Also Read: Chhattisgarh Set To Woo Tourists
ANDROID APP: An App is parallelly developed to provide all the content in offline mode once it is downloaded on the device. This takes care of the people who have smart phones but live in an area where data connectivity is not good.
Audio Lessons: SCERT has created audio lectures just like radio episodes which can be heard by the students on their feature phones. Department is also planning to create a call centre with a toll free number which any student can call and ask for the interested topic. The audio lecture on that topic shall be played for 10 to 15 minutes exclusively to the student called. This will serve to a certain extent to the students who do not have smart phones.
BULTOO: Another interesting phenomenon observed in remote areas is wide use of Bluetooth in the areas where there is no network connectivity. One or two persons bring some audio content and the same shall be shared to friends through Bluetooth. Motor iskool: To provide a face to face learning program, the department is also mulling over developing a mobile, motor iskool, wherein selected teachers will take the responsibility of traveling to remote locations across the state and conduct classes for kids in their own settlement areas.
8. 'Guru Tujhe Salaam'
The department of School Education has also set up a State media cell based out of SCERT that looks after outreach and communication activities for key EdTech initiatives of the state, especially 'Padhai Tuhar Dwar' (Education at your doorstep). Through regular feedback, the department is also working on promoting usage of the platform across the state. In the month June, 2020, the state organized a Pan-state campaign 'Guru Tujhe Salaam'. The objective of this program to inculcate a sense of gratitude and thankfulness towards the teachers for their serious commitment and dedication Pre and post-CoVID period expressing their fond memories of their teachers using 'Aha moment'. This activity is widely being carried out across 2000+ cluster in Chhattisgarh.