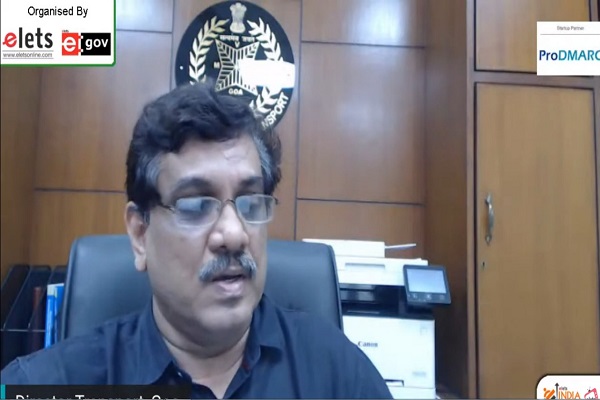 Elets Technomedia organised a three-day virtual India Transformation Summit highlighting how the country has leapfrogged in various domains from infrastructure to digital operations and smart cities. Addressing the summit, Rajan Satardekar, Director, Directorate of Transport, Government of Goa talked about 'Innovations in ULBs: Future of Urban Governance'.
Mr Satardekar began with highlighting insights from the other speakers on water management – reuse and recycle, on citizen-centric approach, optimising resources, smart parking management system, etc. He then, briefed about Goa saying, "Goa is a tiny state with beautiful landscape and we have Panjim Smart City in place as well."
Speaking of how Goa dealt with the COVID pandemic, Mr Satardekar said, "Goa started preparations much earlier in January 2020 unlike other parts of the country. Our proactive approach helped in dealing with the pandemic in an efficient and effective manner."
"We have a multilayer mechanism for combating the pandemic and active monitoring. The mechanism was given by the State Executive Committee (SEC).  So under this, every morning we had meetings where the progress and drawbacks both were discussed in a transparent manner. Also, the authorities have been very strict about the situation and implementation of the control measures. We have been actively participated in providing every sort of transport-related help to the citizens and other departments", told Mr Satardekar.
Bringing in light the challenges in Goa, he said, "In Goa, we have a different set of challenges. Though its a small state, the floating population that we have is almost four times the population of the state." Hence, while the Coronavirus outbreak, it was a big challenge for us to transport the tourists (the floating population) back their home states. So, we managed to shift about one lakh stranded labourers to their home states through our fleet of 500 buses and over 10,000 foreigners to about 80-100 different countries, he added.
Also Read: Effective Water Management Should be at Core of Urban Administration: KP Bakshi
Policing played an active role in managing traffic and people's movement during the lockdown period. Everyone from municipalities to police to NGOs and many volunteers worked together during the time of crisis. Underlining initiatives, Mr Satardekar pointed out, "We started an initiative – 'groceries on wheels' and similar initiatives like – vegetables on wheels, fish on wheels, ATM on wheels, etc."
Speaking of innovations in governance, he said, "We have been aggressively using technology to improve the reach of government services to people in an effective manner. Tech is being used for video meetings by the Hon'ble Chief Minister. Also, we are leveraging technology to spread awareness among the people and spread correct information to counter fake news."
Also Read: Jhansi COVID-19 Action Plan: A Wade Into The Pandemic
Moreover, "We are providing online passes to people for moving out during the lockdown period. Further, there are various dashboard created which is accessed by concerned teams to collect data and analyse it for taking further corrective actions", added Mr Stardekar. A 100 percent survey of households was conducted to check the spread of the disease and mark containment zones. Adding on to the innovations, Mr Satardekar told that many alcohol units were converted for producing sanitisers during the COVID outbreak.
Speaking of technology, he said, "Goa authorities have been IT savvy and we (transport department) implemented e-services way back before the Amendment of Motor Vehicles Act. Citizens were not visiting transport authority offices for applying for services or paying challans. We have a full integration of 'Saarthi' and 'e-Vahan'. Driving licenses in the state our smart cards with digital payments. Also, we have CSCs operational for helping people who are not comfortable with online procedures."
Mr Satardekar said, "Goa, prior to onset of COVID pandemic, has been working on a Comprehensive Mobility Plan wherein there is a provision for Intelligent Transport Management System (ITMS). We have a fleet of 500 state buses and over 1000 private buses and we incorporating both in the ITMS."