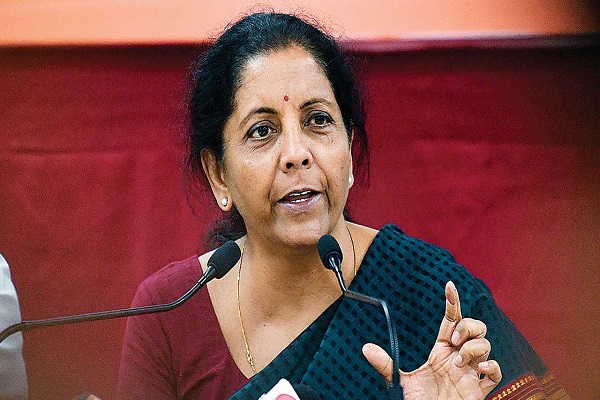 The Union Finance Minister, Nirmala Sitharaman called on for a press conference today, at 2 pm, to inform about the changes that the Ministry is about to implement in the functioning of financial affairs across the country amidst the Coronavirus outbreak that has caused considerable damage to the economy.
Highlights of the press conference
The Minister announced a relaxation for the people who have not yet filed their Income Tax Returns. Announcing about the ITRs Sutharaman informed that the date for filing the returns have been extended to June 30, 2020. In normal circumstances the last date for filing ITR is March 31.
Further, talking on the relaxation from the Government the Minister announced that the interest rates for delayed payments have been reduced 9 percent from the 12 percent previously. Also, submission of documents, filing of an appeal, any sought of notices, furnishing of returns and more with the due date on March 20, 2020 have been given an extension on the submission date which is now extended to June 30, 2020. Along with this, date for linking Aadhar Card, Pan Card has also been extended to June 30, 2020.
The Minister also announced that the date for Vivad Se Vishwas scheme has also been extended till June 30 and  no additional charge of 10 percent will be charged.
Apart from ITRs and document submissions, the Minister also discussed GST returns. The companies which have a turnover of less than Rs 5 crore will have to pay  no interest, no late fee charges or penalty for late filing of GST returns .
Sithrama, in her speech, also announced that the applicability of Companies Auditors' Report Order 2020 is moved from fiscal 2019-20 to fiscal 2020-21.
We have come up with a comprehensive plan about statutory and regulatory compliance matters, said fiance minister Nirmala Sitharaman during a media presser on Tuesday. She also said, "The lockdown has been done with an intention of flattening that curve of coronavirus' spread. Therefore, I must appreciate you all for joining us today. We are close to coming up with an economic package, which will be announced soon."
As a relief for  people from hassle caused due to COVID-19 spread and the lockdown situation, the Finanace Minister announced that no charges will be deducted for transaction from any ATM for the next three months.
The Ministrer added that the regulatory bodies like the Ministry fo Finanace, Reserve Bank of India, SEBI are working in coordination with each other and monitoring the status of the stock market. Also, SEBI has constituted a set of guidelines amid the viral widespread across the country, informed the Minister.
Mentioning about an economic package to tackle the situation, Sitharaman said that the Ministry is working on it and will soon come out with an effective plan. "We have come up with comprehensive detail response to regulatory compliance", said the Finanace Minister.