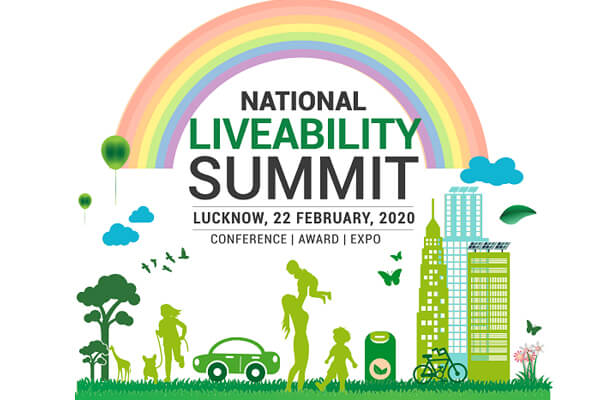 The term 'liveable' can be defined as an area which is suitable or worthy of living in terms of offering a habitable and comfortable living amenities. While the Ministry of Housing and Urban Affairs (MoHUA), Government of India has envisaged Smart City Mission in the year 2015 and selected 100 smart cities, the question lies, how many cities are actually 'liveable'.
To explore the theme of liveable cities, Lucknow Municipal Corporation and Lucknow Smart City Limited in association with Elets Technomedia are organising a daylong National Liveability Summit on February 22, 2020, in Lucknow. The objective of the summit is to discuss and deliberate better liveability standards.
Mukesh Kumar Meshram, Divisional Commissioner, Lucknow and Chairman, Lucknow Smart City Limited would be the Programme Chair and Dr Indramani Tripathi, Commissioner, Lucknow Municipal Commissioner and CEO, Lucknow Smart City Limited would be the Co-Programme Chair.
Manoj Kumar Singh, Principal Secretary, Department of Urban Development, Government of Uttar Pradesh is the Programme Mentor of the National Liveability Summit Lucknow.
Liveability Standards in Cities include physical infrastructure like housing, open spaces, land use, energy and water availability, solid waste management and pollution, governance, social infrastructure, education, employment, health and safety and security among others.
The key themes to be discussed include the following:
Smart, Green and Liveable Cities
Sustainable Development Goals (SDG)
Future Urban Design
Community Building and Engagement
Inclusive Communities
Waste Management and Water Reuse
Happiness, Health and Wellbeing
Safety and Security
Urban Mobility and Environment
Strategies, Planning and Design for People
The key speakers gracing Asim Arun, Additional Director General (112), Uttar Pradesh Police; Dr Raj Shekhar, Managing Director, Uttar Pradesh State Road Transport Corporation (UPSRTC); Rajeev Sharma, Special Secretary, Urban Development Department & State Mission Director, Smart Cities Mission, Government of Uttar Pradesh; Abhishek Prakash, Collector & District Magistrate, Lucknow; Apurva Dubey, Special Secretary, Housing & Urban Planning Department, Government of Uttar Pradesh; Shivakant Dwivedi, Vice-Chairman, Lucknow Development Authority; Kumar Keshav, Managing Director, Uttar Pradesh Metro Rail Corporation Limited; Tinku Roy, Chairman, Tripura Industrial Development Corporation Limited, Government of Tripura; Chinmayee Gopal, Commissioner, Ajmer Municipal Corporation, Government of Rajasthan; Seema Tripathi, State Transport Commissioner, Government of Bihar among others.
The Summit will act as a knowledge exchange platform for policymakers, thought leaders, state administrators, technology & industry leaders, innovators, NGOs and international experts.
For More Details: http://bit.ly/37CBfAU