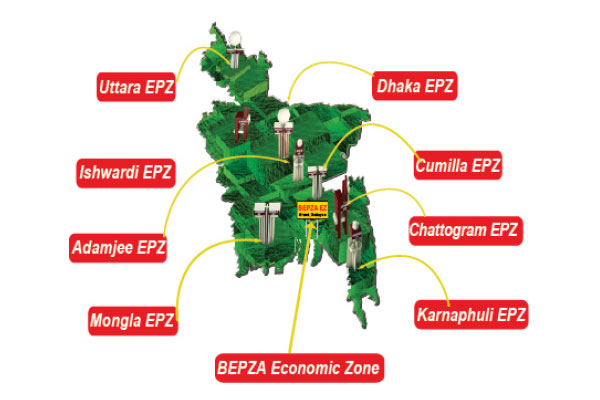 By Major General S M Salahuddin Islam, BP, SPP, ndc, psc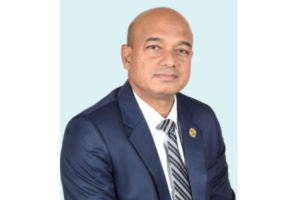 Major General S M Salahuddin Islam, BP, SPP, ndc, psc is the Executive Chairman of Bangladesh Export Processing Zones Authority (BEPZA). He was commissioned in the Corps of Infantry with 17th BMA Long Course in 1987 and posted to 21st Battalion of the East Bengal Regiment. Before joining BEPZA, he was commanding 105 Infantry Brigade at Jashore Cantonment. Prior to that, he served at Bangladesh Infantry Regiment Center as Deputy Commandant and also commanded 88 Infantry Brigade as brigade commander. He has also served at the UN mission as contingent member in Mozambique. He was selected as observer at UN mission in Democratic Republic of the Congo and also contingent commander of BANBAT- 1
BEPZA's story is one of the pride and honour in Bangladesh. A story that has been weaved by the utilitarian planning and brilliance in execution, by toils and sweat, by an undeterred will to face and defeat odds. The eight EPZs, setup in far-flung corners of the country, resulted in regional reduction of poverty, enhancement of employment and transfer of technology.
Bangladesh-a rising economic power in Southeast Asia is experiencing exponential growth in all her micro and macroeconomic indicators under the courageous and pragmatic steps taken by the Government headed by the Honorable Prime Minister Sheikh Hasina. Bangladesh Export Processing Zones Authority (BEPZA), one of the entities under the Prime Minister's Office is playing a pivotal role in ushering Bangladesh to its goal of becoming a Middle Income Country by 2021 and Developed Nation by 2041. The phenomenal success of BEPZA in converting a principally agro-based economy to an industrially advanced economy has been lauded all over the world.
BEPZA started its journey with the mandate to establish and operate Export Processing Zone (EPZ) in Bangladesh. To materialize the mandate BEPZA initially established Chattogram EPZ, very near to Chittagong port as pilot basis. Observing its astounding success BEPZA has farsightedly established seven more EPZs across the country namely Dhaka, Mongla, Cumilla, Uttara, Ishwardi, Karnaphuli and Adamjee EPZ. Most of the EPZs were established by the prudent decision of the Honourable Prime Minister Sheikh Hasina.
Promotion of local and foreign investment, boost up export including product diversification, enhancement of employment opportunities as well as workers welfare and transfer of technology & skill development and women empowerment are the main objectives of BEPZA. BEPZA achieved a remarkable success in the last few years keeping mind of those objectives andunder the guidance of the Honorable Prime Minister Sheikh Hasina who is the Chairman of BEPZA Board of Governors.
Success Scenario
BEPZA's story is one of the pride and honour in Bangladesh. A story that has been weaved by the utilitarian planning and brilliance in execution, by toils and sweat, by an undeterred will to face and defeat odds. The eight EPZs, setup in far-flung corners of the country, resulted in regional reduction of poverty, enhancement of employment and transfer of technology collectively which brought in an incredible economic boon for the country-a synergy played at its best. Last 10 year plus tenure of the present Government under the dynamic leadership of Honorable Prime Minister Sheikh Hasina, BEPZA experienced a growth unmatchable in most places. During this period the authority eyed more than threefold increase in the flow of investment (from US$ 1.5 billion to US$ 5 billion), escalated export figures (from US$ 17.5 billion to US$74 billion), doubling the number of enterprises and the creation of more than three hundred thousand new jobs culminating to a staggering 525 thousand workers in the EPZs.
BEPZA has already accommodated over 650 enterprises of 37 countries in its tiny 2307.27 acres of land. In this small area, the authority created enormous opportunities for the investors and offered to explore it. The major countries are: South Korea, China (including Taiwan & Hong Kong), Japan, India, UK, USA, Pakistan, Malaysia, Sri Lanka, Canada, The Netherlands, Germany, Singapore, etc. There were many obstacles. However, the strong determination of BEPZA to move forward has knocked out all of them. All the zones are pulsating with more than half a million energetic workforce among them 66% are female-giving a renewed hope, strength and self-respect to countless female workers who are making extraordinary contribution to their own lives in particular and the nation in general. Moreover, they are producing world famous brand products in their skilled hands. BEPZA has been contributing around 20% to the national export and Foreign Direct Investment (FDI) of the country every year.
Investment-Friendly Atmosphere
The geo-regional locations of EPZs give a comparative advantage which providing easy connections to the rest of the world. Competitive wage level of trained workforce provides highly productive workflow. Further, BEPZA provides fully serviced plots and standard factory buildings including infrastructure and utility facilities to the investors for setting up industry at moderate cost.
BEPZA has allowed to setting up hitech eco-friendly service oriented industries in order to ensure maximum protection of environment. It has introduced and encouraged the use of green energies-Solar Panels & Solar Street Lights, installation of LED light, introducing Waste Heat Recovery System, Power Plants, Central Effluent Treatment Plants (CETP), Water Treatment Plant (WTP) and Tree Plantation. BEPZA is not only trying to make its EPZs green but also encouraging the enterprises of EPZ to go green. Mentionable that, top 10 LEED Platinum Certified green factories of the world 7 are in Bangladesh and top most rated environment-friendly 2 are in EPZs.
Infrastructure and Services
BEPZA provides infrastructure facilities readily available to the investors. The authority provides fully serviced plots and standard factory buildings for setting up industry under a 30 year agreement on renewable basis. Apart from these plots, investors may also take ready Standard Factory Building (SFB). All the utility connections such as electricity, water, internet & telecommunication are available in the zones. From the very inception, BEPZA offers 'One Window Same Day Service' to the investors. Recently, the Government has formulated One Stop Service (Bangladesh Export Processing Zones Authority) Rules 2019 to provide 76 types of required servicesunder one umbrella. Investors need not to go one department to another to get investment/operational paperwork done which would help simplify doing business procedures, reduce cost of doing business for the investors of EPZs.
Workers-Owners-Management Synergy
The EPZ sets the best example of harmonious relationship i.e. Workers- Owners-Management synergy. This amicable cohesive relation has also raised the satisfaction level of working inside the EPZs. The workers of EPZ get more wages and benefits than outside factories. In the last 10 years, wages of the EPZ workers' have been increased thrice under the direction of the Honorable Prime Minister Sheikh Hasina. Furthermore, workers enjoy a 10% annual increment on basic along with various allowances & benefits. Besides, BEPZA has its own Medical Center, Public School & College, Day Care Center and Canteen facilities for the workers and their children. The working environment in the enterprises of the EPZs is quite satisfactory.
Product Diversification
BEPZA also executes diversification plan and shifts the lion share of our export earnings from garments to other sectors i.e. Leather Goods, Electronics Products, Toys, Optical Frame & Sunglasses, Bamboo made Coffin, Wig & Fashion Hair, Hair Accessories, Tent, Sleeping Bags, Travel Goods, Battery, Motor Parts, Bicycle, Car Seat Trim Cover, Key Chain, Medal, LED Products, Lens, Jewelry, Camping Furniture, Golf Shaft etc. BEPZA is relentlessly working for fulfilling this mission by sanctioning new projects of diversified items rather than traditional one. This pioneering role in product diversification encouraged many investors to establish factories to produce their goods.
Trade Stimulus
Bangladesh, as a member state of SAARC, gets benefit from South Asian Free Trade Agreement (SAFTA). Under SAFTA, investors of the country enjoy duty-free access to India and other member countries. Bangladesh also enjoys tariff and quota free access under the Generalized System of Preferences (GSP) to the EU countries for all its products (apart from arms and armaments). The country enjoys tariff-free access for exports of manufactured products to Canada, Australia, New Zealand, Japan and other developed countries under GSP. Furthermore, Bangladesh belongs to the Asia Pacific Trade Agreement (APTA) and therefore enjoys reduced tariffs on exports of certain goods to China. All these facilities helped Bangladesh to achieve the second highest export growth globally over the past decade (2008-2018) and the highest among the South Asian nations. Meanwhile, Bangladesh maintained the title of the second largest garment exporter worldwide after China.
Uttara, Mongla, Ishwardi EPZ-Close Proximity to India
Uttara, Ishwardi & Mongla EPZs of Northern & Southern region of the country, established by the visionary decision of the Honourable Prime Minister Sheikh Hasina, are very close to the Indian border. These EPZs became the hub of producing diversified items and created a shining example of how a visionary decision can change the lifestyle of any region through socioeconomic development. Investors of these three EPZs enjoy 50% subsidized tariff on land and factory building. There are abundant of easily trainable workforce. Moreover, export-import procedure with India using land port is very easy. Indian entrepreneurs can avail the opportunities by investing in these three EPZs.
BEPZA EZ-Smart Zone of the Future
EPZs of BEPZA have earned good reputation in the world. Base on this achievement, the government is going to establish 100 Special Economic Zones across the country. BEPZA has been allowed to set up BEPZA Economic Zone at Mirsharai, Chattogram considering the experience and expertise in establishing and operating EPZs successfully. The development of the zone on 1150 acres of land is progressing very fast.This will be an eco-friendly green zone. BEPZA has a plan to develop 618 nos. of industrial plots of each size of 3600 square meters. The authority is expected to attract 4.5 billion investments by 300- 350 industries where 0.5 million employment opportunities will be created. All the facilities will be readily available in the Zone at moderate cost. BEPZA's share of the FDI and export will rise significantly with the operation of BEPZA Economic Zone. So, it is high time for the investors to jump in to the prosperity bandwagon through investment and active involvement in BEPZA Economic Zone.
BEPZA has proved itself as the best facilitating & service providing organization in Bangladesh in terms of attracting investment, acceleration & diversification of export and generation of employment. BEPZA welcomes all potential entrepreneurs to utilize their foreign investments in the EPZs and BEPZA Economic Zone because it is the right place to gain optimum profit.