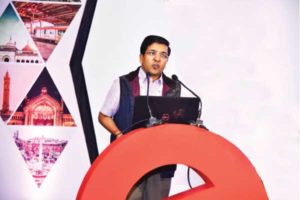 Prayagraj, the erstwhile city of Allahabad in Uttar Pradesh has a rich legacy to offer. Be it in terms of spiritual, cultural or educational aspects, Prayagraj is considered to be one of the heritage cities of Uttar Pradesh, vis-à-vis India and has been ranked as the 16th most liveable city in India. Dr Ashish Goel Divisional Commissioner, Prayagraj, and Chairman, Prayagraj Smart City Limited gives an overview on how the city is transforming as Smart City.
The transformation of Prayagraj began even before it was declared a Smart City in September 2017. This is because the preparations for Kumbh 2019 started in April 2017. For the Smart City projects of Prayagraj, first emphasis was given to strengthening and widening of roads because the city was suffering from traffic jams all the year-round. For this purpose, a number of railway over-bridges, under-bridges and flyovers were selected.
Primary Projects of Prayagraj Smart City
A lot of sewerage laying work was in progress under the Namami Gange – National Mission for Clean Ganga (NMCG) and erstwhile Jawaharlal Nehru National Urban Renewal Mission (JNNURM). Hence, the re-construction work was very carefully deliberated upon before execution. For efficient transmission of power, safety of residents and also for aesthetics, overhead wiring has been removed in the city and street lights have been placed within the median. We are also creating night shelters in the city.
Waste Management Measures
We have invested heavily in solid waste management; we have installed compactors, tippers and port stations all across the city; in a few months time, open garbage bins will be a thing of the past. We have laid a lot of emphasis on building public toilets which are being built on already existing government campuses. We first break the boundary of these campuses and then put the public toilet inside so that there is no encroachment of their Right of Way (RoW).
Initiatives for Centralisation of Administrative Services
We have completed the construction of our Integrated Command and Control Centre (ICCC) in a record period of five months and it was inaugurated by the Prime Minister in December 2018. This ICCC was used in the Kumbh Mela of 2019. The Request for Proposal (RFP) process took less than 45 days.
Parks and Open Gyms
We have laid emphasis on the development of parks and open spaces inside the city; some park construction works were undertaken under Atal Mission for Rejuvenation and Urban Transformation (AMRUT) and others under the Smart City Mission which includes open gyms as well. We are also planning for a 150-acre park on the lines of Dr Ram Manohar Lohia Park and Janeshwar Mishra Park in Lucknow.
We were able to complete all these projects worth more than Rs 4,300 crore in a period of less than one-anda- half years. While the average time to build a flyover in India is three to four years, in Prayagraj, we completed all our flyovers including those which were more than a kilometre long, in less than 14 months.
We have invested heavily in solid waste management; we have installed compactors, tippers and port stations all across the city; in a few months time, open garbage bins will be a thing of the past.
We widened our Railway under-bridges in less than six months. It involved coordination with multiple departments including Railways, Jal Nigam, Telecom and Sewerage.
Enhancing the Aesthetic Essence among the People of Prayagraj
For the renovation of Prayagraj city's traffic intersections, a scientific study was conducted by Urban Mass Transit Company (UMTC). They came up with a design which we implemented by removing encroachments and shifting utilities. Now, all 64 of our intersections bear a completely new look coupled with beautiful murals and sculptures.
For the beautification of the city, we had this unique 'Paint my City' campaign wherein around 20 lakh square feet of public walls and spaces including flyovers and pillars, among others, were adorned with mythological, cultural and historical paintings. The citizens of Prayagraj take pride in their art and till now there has not been a single case of defacement.
Ensuring Quality Check for Each Project
We had online project monitoring systems in place and no manual reports were taken. There were weekly targets for each and every activity and sub-activity of the projects. We had a third party inspection system for which we hired a reputed company called TUV India. They checked the quality as well as physical progress of each and every project and as a result, we were able to reduce the overall Kumbh Mela project cost of Rs 27 crore by a whopping 15 percent, that too without compromising on either the scope or delivery of the project. These are some of the key projects and features that were introduced in Prayagraj and we hope to replicate them in other projects in Prayagraj and in the rest of India as well.
Follow and connect with us on Facebook, Twitter, LinkedIn, Elets video