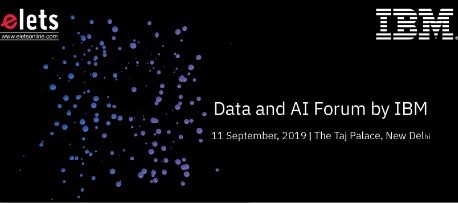 With the advent of technologies like Artificial Intelligence and Data, the Digital Architects of India are deploying these in the governance sectors to ensure better service delivery to the citizens.  The Government of India, with its flagship scheme Digital India, aims to bring technology at the doorstep of the citizens, and also leverage the technologies to progress towards the larger goal of Making India five trillion dollar economy.
With an aim to bring policymakers, members of ministries, industry leaders, PSUs, Think Tanks and Thought Leaders on a common platform for discussions on digital revolution, IBM, in association with Elets Technomedia, is organising the Data and AI Forum on September 11, in New Delhi.
The Forum aims to brainstorm on how digital revolution is changing governance itself, how to harness data for citizen/user services and leveraging new emerging technologies to exploit the insights from data towards efficient, effective, and secure operations.
They key themes of discussion would be on:
How digital revolution is changing governance
How to harness Data and AI for citizen services
How to leverage new emerging technologies
How to strategise for new India using a 360 connect with Data and AI
Amitabh Kant, CEO, NITI Aayog would deliver the inaugural address on 'Transformational Power of AI – Possibilities in India'.
Karan Bajwa, Managing Director, IBM India & South Asia would engage in a Fireside Chat with Ajay Prakash Swahney, Secretary, Ministry of Electronics & Information Technology (MeitY) and Prof Ashutosh Sharma, Secretary, Dept of Science and Technology on 'Enabling framework for development & deployment of AI'.
Paul Dommel, Global Director for Government Health & Human Services, IBM will deliver keynote address on 'Global Government Digital Transformation initiatives with Data and AI'.
Through multiple panel discussions and 'Show n tell' sessions, technology leaders, as well as bureaucrats and PSU heads would analyse how AI and Data have been instrumental in delivering services across sectors and also creating an inclusive technology ecosystem.
According to IBM, the Data and AI Forum would enable the audience to experience the present and future initiatives and innovations of the cutting edge technologies for a better governance and future on a whole.