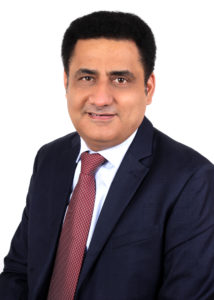 With the rapid evolvement of technology in the last few years, there have been changes and significant shifts observed in customer behavior & expectations. Aspect is in forefront for offering solutions that help understand what consumers want, what are their preferences, how they will behave and help enterprises respond appropriately, says Manish Bajaj, Regional Vice President and Managing Director – India and Middle East, Aspect Software, in conversation with Rakesh Roy of Elets News Network (ENN). Excerpts:

What are the USPs of Aspect that makes it a leader in its domain?
Aspect has a 45-years rich legacy behind it. From being the first company to introduce ACDs, to a Cloud ready Customer Engagement Platform, Aspect has been carrying the legacy of an innovator and a leader in customer engagement domain. With fast adoption of smartphones, in last few years we have witnessed a rapid evolvement of technologies that have opened up options for customers to connect with enterprises through channel of their choice. The traditional means of calls, or voice as we say it, is witnessing drop in preference and is being taken over by text, which spans over SMS, Chat, IM, Social, etc. This shift has impacted consumer's behavior, expectations and approach with brands they deal with. Aspect is in the forefront in gauging these shifts, understand the trends around consumer behavior, and has been evolving its solutions portfolio so that our enterprise customers are well prepared.
Today, Aspect solutions covers two comprehensive solutions. At one end is consumer interactions over multiple channels, managed by people or by automated tools like chabots. Whilst, we have employees at the other end, managing these customer engagements, Aspect solutions help understand their performance, productivity and needs. The consumer engagement solution portfolio helps consumers interact with enterprises as well as enable them to do-it-themselves. These solutions cater to the all channels, preferred by a consumer, and most importantly deliver consistent experience as consumer moves from one channel to the other, with context of conversational continuity maintained with it. Saving the customer time and providing a more personalised experience. Employee engagement is also a critical factor in success of any organisation, as consumer experience and employee engagement go hand in hand. Aspect is the pioneer in providing these end-to-end solutions that take care of quality of interaction between the employee and consumers and enhance employee productivity as well as satisfaction of the employee. As it is said, only happy employees can create happy customers.      
How has the customers' expectations changed with the advent of digital technologies in India?
India has a large and growing young population with digital and social media savvy, formidably formed by millennials and generation Z. Their expectation are drastically different than of previous generations and enterprises across domain like Banking, Telecom, Healthcare, etc, have taken note of it. Enterprises understand that consumer today wants quick resolution; enablement and interacting with an agent need to be avoided or as last option.
Technologies too are evolving, we are now seeing chatbots, strengtFhened by tools around Artificial Intelligence, Natural Language Understanding, etc. They play key role in predicting the behavioral changes of customer based on their previous quires and enquires.
Aspect provides Natural Language Processing powered by Artificial Intelligence that makes interaction more conversational in nature.
What are the growth drivers you foresee for your business in India. Also highlight the challenges?
In India, Aspect caters to wide range of enterprises from BPOs, Banking, Insurance, Telecom, Healthcare education to mid-size new establishments, all looking at delivering exceptional customer experience. In recent months, we have seen most of the sectors investing heavily in technologies to enhance the customer experience, while organisations have always recognized CX as a strong pillar for growth, last few months have seen a significant increase in investment to support the initiatives for CX.
Our strategy is to partner with our customer in helping them develop a solution roadmap that is aligned with business improvement opportunities specific to their organization and specific to their industry. The regulation in cloud is not much clear from PRI (Primary Rate Interface) point of view.
Aspect is a leading solutions provider in cloud in USA, Europe, and Australia. Indian Market is fast moving towards cloud and we are certainly looking at the market. In India Aspect, offers voice based cloud services to few international BPO's. We are confident, in coming quarters, there would be more clarity in regulation then we would able to provide cloud services to the domestic market.
What are the other future plans of your company in India?
Aspect model of growth is focused on strengthening partner ecosystem, which comprises of both the large System Integrators (SI's) and the niche contact center focused players. Our strong, evolving partner ecosystem is at the core of growth strategy, and this year we intend to further strengthen it.
Follow and connect with us on Facebook, Twitter, LinkedIn, Elets video