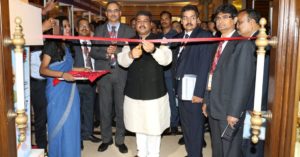 The Union Minister for Petroleum and Natural Gas, Skill Development & Entrepreneurship Dharmendra Pradhan, has described growth in petro-chem sector as industrial revolution 4.
He was speaking on the inauguration of a first-of-its-kind Petrochemical Investors Conclave  in Bhubaneswar.
Pradhan said that India's petrochemicals sector is going through a golden period, with growth rates of 14-15 per cent per annum. Odisha, with ready availability of raw material from Paradip Refinery and other units, skilled, low-cost manpower, port infrastructure and rail connectivity and a large regional market, must fully utilise the opportunity to create investment opportunities in the downstream Plastics Park and Textiles Park in the State.
Highlighting the developmental vision of  Prime Minister Narendra Modi, for Eastern India, the Petroleum Minister said that accelerated development of Eastern States is one of the top priorities of the Government. While the per capita consumption of plastics in India is only 10 kg as compared to the world average of 32 kg, it is much lower at 5 kg in Eastern India, he said. The Petrochemical Investors Conclave has been organised to create a new inspiration and a new ecosystem for the growth of petrochemicals sector in Odisha, and generate wealth for a new generation of entrepreneurs, while at the same time creating employment opportunities for the youth of the State on a large scale, he said.
During this petrochemical investor conclave, the Indian Oil Corporation (IOC) signed a Memorandum of Understanding (MoU) with IDCO (Industrial Development Corporation of Odisha) for the setting up of a Plastics Park at Paradip. IndianOil is setting up a 700 KTA (kilo tonnes per annum) Polypropylene unit at Paradip Refinery, to be commissioned in 2018, to serve as a mother plant for downstream polymer/plastics ancillary units.
The IOC and Institute of Chemical Technology (ICT), Mumbai also signed an MoU to set up a campus of ICT in Bhubaneswar to be hosted by IOC.
The Indian Oil signed another MoU with MCPI Ltd. for setting up a Textiles Park in Odisha.
"With the coming up of an MEG (Mono Ethylene Glycol) Unit at Paradip Refinery and availability of PTA (Purified Terephthalic Acid) in the East, the polyester downstream industry can flourish very well in Eastern Region as well", Shri Pradhan said. By achieving synergy of cotton fibre with polyester fibre to promote and popularise synthetic textiles, the Textiles Park will majorly benefit Micro, Small & Medium Enterprises ( MSMEs), with employment  potential of up 22 lakhs, he added.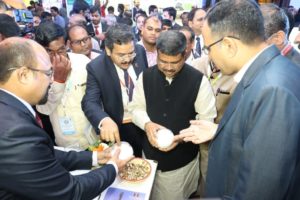 Pradhan announced that CIPET will set up a technology service centre in Paradip to support the development of Plastic units there.
 He also inaugurated an exhibition set up at the Conclave venue. The exhibition, with over 35 exhibitors, focussed on how the petrochemicals sector caters to a number of other sectors, by providing raw material for clothing, housing, construction, furniture, automobiles, household items, toys, agriculture, horticulture, irrigation and packaging to medical appliances.
 Rajeev Kapoor, Secretary, Department of Chemicals and Petrochemicals (DCPC), Govt. of India, who also spoke on the occasion, said that the Department is in the process of developing a master plan for the petrochemicals sector in India to serve as a road map for the next 15-20 years.
 Tony Potter, Vice President (Asia Pacific), IHS Market, in his presentation in the inaugural session, said that India's polymers demand is projected to grow from 13 million metric tonnes per annum (MMTPA) currently to 55-60 MMTPA by the year 2040. Therefore, it is very important that the country's investments in petrochemical plants keep pace with the rising demand to avoid imports in the coming years, he said.
Follow and connect with us on Facebook, Twitter, LinkedIn, Elets video