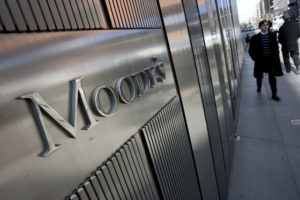 After the upgradation of India's sovereign rating from Baa3 positive to Baa2 stable, Moody's Investors Service has now also upgraded the issuer ratings of National Highways Authority of India to Baa2 from Baa3 and revised outlook to stable from positive.
In addition to this, the ratings of NTPC, NHPC and GAIL have also been upgraded.
"The upgrade in ratings for NTPC, NHPC, NHAI and GAIL follows the upgrade of the Indian sovereign rating and reflects the strategic importance of these entities to the country, as well as their close operational and financial links with the government," said an official release.
In October, NHAI has received a Baa3 rating from Moody. This new rating came within one month.
According to a report by  global rating agency CRISIL, reforms by NHAI have led to the decline of high risk highways projects from 53 per cent two years back to 21 per cent now.
Reforms such as quicker approvals, loan support for stalled projects, termination of stuck projects and their subsequent re-awarding etc led to this improved ranking.
The CRISIL report also noted  that NHAI reforms have doubled the highways construction rate from 12 km per day in 2015 to 23 km per day in 2017.
Moody's said the baseline risk of NHAI is closely related to the Indian government's financial strength. "As a result, the baseline risk for NHAI is effectively the default risk of the Indian government,"
GAIL has a dominant position in the gas transmission business in India. Its transmission pipelines represented around 75 per cent of country's network and the company had around 60 per cent market share in gas marketing.
Follow and connect with us on Facebook, Twitter, LinkedIn, Elets video