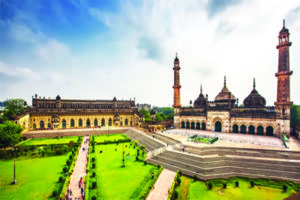 Lucknow, the City of Nawabs, carries its age-old charm till date with a combination of cultural attractions and the newly acquired tag of 'Smart City'. The city today appears marching ahead in various developmental areas paving the way for growth of all, writes Priyanka Sharma of Elets News Network (ENN).
The Uttar Pradesh government wants to improve the resource management of Lucknow, which was selected in the second round of Smart Cities Mission, by adding connectivity and intelligence within the existing infrastructure. Lucknow's projects have been planned in such a way that they lead to development of a clean, green and efficient city, which is a citizen- centric with a modern economy and outlook.
Lucknow Smart City is being developed on the basis of four key themes — Jeevant Lucknow (Liveable), Sugam Lucknow (Mobility), Sugam Lucknow (Mobility), Swachh Lucknow (Clean) and Samruddh Lucknow (Prosperous).
Jeevant Lucknow (Liveable): To provide better quality of life to the people of Lucknow, physical and social infrastructure is being developed.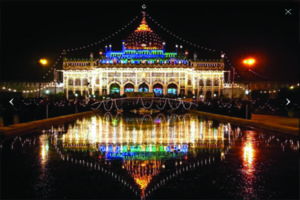 Sugam Lucknow (Mobility): Being an old city, Lucknow is facing transportation problem. For this, smart traffic solutions are being implemented in the city. This is being done in line with the Area Based Development (ADB) and city development programmes. The city administration is also developing smart mobility solutions (smart bus shelters, smart parking solutions etc.) to focus on providing better movement of traffic, encouraging walkability and cyclability for commuters ease.
Swachh Lucknow (Clean): In sync with the Swachh Bharat Mission of the Government of India, Uttar Pradesh and especially its capital Lucknow is trying to improve its Swachh Ranking. In the 2017 ranking of the cities on the basis of cleanliness, Lucknow didn't find a spot in the top 100 clean cities of India.
Samruddh Lucknow (Prosperous): Lucknow is trying to increase the tourism by focusing on its rich heritage, culture, handicraft, cuisine and connectivity.
Some of the projects which the city is undertaking to transform itself into a smart city are:
Smart City Surveillance Project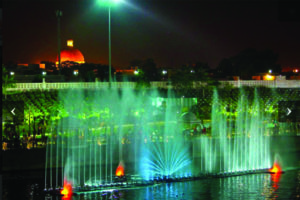 Entitled Drishti, this programme has already been implemented in the city. The project is one of the fastest implemented projects for any police department in India. With state-ofthe-art Command and Control Centre for 24×7 monitoring of CCTV cameras, the idea is to create a 'Safe' Smart City.
"The project has been acknowledged as one of the fastest implemented projects for any police department in India. It also helps in monitoring the traffic jams and red light violations. We are further going to increase the number of cameras," says Anil Garg, Divisional Commissioner, Lucknow; and Chairman, Lucknow Smart City Limited.
The project is making use of 280 IP CCTVs, Automatic Number Plate Recognition System (ANPR), Video Analytics, Mobile Surveillance System, Command Control Centre and Data Centre with the objective of controlling crime in the city. A total of 70 vulnerable points of the city are already covered under the project. Emphasis has been laid on entry and exit points in the city, VVIP areas, and all critical and sensitive locations.
Online Grievance Redressal System
For effective tackling of the consumers complaints, the Government of Uttar Pradesh has started Intelligence Gathering and Retrieval System (IGRS)- an integrated system for grievance redressal-so that good governance could be provided to citizens.
Filing a police complaint has been made easy, courtesy a single government platform 'Jan Sunwai' (jansunwai.up.nic.in) to ensure all complaints filed on it are duly addressed in terms of time and satisfaction. The State government has also launched a mobile app for registering citizens' grievances/suggestions, linked to Jan Sunwai (IGRS) portal.
Each complaint is provided a reference number through which a citizen can use to track progress of grievances, send reminders and give feedback after disposal.
After successful registration, the reference will be automatically forwarded to the concerned officer for redressal.
UP 100 – Police Emergency Management System
To provide integrated emergency services, UP 100 has come into being to provide safety and help to citizens round-the-clock.
A contact centre, running from Lucknow, receives emergency calls from across the State, including remote rural areas.
Anybody can avail this service over phone , via emails and social media etc. All the response vehicles are controlled by this control centre.
It is targetted to reach the caller within 15 minutes in the city areas and 20 minutes in rural areas, mostly.
Women Help Line – 1090
The app-based service, the helpline of '1090' is dedicated solely to women complaints. It is a toll-free number meant to provide immediate help to women faced with a crisis.
To provide integrated emergency services, UP 100 has come into being providing safety and aid to citizens round-the-clock.
Solid Waste Management System
By incorporating ICT-based solutions, Lucknow Municipal Corporation (LMC) has implemented solid waste management system in Lucknow on Public Private Partnership mode. It includes setting up of control and command centre for real-time tracking of garbage collection vehicles and user charge collection, designing route plan for all wards/zones to monitor and control timely service for each household.
There is also a provision of a customer redressal mechanism and MIS reports generation. The project is deploying Radio Frequency Identification (RFID) tag, smart road bins (sensor-based) which will provide real time information of existence of waste in each bin so that waste can be collected in time.
Integrated Transport Management System
Over 10,000 buses of Uttar Pradesh State Road Transport Corporation have been installed with Intelligent Transport Management System (ITMS) which allows their real time tracking. Other benefits of this system include electronic ticketing, GPS-based vehicle-tracking and passenger information systems. The whole system is passenger-centric and has led to the profitability of UPSRTC (Uttar Pradesh State Road Transport Corporation).
'Smart city bus service will have GPS and CCTVs while smart bus shelters will welcome commuters. Transport department has given this job to a consultant,' added Garg.
Online Ration Management System (ORMS)
Online Supply Chain management, or Ration Management System is a portal which has been developed by National Informatics Centre for Food and Civil Supply Department.
It monitors and allocates ration at various levels in a district.
Area Based Development
Proper resource management is one of the keys to make the city smart. This involves improving connectivity and intelligence within existing infrastructure. The plan is to develop a clean, green and efficient Lucknow as a citizen centric city, with modern economy and outlook anchored in its traditional heritage and culture with a good quality of life.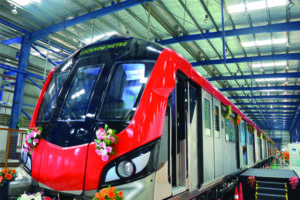 Lucknow Metro
Metro – the much awaited project of people in Lucknow — is being carried out in capital city and fast becoming a reality . The work is being carried out since September 27, 2014, – which was a daunting task to complete.
No other Metro project has been able to match up with the speed of deliverance in project execution in such a short time as Lucknow Metro. The 8.5 km 'Priority Corridor' of the North – South corridor (Phase 1A) was executed in just over two years, a record.
Lucknow Metro Rail Corporation has been recently given the prestigious Dr. APJ Abdul Kalam Memorial Award on Innovation in Governance.
Even contemporary Metro projects in the country have not been able to match up with the speed of deliverance in the country as compared to Lucknow Metro Rail Corporation's (LMRC) strength in project execution.
"We have adopted the latest technology in Lucknow Metro. We have gone for the Communication Based Train Control (CBTC) system which is the latest signalling system for Metro Rail. Its advantage is that the trains can run at a very close external funding agency, is also contributing 57 per cent of the project cost as loan to LMRC.
The State Government is providing the land free of cost and reimbursing the State taxes.
The Lucknow Metro Rail Corporation has been recently given the prestigious Dr APJ Abdul Kalam Memorial Award on Innovation in Governance, a result of the efforts of the whole team of Lucknow Metro.
Follow and connect with us on Facebook, Twitter, LinkedIn, Elets video