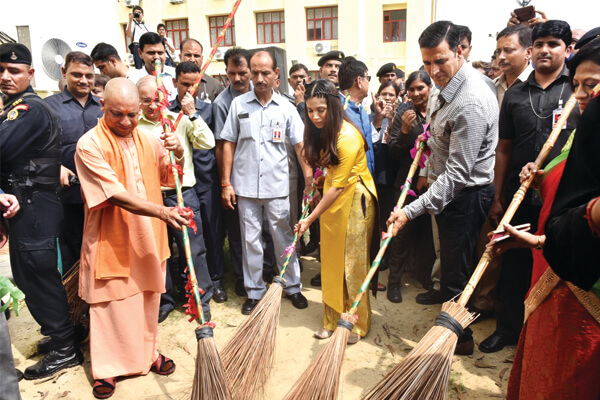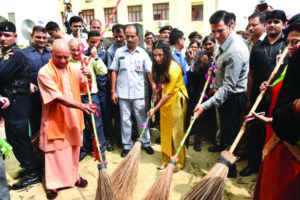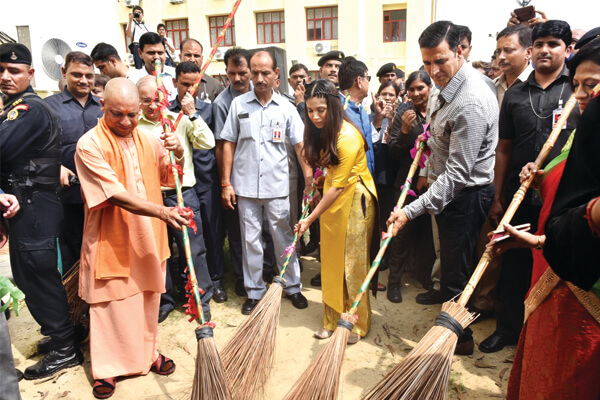 It's been over four months when Yogi Adityanath took over the reins of Uttar Pradesh as the Chief Minister. The change appears to have come as a blessing for all those who once rued about a rather rotten system devoid of reforms, writes Priyanka Sharma of Elets News Network (ENN) while exploring a sea-change in administration.
Aweek after taking over the reins of Uttar Pradesh, Yogi Adityanath declared the benefits of development would reach all and nobody would be differently viewed based on on the basis of caste, religion, or gender.
Today, the State looks climbing up the growth chart with impressive steps for reformation.
Special focus on infrastructural development
In the very first budget of the Yogi government, Rs 288 crore was allotted for metro rail projects in the State.
In another significant move, Uttar Pradesh completed a drive to fill up potholes on as many as 11,107 roads within 40 days, with the Government providing nearly Rs 1,400 crore for the work. The project started on May 6 and completed by June 15, much before the onset of monsoon in the State.
To widen and strengthen roads, Rs 598.65 crore are being spent. Another Rs. 451.58 crore have been allocated for connecting villages with link roads and construction of small bridges.
There is a provision of Rs.253 crore for road construction works under the proposed World Bank aided Uttar Pradesh Core Network Project and Rs. 202 crore for construction of roads with the aid of Asian Development Bank.
The State Government has given Rs. 185.69 crore for the construction of bridges, Road Over Bridges and under passes over roads of different category in the State.
E-Office
For the maintenance, upkeep of records, files and making the running of the system more easier and transparent, the Government of Uttar Pradesh has decided to establish e-office system in the UP Secretariat from 1st October, 2017.
There is a target of providing electricity facility for 24 hours from October, 2018 and to every citizen of the State by the year 2019.
With this, physical files will replace digital files. Under the e-office system, disposal of files would be expedited on one hand, while on the other, unnecessary time wastage on government works would also be cut down considerably. The Chief Minister has also formed a group of officers who would deliberate on required hardware, software, training of personnel and making way for digitisation of existing physical files.
Grievance Redressal
Adityanath has issued strict instructions for penal action against officers found wanting in solving people's problems in time. Every day between 9:00 am to 11:00 am, all divisional commissioners, district magistrates, police officers, tehsil and block level officers have been asked to be present in their offices and listen to the problems raised by the people.
He has instructed that efforts should be made on a priority for problems flagged on the social media as well.
Very soon, the State will establish a direct dialogue with the common people and to make social media activities stronger. A social media hub will also be established.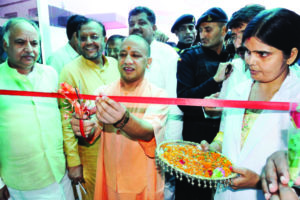 Industrial Policy
The Chief Minister is keen to generate employment opportunities for citizens and for this, the State Government has formed an Industrial Investment & Employment Generation Policy- 2017 at a cost of Rs 20 crore.
To woo industries, the Government of Uttar Pradesh has launched this comprehensive policy, which involves creating land banks, promoting country-specific industrial parks to attract FDI and helping set up private industrial parks around Lucknow-Kanpur, Kanpur-Allahabad and VaranasiAllahabad zones.
The sectors to be focussed upon include information technology, Information Technology Enabled Services, electronics manufacturing, agro and food processing, dairy, green energy, handloom, textile and tourism.
Some of the fiscal incentives, subsidies and concessions announced by the policy includes stamp duty exemption, capital and infrastructure interest subsidy, employee provident fund reimbursement and electricity duty exemption, subject to certain conditions, to attract investments.
The State also plans to host a Global Investors' Summit to project Uttar Pradesh as an investment destination.
"The policy emphasises a need to ensure balanced regional development in Uttar Pradesh by means of facilitating linkages, fiscal incentives and leveraging regional advantages in Bundelkhand, Madhyanchal, Paschimanchal and Poorvanchal," the policy stated.
Connectivity is an important theme of the policy and articulates the government's vision of building new metro rail services, airports and a new road corridor connecting Mathura, Kashi, Jhansi and Gorakhpur on the lines of the Lucknow-Agra Expressway and upcoming Poorvanchal Expressway, thereby linking the entire State.
It has been decided that Rs 5 crore will be given to establish incubators in Lucknow as well.
Housing
To provide housing for all, the State Government plans to build cemented houses for homeless people at a cost of Rs 4,500 crore.
It has been decided that Rs 5 crore will be given to establish incubators in Lucknow as well.
Drinking Water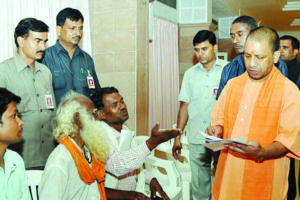 To provide clean drinking water, the State Government has given an amount of Rs. 2,800 crore for ground water based rural drinking water scheme in Bundelkhand, Purvanchal and Vindhya regions. There is also a provision of Rs. 1,000 crore for National Rural Drinking Water Programme.
Under the Agra Drinking Water Supply Project, the Government will bring 150 cusec raw water through 130 km pipeline.
Electricity
The main focus of this government is to provide electricity 24X7 for all. In this regard, a Memorandum of Understanding has been signed with the Union Government. There is a target of providing electricity facility for 24 hours from October, 2018 and to every citizen of the State by 2019.
Renewable Energy
Uttar Pradesh will also implement new 'Solar Energy Policy' soon attracting investment from the private sector. Besides, Rs 30 crore will be spent on the establishment of Solar Street Light Plants for community streetlight.
Smart Cities Mission
Seven Cities from Uttar Pradesh have already been selected under the 'Smart Cities Mission' programme. To develop these cities, Rs 1,500 crore has been allotted. A target has been fixed for providing better life style through economic development and basic infrastructure, e-governance and citizen services, waste management, water management and urban mobility in 13 cities of the State under the Mission, including the seven cities already selected.
Rs 240 crore are being spent on cleaning the river Ganga while a provision of Rs 1,000 crore has been made for 'Swachha Bharat Mission Yojana'.