Taking the Prime Minister Narendra Modi's favourite initiative of cleanliness and integral part of general public's life, our Ghaziabad Municipal Corporation is also making an endeavour towards 'Swachhta', says Chandra Prakash Singh, Commissioner, Ghaziabad Municipal Corporation, in conversation with Ritika Srivastava of Elets News Network (ENN).
"We have started working on a detailed project report for bio -remediation of existing waste dumpsite, the work on which will start by midOctober, 2017."
Share with us how ICT is being leveraged by the corporation to deliver services to the citizens?
Ghaziabad is gateway to Uttar Pradesh and a large number of people working in Delhi are living here. Ghaziabad Nagar Nigam is making an endeavour towards 'Swachhta' with steps like:
Promoting Google toilet locator: For this, we ran a month-long special drive at all public toilets and offered a small gift to each one who shared their feedback/review post usage of public toilet.
Swachhta App: This is one app that helps to report various sanitationrelated issues to the Nagar Nigam, and we have gone a step ahead to ensure that a turnaround time for such issues reported via Swachhta app is maximum 24 hours.
IGRS: We have worked very hard to improve our statistics over IGRS.
Tax Collection Services are available online.
Social Media: Today, we are actively present over Facebook, MyGov Discussion forum, WhatsApp, mass emails, mass SMS and Twitter, and very soon we shall be active over linkedin, Instagram and Google Hangouts too.
And of-course we have not forgotten senior citizens for whom we are running a toll free number (1800 1803 012) through which they can reach us anytime without any cost.
Tell us about the road map of transforming Ghaziabad into a 'Smart City'?
For the past two months, I have been doing self-assessment on what do we lack and why we have not been able to secure a place in the Smart Cities Mission in the last three attempts. I am trying to figure out what should we do now and how can we make Ghaziabad a 'Smart City'.
After pondering over the issue, I realised that a city which is sandwiched between Delhi and Noida has every reason to become a Smart City. Most of our citizens are tech-savvy and are welltravelled. The only thing needed is to indulge people in dialogue using various e-governance tools. Ghaziabad is the first priority for many people who want to live in Delhi NCR.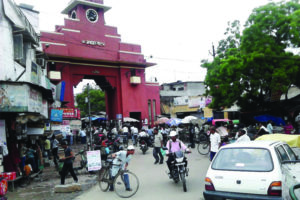 But it is the most polluted city in India. This cannot be ignored, and should be seen as an opportunity to implement best environmental solutions.
When I took over as the Municipal Commissioner of Ghaziabad, the daily average waste collection was approximately between 900 metric tonne (MT) to 1,050 MT. Now the waste collection has reached up to 2,000 MT per day and that shows that we have improved significantly in terms of collection of waste, and we envisage the next step will be to manage the entire municipal solid waste. For this purpose, we have taken some significant steps. As a first step, we have started working on a detailed project report (DPR) for bioremediation of existing waste dumpsite, the work on which will start by mid-October, 2017.
To overcome the challenge related to untreated waste, we have invited 'Expression of Interest' for setting up waste-to-energy plant.
Ghaziabad has a glorious past and the city has been an industrial township for a long time. We are planning to revive its status as an economic powerhouse. We are in dialogue with various business houses and large scale service providers, so that Industries which cannot be set up in Delhi due to high cost of infrastructure can be set up in Ghaziabad.
We understand when a city aims to become an economic powerhouse, a very serious problem of sanitation arises, for which we have already constructed sanitation related infrastructure at a fast pace and have a target to declare our city as open defecation free by December 31, 2017.
What e-governance initiatives has been undertaken by Ghaziabad Municipal Corporation?
Since I took charge as the Municipal Commissioner of Ghaziabad Nagar Nigam, my aim has been to empower common man (our source of revenue), and the tool to empower is e-governance. In today's life, in a city like Ghaziabad where people are bound to live in nuclear families and majority of the members belong to working class, I understand that they may not have time to reach out to us in a traditional manner, so e-governance is the need of the hour. Once people are empowered using various e-tools, we are able to get feedback from people and I firmly believe that we will be able to improve our performance.
What sort of challenges are you facing in ensuring development of the city?
We have been trying to convert all the challenges into opportunities. We foresee following as an area of opportunity to work upon:
Industry Area
Common facility centre
Business facilitation
Skill Development
Smart Mandi
ICT solutions like billboard management, mobile wallet payments through central eKYC
Decentralised waste management with compost machines
Canal front development (Solar Walkway)
What are your future plans for the city's development?
There is no specific definition of a 'Smart City'. For many, the term is interchangeable with technologies that make cities work better or more efficiently. In my view, it is "planning for tomorrow and today".
We have many urban challenges, such as, safety and security, traffic congestion, ageing infrastructure, effect of climate change and disasters that needs to be addressed. We wish to address these challenges by forming an SPV once we are able to secure a rank in the ladder of Smart Cities.
Transforming city into an economic powerhouse, implementing best of waste management and environmental solutions are on my agenda table. Switching from conventional streetlamps to LEDs presented an interesting opportunity as smart city on which we have already started working upon.
But we need to understand that the global rush to roll out mobile apps, e-governance services and other Smart City tools are leaving behind people with disabilities. But I want to have a smart city for all. I believe in sustainable development goals to make cities inclusive, safe, resilient and sustainable and I am working towards these.
Follow and connect with us on Facebook, Twitter, LinkedIn, Elets video