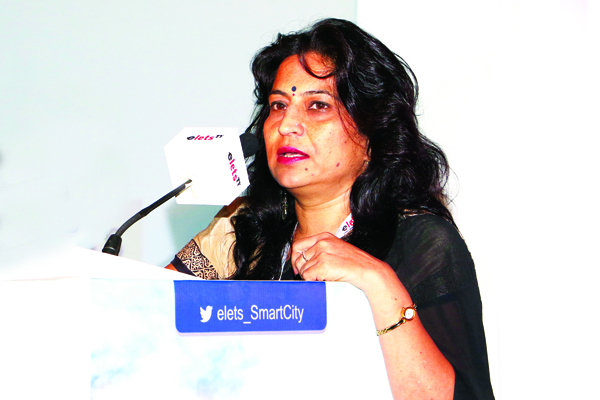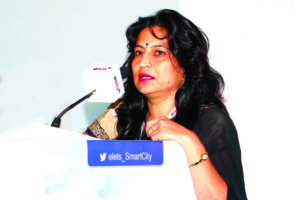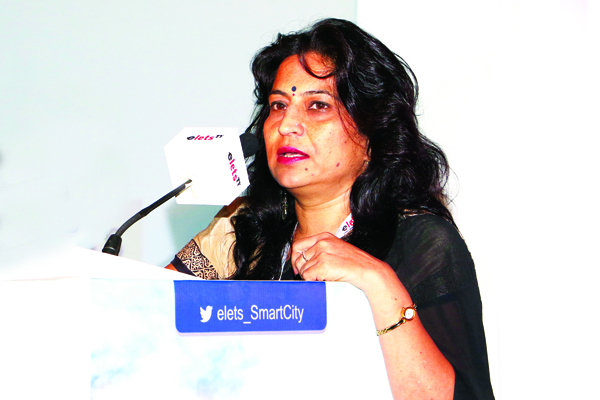 The e-governance ecosystem mainly comprises three major parts –Technology, Governance and Citizens. Technology is the tool, Governance is the outcome, and Citizens are the real reason for which this entire ecosystem exists. However, it is only by bridling the ever-changing facets of technology that an impervious system of governance could be designed so that the ultimate goal of good governance could be accomplished using e-governance, writes Charru Malhotra, Associate Professor (e-Governance and ICT), Indian Institute of Public Administration-IIPA, New Delhi, for Elets News Network (ENN).
Emerging Technologies – Disruptive or Transformative?
Though ICTs for a long time have facilitated to surmount several governance ills, however, the multifarious options of emerging technologies and their respective applications could be indeed mind-boggling. These newer forms of emerging technologies are capable of completely displacing the 'comfort zone' of an established technology that is why such technologies are also often referred to as 'disruptive'. Newer ways of doing things and newer forms of groundbreaking products emerge, which may end up creating a completely new industry and hence are also referred as 'transformative'. Inspired by 'Gartner Hype Cycle for Emerging Technologies' report (2017), some of the instances and examples of emerging technologies can be summarised in three distinctive categories of Artificial Intelligence (AI) everywhere, Transparently immersive experiences and Digital platforms.
A sustained delivery of governance outcomes through the application of these multifarious technology options is assured only if citizens accept these technology based governance systems in a multilateral manner, which can be further guaranteed only if these initiatives are proactively responsive to the landscapes defined by citizens themselves.
Therefore, we need to treat 'citizens' (and not 'technology') as the start point as well as the end-reason in the design of these initiatives. This mandates a citizen-centric ('for' the citizens) as well as a citizen-inclusive approach ('by' the citizens), thereby leading to 'co-creation' of ICT based governance spaces.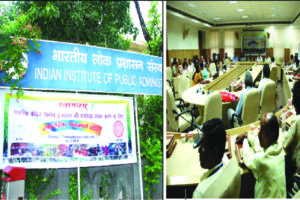 Co-Creating e-Governance to Tame Technology
The dictum is "not what to choose but how to choose" to ensure that these emerging technologies transform and not disrupt the governance processes.  A simple linear mapping of the three components of e-governance viz. Governance, Technology, and Citizens would help to unpretentiously represent the co-creation approach 
The starting point of this co-creation approach is a joint-delineation of citizens' expectations of governance to attain specific governance goals, the priority-focus of which again is jointly evolved by the citizens and the governance-actors . These governance goals could be rewardingly consummated by a combination of technologies which are chosen depending on its features and advantages, again decided by responding to the socio-cultural context of its ultimate beneficiary- the citizen.
 Representing the Three Constituents of the Co-Creation Approach
In this co-creation approach, the needs and aspirations of the citizens vocalised by citizens themselves are the sole criteria for technology selection and not the other way around, where the technology trends or respective vendors' dictate. For this reason, the technology titles/names/labels must be kept incognito at the preliminary level of project planning and designing. Citizens being the best judge of their needs must be allowed to create, access, utilise and share the related information and knowledge.
This would enable individuals, communities, and citizens to achieve their full potential in promoting sustainable development and improving their quality of life using the emerging technologies. Therefore, such an approach, where citizens expectations serve as the starting point and cannot be isolated from a citizen-inclusive approach, would help to jointly identify appropriate technology components required for fulfilling governance outcome (Malhotra & Chatterjee, 2014).
The co-creation approach insists that it is citizens' expectations that must serve as a sieve to choose the technology for which the culture of governance too must change from 'bureaucratic' to 'participatory'.
The observation that  a 'symbiotic stakeholder synergy between the citizens and the varied governance actors leads to success of ICT-initiatives', was affirmed in the Citizen Consultation Round (CCR) , also referred as Nagrik Paramash Daur, conducted by author at Indian Institute of Public Administration (IIPA), New Delhi, in October, 2009  . CCR saw the participation of 73 villagers from several Indian villages to understand the hitherto unrepresented contextual reality of the rural spaces/ social processes prevailing in rural India from the citizens' perspective, despite their education, caste, gender, professional and other diversity, using a series of collaborative and systematic mechanisms (Malhotra, Chariar, Das & Krishnaswamy, 2011).
The active participation of villagers in Corporate Citizenship Report (CCR) indicated that villagers are indeed quite vocal, lucid and expressive, especially when empowered with relevant information through ice-breaking sessions and facilitated by experts. In CCR, the villagers also expressed their willingness to become part of the ICT implementation processes, if consulted.  Overcoming their limited awareness of Information Technology (IT), they articulated their generic governance needs and also specific needs for IT awareness, training and issues to be considered whilst designing more responsive e-Governance initiatives.
In the present Digital India times, MyGov (mygov.in) too is an important social-media initiative of Government of India that is expected to create responsive eco-systems for participatory governance in India.  However, India, with all its diversity, needs to adopt a multi-channel strategy of citizen participation in the processes of Governance, that relies on not just Internet based collaboration channels (portals, crowd sourcing apps, push/ pull SMS services, multi-site video conferencing) but also 'seeks' citizens' participation using non-Internet collaboration mechanisms (radio channels a la' a more interactive Mann ki Baat version , community radio) and even non- electronic possibilities ( such as deliberative polls, social audits, Community of Practices-CoPs, CCRs, local jantaa darbars, ward councils, area sabhas, opinion surveys, PRA etc.) . Ideally, the responses, thus received from all these channels could be collated, combined 'cleaned' and then evaluated using Big Data / Artificial Intelligence technologies to serve as policy inputs to the respective decision support systems of national/regional/local importance. The possibilities are limitless with the willingness of the Governance!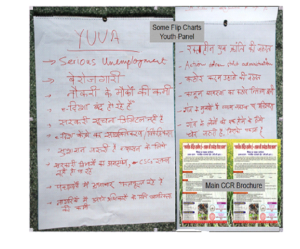 Conclusively, saying in its utopian form, the Governance must nurture fully interconnected spaces where citizens may not just access but are also able to co-create and strengthen the governance adjuncts as per their legit needs and aspirations, using technology as a meaningful tool and not the starting point of the design process. Citizen-centric focus coupled with a citizen-inclusive design approach to e-governance could together lend a more realistic flavor to the attainment of good governance wherein the newer forms of technologies would serve only as means to the end and never the end itself.
(Dr. Malhotra is presently Associate Professor (e-Governance and ICT) at Indian Institute of Public Administration (IIPA), New Delhi, India and has more than twenty-six years of professional experience in the field of ICT, Software Engineering/MIS, e-Governance and Training – out of which the last 12 years have been as trainer / UN Consultant in the field of e-Governance, Smart Cities, Smart Villages and Training of Trainers.)