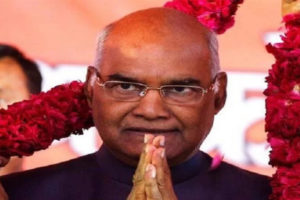 Former Bihar Governnor Ram Nath Kovind, the Presidential candidate fielded by National Democratic Alliance (NDA), has won the Presidential polls on Thursday, making him the second Dalit leader to occupy the top constitutional position in the country after KR Narayanan, whose daugther Meira Kumar was also in the fray to succeed President Pranab Mukherjee who will end his term this month.
Kovind, who defeated closest rival Kumar — who was the Opposition's joint candidate — got more than 65 per cent of the electoral college votes. The first BJP leader to enter the office of President garnered 2,930 votes, against Kumar's 1,844 votes.
"Congratulations to Shri Ram Nath Kovind Ji on being elected the President of India! Best wishes for a fruitful & inspiring tenure. Gladdened by the extensive support for Shri Ram Nath Kovind Ji among MPs & across various states. I thank members of the Electoral College," said Prime Minister Narendra Modi in an official statement.
I also congratulate Meira Kumar Ji for her campaign, which was in spirit of the democratic ethos & values we all are proud of ," he added.
Counting of votes started at 11 am and after eight rounds of counting, Kovind was declared to be the winner. He will take the oath as the 14th President of India after Mukherjee's term will end on July 24.
President of India is elected by an electoral college that comprises all Members of Parliament and legislative assemblies as well as of the Union Territories.
According to media reports, a total of 4,896 voters were eligible to cast their vote in this election.
Follow and connect with us on Facebook, Twitter, LinkedIn, Elets video