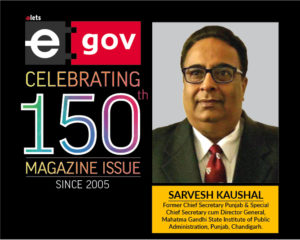 On the occasion of eGov's historical 150th magazine issue, wishes from Sarvesh Kaushal, Former Chief Secretary Punjab & Presently Special Chief Secretary cum Director General, Mahatma Gandhi State Institute of Public Administration, Punjab, Chandigarh.
Punjab has implemented many e-Governance programmes like backend computerisation of various departments, online service delivery using State Portal and State Service Delivery Gateway, e-Sarkar, e-District, etc. which have improved the functioning of the government to provide all services in an efficient and hassle-free manner and identified services on an online basis.
I am happy that Elets magazine, which is the pioneer in e-Governance publications, is coming up with its 150th edition. I wish them best of luck to continue working in areas of e-Governance and enlighten the readers with their best of content in e-Governance.
Follow and connect with us on Facebook, Twitter, LinkedIn, Elets video