The Ministry of Road Transport and Highways is planning to invest $300 billion in various infrastructural projects across the country. The Ministry has also introduced a bio-fuelled public transport system in Nagpur, says Nitin Gadkari, Minister for Road Transport and Highways, and Shipping, Government of India, in conversation with Poulami Chakraborty of Elets News Network (ENN).
What have been some of the key achievements since you took over as the Minister for Road Transport and Highways, and Shipping? 
During the past three years, all the key 15 projects, including 12 ports, Cochin Shipyard, and others, have registered a profit of over Rs 4,000 crore. We are improving further with the help of international consultants. Our ports are developing at a very fast pace to ensure creation of state-of-the-art infrastructure facilities.
"Prime Minister Narendra Modi is a great visionary with exemplary administrative abilities. He tries to implement and follow up the progress of each project."
Besides, over 283 projects worth Rs 3,80,000 crores were deadlocked due to various reasons, which we have been able to complete.
When I took over, the rate of road construction was 2 kilometre per day, which improved to 14 km in three months and now it has reached 30 km a day. We have set a target of 40 km per day. We are extremely sensitive to environment conservation and that is why we have introduced ethanol, biodiesel and biogas, which are cheaper and environment-friendly fuels. Nagpur has already introduced bio-fuelled buses in its public transport system.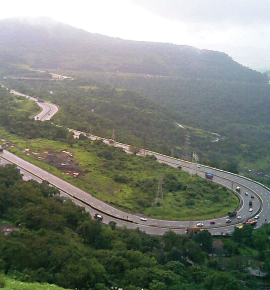 Another key aspect which highlights the department's achievements is launching of seamless road connectivity through Bangladesh, Bhutan, Myanmar, Thailand, Nepal, and Sri Lanka. Normally, it takes 18 hours to complete the journey from Agartala to Kolkata. But due to our efforts, the same journey can now be completed in just eight hours. A waterway project will be launched from Varanasi to Haldia soon. The department is also planning to introduce computerised examinations for issuance of driving licences as about 30 per cent of licences in the country are bogus. We hope to reduce the rate of accidents in the country by this new initiative.
For the first time in the history of our department, we are going to undertake about 15,000 km of road construction work. We are in the process of completing old projects before the monsoon sets in. We will also sign more contracts this year.
Countries like China have strict laws against deceitful contractors, but why there are no such laws in our country?
We have strict laws but the need of the hour is their effective implementation. We have ensured that the norms are complied with and defaulters are punished strictly.
In the past, good contractors were not coming forward for projects. But now we have boosted their confidence by easing out the procedures.
There are some larger issues as well. The entire length of roads in the country is about 48 lakh km, of which the Transport Ministry has authority over 96,000 km. These roads carry around 40 per cent of the traffic load. We are in the process of expanding our jurisdiction to around 1.5 lakh km. We have also identified accident-prone spots.
Can you give us an estimate of the expenditure which will be spent on the infrastructure this year?
The infrastructure sector is moving at a fast pace and I am sure that with this rapid development happening in the country, more than $900 billion will be spent this financial year alone. We, at Transport Department, have made an estimate of $300 billion.
We will submit proposals of some new projects to the Finance Ministry soon. We want to make railway stations, bus depots and airports as integrated multimodal hubs. We are also giving priority to ethanol, bio-fuels, etc. We plan to convert state government buses into electric buses. Planning for water ports is also in the pipeline. We want to give first priority to Water Ports, second priority to Railways and third to Ports. I'm positive that in due course of time, the Transport Ministry will be in a position to boost the Indian economy. We plan to add two to three per cent to the country's Gross Domestic Product (GDP).
How are you planning to raise the funds for the infrastructural projects? 
During my tenure as a minister in Maharashtra, the government provided us only Rs 5 crore, while Rs 4,000 crores were generated from the market and public. Now, as the country's Transport Minister, I have already raised Rs 8,000 crores. We have a budget of Rs 55,000 crores. For the next three years, the total budget will be around Rs 3 laks crores. We have also approved tax free bonds worth Rs 70,000 crores. If we scrutnise the 101 projects that will be built on government funds we can generate another Rs one lakh crores. The total fund then will be Rs 4.7 lakh crores.
Besides, we are getting toll income of Rs 12-15 crores. In the next 15 years, we will get another Rs 1.5 lakh crores. All these funds together will create nearly Rs 6 lakh crores. We will get loans from different countries, funding organisations and banks at cheaper rates. For example, we are building an eight lane road at Jawaharlal Nehru Port Trust in Mumbai. We initially talked to the Indian Bank for loan of Rs 3,000 crores at 12 per cent interest rate. But, in Dollar Funds we got the same loan at 2.15 per cent rate. We have projects worth Rs 50,000 crores in shipping. We have earned a profit of Rs 6,000 crores. So, there is no dearth of funds. We are also going on Public Private Partnership (PPP) model.
"With the fast paced development happening in the country, more than $900 billion will be spent this financial year alone."
What are the major projects for the shipping sector?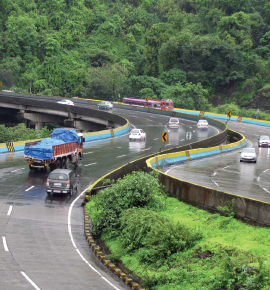 We can utilise the vast seafront for both passenger and goods transportation. We are working on introducing hovercraft or amphibian buses, which can travel on both land and water. Besides, we have 20,000 waterways in 111 rivers that flow in the country. We can add more waterways through the canals. We want to build traffic on water roads. We have opened Road Port Connectivity Corporation. The office is in Mumbai. We are also working on projects of Rs 1 lakh crores.
How would you describe Central Government's functioning?
Prime Minister Narendra Modi is a great visionary with exemplary administrative abilities. He tries to implement and follow up the progress of each project. He takes interest in all the development projects — be it in the industrial domain, agriculture or tribal development sector, Swachh Bharat, education and skill development. The GDP of the nation continues to remain in the range of 7.2-7.5 per cent under his able leadership. But we will surely reach to 11 per cent in five years. My department will contribute at least three per cent to this growth.
Follow and connect with us on Facebook, Twitter, LinkedIn, Elets video