In its effort to make learning process more inclusive, District Administration and Ajmer Municipal Corporation under the leadership of Collector and District Magistrate of Ajmer, Gaurav Goyal, has undertaken two major innovative initiatives – a novel book bank to bank upon for building a promising future of thousands of children and a mobile library to inculcate a culture of reading in the historical city, writes Kartik Sharma of Elets News Network (ENN).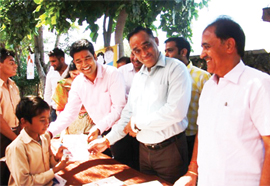 On 14th August 2016, Ajmer Municipal Corporation turned a new page in its efforts to nurture an inclusive learning environment in this heritage city that serves as a confluence centre of different cultures. The Chief Minister of Rajasthan, Vasundhara Raje, inaugurated a book bank and mobile library started under the stewardship of the Mayor, Dharmendra Gehlot and Collector and District Magistrate of Ajmer, Gaurav Goyal.
After inaugurating these novel initiatives, the chief minister took a round of the mobile library and appreciated the efforts of the corporation in bridging the existing knowledge gap hinging firmly on affordability. The Chief Minister handed over several books to the students of Adarsh Girls School and also felicitated major donors for these initiatives on the occasion.
The Book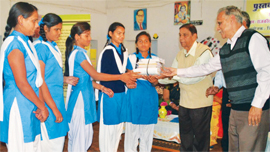 Bank The noble cause driving this initiative is collection of academic and non-academic books from students or people in general who do not need them, and then their distribution among the needy students or people. Under this initiative, camps are being organised in private schools of the city and many famous donors of the city are being contacted to donate their books. The collected books are kept in the book bank to be delivered to the needy, especially students of government schools, as there is limited availability of books in government-run schools. Besides, there are many schools which do not have proper libraries.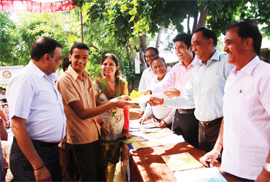 Jyoti Kakwani, Deputy Commissioner of Ajmer Municipal Corporation, was appointed as the coordinator for this initiative and she tried her best to collect books from various sources and delivered it to the needy students. More than 3,000 thousand books of differe n t typ e s h a v e been collected so far and delivered to students school-wise. Even some students participated in this novel cause and donated books which were later distributed in government primary schools.
There was also an innovative programme launched, wherein the books were not distributed among students directly but stalls were set up so that children themselves can select the books of their choice. Many institutions and schools appreciated the efforts.
Mobile Library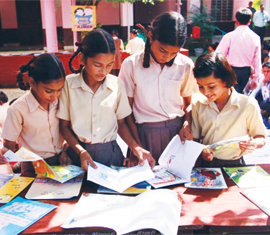 Ajmer Municipal Corporation is also running a mobile library along with the book bank. Through the mobile library, every fortnight the mobile library is being sent to different areas to distribute books to the needy students. Wednesday has been announced to be the weekly off for mobile library.
Along with regular course books and competitive exam books, books on art and literature are also part of the mobile library.
To keep the mobile library affordable for all, the annual fee is kept as low as Rs 20, allowing students to get the books issued for two weeks. Proper arrangements for students have also been put in place so that they can read the books in a comfortable ambience.
Kindle, a mobile device to read books online, is already made available at the library for facilitating e-reading. Computer operators at the library also arrange soft copies for the students if need be. Besides, a list of available books is maintained and updated for easy identification.
Many educational institutions are highly appreciative of the mobile library and some of them are also organising seminars on their impact on the book reading culture in educational institutes. At the Collector-SP Conference, which was organised on 24th to 26th November last year, the Chief Minister instructed the officials present to take a leaf out of Ajmer Municipal Corporation's book to operate similar book banks and mobile libraries across the state.
Follow and connect with us on Facebook, Twitter, LinkedIn, Elets video