Smart Grids- An Overview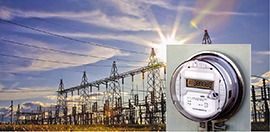 The governments and power companies across the world have recognised that the traditional grid, which has not significantly changed in 100 years, must be replaced by more efficient, flexible and intelligent energy-distribution networks, called Smart Grids, write Sapna Mongia, Head -Smart Grids and Metering, South Asia, Power and Discretes, STMicroelectronics, and Alessandro Moscatelli, Marketing Manager in charge of Smart Grids, STMicroelectronics, Italy. These are digitally monitored, self-healing energy systems that deliver electricity or gas from generation sources, including distributed renewable sources, to the points of consumption. They optimise power delivery and facilitate two-way communication across the grid, enabling end-user energy management, minimising power disruptions and transporting only the required amount of power. The result is lower cost to the utility and the customer, more reliable power, and reduced carbon emissions.
Smart Metering
Smart meters find their use in residential and industrial metering sector for electricity and gas meters where there is a need to know real time information on energy usage. Consumers and utilities are able to monitor their energy consumption. It enables utilities to plug any communication module on to a smart meter, giving them flexibility to communicate wirelessly using various technologies like Low Power Radio Frequency (LPRF) radio modules or Global System for Mobile (GSM) or General Packet Radio Service (GPRS) or through wired medium (PLC or RS-485). The smart meter can communicate over IPV6 network giving the consumer and utility, information and complete control over power usage.
At STMicroelectronics, we offer a complete set of semiconductor products to implement energy, water, heat and gas meters, as well as concentrators or multi utility controllers. The portfolio includes power-line modems, 8- and 32-bit microcontrollers, 32-bit microprocessors, ASSPs for metrology, real-time clocks,Electrically Erasable Programmable Read-Only Memory (EEPROMs), power supply products and security products.
Smart Meter- The Indian Scenario
The India Power Sector is challenged by power loss during transmission and distribution. The Indian Electricity market is facing a serious challenge in providing continuous power supply to consumers. By implementing prepaid smart meters in the residential segment utilities can benefit by collecting the cash before consumption.By using the feature of "Remote Disconnect" functionality, utilities can remove a customer who has not paid the bills. Consumers are able to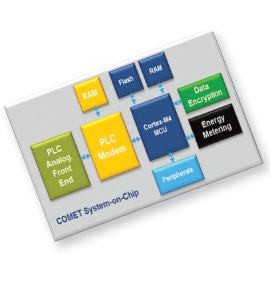 monitor their energy consumption patterns and also watch their usage costs on an in- home display unit and as a consequence they change their consumption patterns. Consumers also adapt to use energy when it is cheaper as per the different schemes offered by the utilities. Also the in-bulit tamper controls features in smart meters facilitate the utility to power theft. The consumer's energy usage patterns are analysed to detect unexpected consumption patterns, and can indicate a potential theft. Smart metering is the key focus from the government and the state utilities are focusing on smart metering to improve grid infrastructure.
Smart Grid in India
Smart Grid in India is becoming the key application in the Indian power sector. Smart meters will help to overcome the challenges in the power sector as they will enable utilities to access energy consumption data from remote without manually reading the meter. It will help in managing the power supply distribution from remote and it will benefit the consumers to monitor and reduce their power consumption remotely as it will provide real time accurate power consumption data. This data can be accessed frequently as required and also available in the consumer premises on in-home display unit. So the communication feature of the smart meter provides the utility to manage power load and reduce losses. Depending on the load requirement and by constant monitoring of the load of a particular area, the utilities can implement the different tariff plan for that area to manage peak hour's demands. Also Smart meters will help to check the theft,power pilferage and monitor the quality of power supplied to the consumers.
Smart Metering Implementation in Europe
ST participated to Expo Milano 2015 with its partner ENEL to demonstrate innovative digital technologies. A "smart city" model was developed by means of innovative communication technologies, services and energy efficiency to show how these contribute to a better environment and quality of life. The expo site is a "digital smartcity", whose citizens are the visitors. They can combine real and virtual experiences by participating actively in the exhibition and receiving detailed information on topics of interest, via their smart phones. ST also participated in European Utility Week (EUW) in Vienna in November 2015 where we demonstrated how to deliver smart solutions for power and energy management for smart cities. At our booth we demonstrated future-proof smart-grid solutions with our STCOMET Power Line Communication Platform, which integrates three cores (power-line communication, microprocessor and metering function) plus a security engine that function together and can be programmed to satisfy local market requirements. This modular approach has enabled us to develop four products for smart grid programmes since we launched STCOMET product at EUW last year. We have also obtained new standard certification extending the bandwidth to 500 kHz for Prime and G3, generating strong interest. STCOMET is being implemented in France in a programme called SOGRID with ERDF/ SAGEMCOM and NEXANS in the city of Toulouse. Successful experiments have been made passing communication signals over the medium voltage of the GRID. This project attracted a lot of interest in Vienna, and many customers are interested in the capabilities offered by our solution. TheG3 Alliance, the Prime Alliance and the Meters and more alliance were all displaying our STCOMET boards European Utility Week covers all major value streams from transmission to the end-user. ST and our partner A.P.Systems showed solutions in smart metering and smart lighting. ST's technology allows A.P. Systems to keep the cutting-edge technology role that is well recognised by the market and ensures reduced time-to-market, highest quality and increased reliability in the available solutions.
Communication Standards in Smart Metering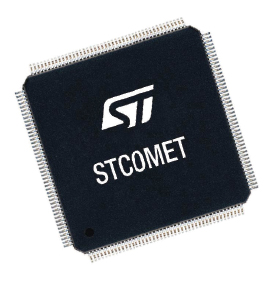 Programmable Logic Controller (PLC) is by far the most commonly adopted communication technology for smart metering, with more than 50 million installed points just in Europe, thanks to communication proven reliability and lower CAPEX and OPEX figures compared to other technologies. Among multiple available PLC technologies, European Commission has selected "Meters and More", "PRIME" and "PLC-G3" as the most suitable standards for smart metering roll-outs. Europe is one of the countries with the largest Power Line Communication based smart metering programs running on field and one of the most advanced in terms of regulations and standards framework guidelines. This experience is a valuable asset for all countries outside Europe who are approaching smart metering implementations and are looking for a cost-effective, reliable, interoperable and future-proof massive deployment. STMicroelectronics is a leader in smart grid solutions around the world and we have been working in this field from past 20 years and the division has a global presence especially predominantly in Europe. ST can offer both subsystems for this applications and complete solutions for power line communication and sensing part for meters that measuring chip.For example we have metering devices,upgrade measurements about voltage and consumptions measurements.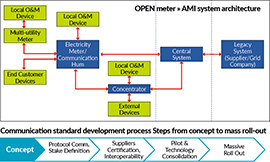 Our new platform STComet that is complete meter system on chip. STCOMET is a device that integrates a power line communication (PLC) modem, a high performance application core and metrology functions. STCOMET SoC has become one of the first two integrated circuits to complete the new G3-PLC™ certification programme.
STCOMET is among the first chipsets to pass interoperability testing, allowing new equipment to benefit from the latest advances while also ensuring compatibility with existing infrastructure. G3-PLC is a smart-grid communication protocol with features that help ensure efficient use of frequency spectrum and high immunity to noisy channel conditions. STCOMET is among the first two ICs to pass the G3-PLC certification program, enabling smart-meter producers to create high-performing and interoperable products.
Follow and connect with us on Facebook, Twitter, LinkedIn, Elets video