With every facet of administration in India being influenced by the effect of a country embracing digitisation, it looks a perfect occasion to revisit how MyGov, a part of Prime Minister Narendra Modi's favourite Digital India movement, is taking shape and influencing transformation process of the country inspiring countrymen to be a part of participative governance while enjoying its fruits.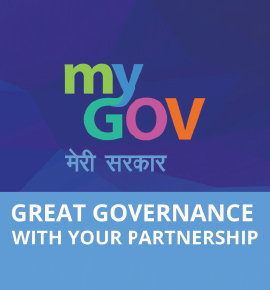 In this era of new information and technology, MyGov has established itself as a first-of-its-kind citizen engagement platform. MyGov was crafted with the aim of facilitating direct dialogue between the people and government through state-of-the-art technology, driven by the key ideas of "Do, Discuss, and Disseminate".
India is the world's largest and most vibrant democracy. A vital new addition to this great democratic tradition is the technology-enabled synchronisation between the citizens and their government to jointly formulate policies for national development in obtaining feedback on existing programmes and pro-active sharing of information regarding the work being done by the government.
This was enabled through the leadership of Prime Minister Narendra Modi to bring the government and governance within the reach of all Indians. Within a short span of two-and-a-half years, MyGov has launched an array of discussions and tasks that focus around significant policies of the government.
Some of these are – the Union Budgets of 2015 and 2016, Railway Budget of 2015 and 2016, Clean Ganga, Green India, Accessible India, Swachh Bharat Abhiyan, etc. These have received substantial response from citizens across India and abroad. Not only individual citizens, but over half of India's 2.5 lakh panchayats and municipal bodies responded to the consultation document on the new education policy, making it a truly inclusive process.
MyGov has expanded the range of citizen engagement options through a wide variety of activities, available on the MyGov site as well as through microsites dedicated to specific government initiatives.
Through MyGov's microsite for 'Swachh Bharat Abhiyan', citizens can take the Swachhta (cleanliness) pledge and effortlessly post photographs and images and talk about their cleanliness-driven activities. MyGov is also the primary platform for inviting people's ideas and suggestions for the Prime Minister's monthly radio address 'Mann Ki Baat'. This can be done not only through the discussion forum, but also through a dedicated toll free number1800 3000 7800.
People can also listen to the broadcast episodes by dialing '1922'. In recent times, MyGov has reached out to citizens in various cities, such as Pune, Lucknow and Faridabad in order to facilitate citizens to share their thoughts through Mann Ki Baat.
The Smart Cities Mission related activities have received nearly 3 million responses, through comments, suggestions, contest entries and votes in various polls, making MyGov the primary platform for inclusive and participative city planning, as envisaged in the Mission.
MyGov's Transforming India (transformingindia.mygov.in) microsite provides an authoritative repository of the activities undertaken by the Government, providing information through multifarious media such as blogs, live broadcasts, infographics, e-books, etc.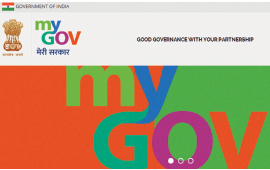 All this information is categorised into nine sectors and several sub sectors for ease of search and use, based on viewers' area of interest. In addition, all citizens are welcome to post their thoughts on the transforming India initiatives through messages and video testimonials.
In addition to discussions, MyGov provides an avenue to citizens to showcase their skills and creativity through various tasks and contests.
By now, nearly 500 creative contests have given people opportunities to not just imagine and create, but also share their creations with the entire nation. Recently, contests for composing a 'Youth Anthem' and 'Yoga Anthem' were initiated by the Ministry of Youth Affairs and Sports and Ministry of AYUSH respectively.
Logos of major programmes like Swachh Bharat Abhiyan, National Education Policy, Digital India, Pradhan Mantri Jan Dhan Yojana and many others have been designed using the crowdsourcing method that is now the signature style of the Government of India. MyGov's e-Greetings (www. egreetings.india.gov.in) site invites people to design greeting cards for all occasions and days of national importance.
MyGov provides an avenue to citizens to showcase their skills and creativity through various tasks and contests
MyGov's contests have moved up the ladder of complexity and technical challenge through activities like the Innovate India Challenge and PMO Mobile App, inviting innovators and technical experts to share their expertise for innovative initiatives. The https://innovate.mygov.in site is evolving as the hub of innovative contests for over thirty ministries, through the Railways and AICTE hackathon contests.
The Mygov quiz microsite has been a source of education and entertainment to lakhs of citizens, enabling them to learn about India in its infinite diversity. Readers may like to visit https://quiz.mygov.in/ in the next few days to participate in several quizzes on the Ek Bharat Shreshtha Bharat theme and win exciting prizes.
Apart from the national level engagements, MyGov has also expanded its presence in the state governments, through the 'Aaple Sarkar' and 'Mhari Sarkar' MyGov instances in Maharashtra and Haryana respectively, creating an example of coordination and synergy in a federal system.
It is a first-hand source of information for the citizens, fuelled by the adage 'awareness results in development'.
MyGov follows a 'decentralised' approach where ideas reach the government, and government ensures that those ideas are absorbed in the policies thereby formulated.
In the current scenario, where everyone is smart-connected, real-time dissemination of relevant information is crucial. Since its launch, the citizens' response to MyGov has been promising. Indians across the world have been proactive participants in government initiatives and have provided their valuable inputs to the government.
MyGov's vision is to create a participatory digital democracy, enabling citizens to connect with the government, and recognising and felicitating the citizens who take out time from their busy lives and make effort to contribute to nation building.
Over the last two years, MyGov has become a fundamental part of the government's outreach to the people of India. By providing a voice to the citizens in matters of national importance, MyGov continues full-throttle ahead on the way to establish participation and transparency in policy-making and governance.
Follow and connect with us on Facebook, Twitter, LinkedIn, Elets video