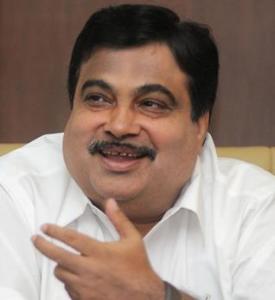 Developing sustainable infrastructure in the country remains the highest priority of the current government said Nitin Gadkari, Minister for Road Transport and Highways and Shipping, Government of India while speaking on 'Unleashing growth through industrial corridors' at the CII Partnership Summit 2017. The summit was being organized in Visakhapatnam by the Confederation of Indian Industry with in collaboration with the Department of Industrial Policy & Promotion, Government of India and Government of Andhra Pradesh.
The port of Visakhapatnam remains an arterial port connecting many manufacturing hubs and industrial clusters and so the Government has invested over Rs 6,000 crore in further developing the Visakhapatnam port.
Gadkari said that initiatives are being taken to connect inland waterways with ports. As the state of Chhattisgarh at the centre of all mining industries, it needs better connectivity with ports. He assured the government of Andhra Pradesh that a national highway will connect Raipur and Visakhapatnam.
N Chandrababu Naidu, Chief Minister of Andhra, stated that Andhra Pradesh is blessed with a long coast line and abundant inland waterways backed by strong and stable governance and sustainable infrastructure and these factors will give added advantage to investors. He also said that the all developmental benefits will reach the common man. He also thanked the Central government for extending their support for development of Buckingham Canal that would facilitate development of waterways logistics.
India's GDP will grow if there is focus on creating employment opportunities for the youth, create an export model economy and work towards a sustainable growth. Government of India's initiatives of developing industrial corridors will further these goals, said Alkesh Sharma, CEO, Delhi Mumbai Industrial Corridor Development Corporation (DMICDC).
The 5 industrial corridors proposed for development by the Government of India will be running across the length and breadth of the country connecting the major manufacturing hubs and facilitating development of new industrial clusters. These industrial corridors will encourage world class infrastructures development, generate employment, enhance GDP, bring regional development and help promote Make in India campaign. It will also increase the share of manufacturing in GDP, improve the efficiency of logistics supply chain, promote FDI and facilitate better utilisation of resources.
Sharma added that the government will extend all support to investors by providing large land parcels, ease of doing business environment, environmental clearance and ICT enabled infrastructure. Two of the major nodes of the proposed industrial corridors pass through Andhra Pradesh and therefore this state will be the hub of industrial growth in time to come, he added.
Sharma also focused on the Delhi-Mumbai Industrial Corridor, Dholera Special Investment Region, Aurangabad Industrial Corridor, and Integrated Industrial Township in Greater Noida which are envisaged to be world class destinations with efficient infrastructure opportunities. Government of India has also planned for developing a world class International Exhibition and Convention Centre in Delhi by 2019.
Follow and connect with us on Facebook, Twitter, LinkedIn, Elets video