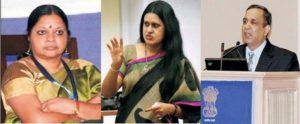 The Government of Karnataka on Saturday issued ordered the promotion of several IAS officers. Officers of 1987 IAS batch – Dr G Kalpana Gopalan, Ms V Manjula and Mr Rajeev Chawla, currently Principal Secretaries to the Government, have been promoted as Additional Chief Secretaries and continued in the same posts, according to official communication.
Dr G Kalpana: Dr Kalpana combines academic scholarship with practical experience. A Doctorate and Master's in public policy from IIM, Bangalore. While serving as a public service professional, Dr Kalpana concurrently continues her academic activities as Visiting Professor/Fellow in the Institute of Social and Economic Change, Bangalore; Indian Institute of Science, Bangalore; Indian Institute of Management Bangalore; Senior Research Fellow in the National Institute of Urban Affairs, New Delhi and Guest Faculty, Kuvempu University, Shimoga.
She is serving as Director-General and E/o Principal Secretary to Government, Department of Personnel and Administrative Reforms (Training), Administrative Training Institute, Mysuru.
Ms V Manjula: Ms Manjula joined the civil services after doing Post-Graduation in Chemistry from Osmania University, Hyderabad.In Karnataka, she started her career as Assistant Commissioner of Lingasugur Sub-Division in Raichur. She held various assignments such as Deputy Commissioner and District Magistrate, Bellary district; Chief Executive Officer of Kolar and Dharwad districts; Managing Director, Gulbarga Electricity Supply Company; Principal Secretary, Animal Husbandry and Fisheries, Principal Secretary, Planning, etc.
She joined as Principal Secretary, Department of Information Technology, Biotechnology and Science and Technology, Government of Karnataka, July 27, 2015.
Rajeev Chawla: Chawla's work with the Department of Revenue set the benchmark for digitisation of land records in India.Back in 1998, when digital revolution was still a nascent concept in India, one man in Karnataka harnessed the power of technology to weed out corruption in land holdings in the state.
Rajeev Chawla, then the revenue secretary, employed a young workforce to collect data and help compile the state's first digitised land records, a programme now called Bhoomi.
The mandate to digitise land records was not new. The Central government had in 1985 ordered State Governments to computerise the records. He is currently holding Principal Secretary, Department of Horticulture and Sericulture, Government of Karnataka.
Follow and connect with us on Facebook, Twitter, LinkedIn, Elets video